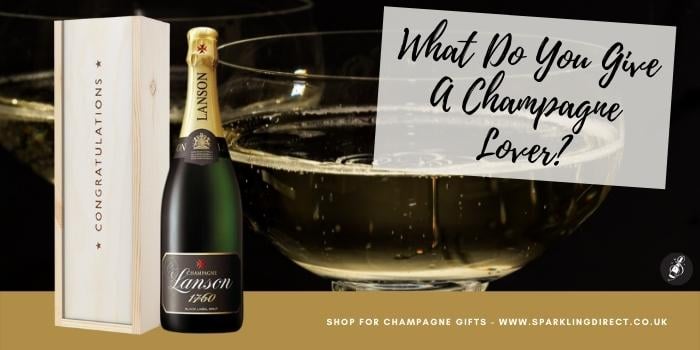 Picking the perfect Champagne gift can prove to be a task. So what do you give a Champagne lover as a gift?
A single bottle of Champagne is always the perfect gift for a Champagne lover. Whilst picking a bottle might be difficult, we've selected seven Champagnes ideal for any occasion. All are presented in a wooden gift box and include a personalised message. So why not take a look and send one today?
---
Champagne Birthday Gift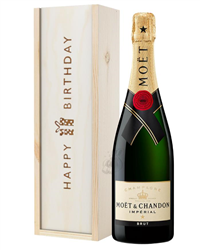 Sending heartfelt birthday wishes to someone you love has never been easier, or more elegant, than this. From the high-quality and sleek wooden gift box it comes in to the single bottle of Moet & Chandon Imperial Brut Champagne held within it, there is truly no other gift box available that will make an impression quite like this one whether the birthday celebrations are classy or casual in overall style. Easy to customise with a personal message from you if desired and boasting a simple yet chic appearance, from end to end this Moet & Chandon Champagne Birthday Gift Box features the words 'Happy Birthday' on top to assure the reason for its delivery is clear from the moment it arrives.
---
Veuve Clicquot Champagne & Chocolates Gift Box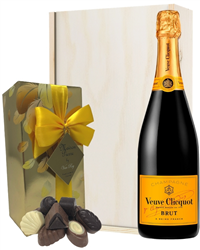 As delicious in flavour as it is elegant in design and composition, this sleek and truly gorgeous Veuve Clicquot Champagne & Belgian Chocolates Gift Box offers absolute sophistication and impressive quality throughout every item included within the set. Carefully packed within a stylish wooden gift box and complete with everything needed for absolute enjoyment of each item within it; from the single bottle of Veuve Clicquot Champagne to the assorted Belgian Chocolates, there isn't a taste of this box that isn't absolutely delightful from start to finish. A present anyone will be sure to appreciate, this gift box comes with a printed plastic gift card with a personalised message enclosed with the gift itself.
---
Taittinger Rose Champagne Thank You Gift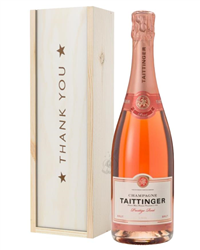 Presented in a solid wooden gift box with the words 'Thank You' branded clearly on top; this Taittinger Rose Champagne Thank You Gift Box is designed to offer elegance, simplicity and style all within one amazing gift set. One of the most delicious roses on the market, the single bottle of Taittinger Rose Champagne included within this gift box is flavorful, delicious and remarkably chic as well. A one-of-a-kind way to thank anyone in your life for any reason, every inch of this incredibly sophisticated and high-quality gift set is certain to satisfy any recipient whether its sent to your mum, your friend or your colleague.
---
Laurent Perrier Champagne Flute Set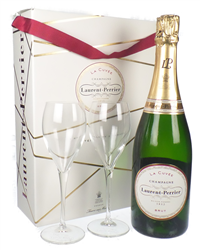 A gift set unlike any other; this truly stunning and amazingly classy Laurent Perrier Branded Flute Gift Set includes not only an absolutely delicious single bottle of Laurent Perrier La Cuvee Brut Champagne, it also features two beautifully crafted, Laurent Perrier branded wine flutes as well with which to enjoy it. Contained within a chic and clearly branded box that allows this gift to stand out from the crowd of presents they may receive; this set makes a wonderful gift to send as an engagement or wedding gift if desired. A present that can also be personalised if needed, this flute set can come with a personal message included with it as well.
---
Lanson Champagne Congratulations Gift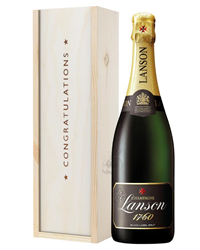 A truly memorable way to send your fondest congratulations to anyone from your co-worker or client to your best friend or spouse. The best-selling variety of Lanson Champagne and created specially to offer since congratulations, no matter the reason; this remarkable gift box contains a single bottle of Lanson Black Label Champagne within it, and boasts an incredibly delicious flavour that is certain to remind the recipient of the subtle tastes of spring. Presented in a sturdy wooden gift box with the word 'Congratulations' stamped on the top, this extraordinary Lanson Black Label Champagne Congratulations Gift Box is just what any special event needs to be really complete.
---
Veuve NV and NV Rose Two Bottle Champagne Gift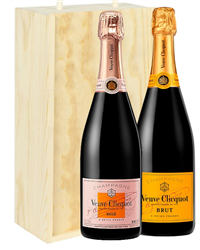 A stunning set of wines that boasts nothing but crisp and remarkable flavors, from the very first sip of these delicious varieties of champagne anyone will find themselves reaching for the bottle again and again to fill your glass until they're gone. Presented in a sleek wooden box and featuring a chic yet simple appearance, this Veuve NV and NV Rose Two Bottle Champagne Gift Box is sure to make any recipient truly delighted upon delivery. Capable of being customised with your own personal message that is placed within the gift box itself, this incredible set of champagnes makes a really gorgeous gift that can be sent to anyone, whether it be a friend, family or someone you work with.
---
Veuve Clicquot Rich Champagne Birthday Gift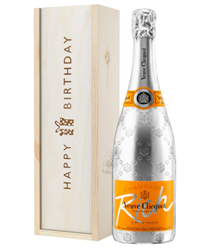 A delightfully tasty bottle of champagne that features truly extraordinary flavour from start to finish; the single bottle of Veuve Clicquot Rich Champagne housed within this sturdy gift box is absolutely certain to provide class, elegance and extraordinary taste that shines as part of any birthday celebration, anywhere. Simple to personalise with a message from you and designed for secure delivery to any location, this Veuve Clicquot Rich Champagne Birthday Gift Box makes a bold and unique birthday gift that anyone from a co-worker to a friend or any member of your family is sure to enjoy every drop of. Send heartfelt birthday wishes with only minutes of work from you.
---
---
Is Veuve Clicquot Champagne A Good Gift?
Everyone knows that Veuve Clicquot is an exceptional Champagne. But when it comes to special occasions, does it make a good gift?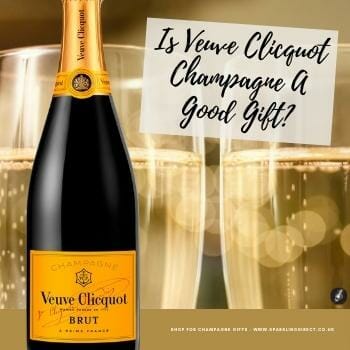 What is a Good Champagne to Give as a Gift?
Whether you're looking to say Happy Birthday, Congratulations or Thank You, we have the most beautiful gift sets created from the worlds most well-known brands. Here are our top picks when choosing the best Champagne to give as a gift.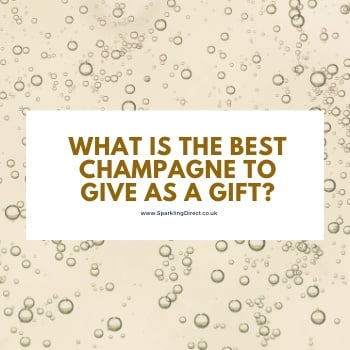 Is Champagne a Good Birthday Gift?
Champagne is more than just a good birthday gift, it's a great gift for someone who loves bubbly. A bottle of fizz is always a great way to celebrate and will always be appreciated by your friends and family. Our gift sets can be delivered the next day within London and throughout the UK.