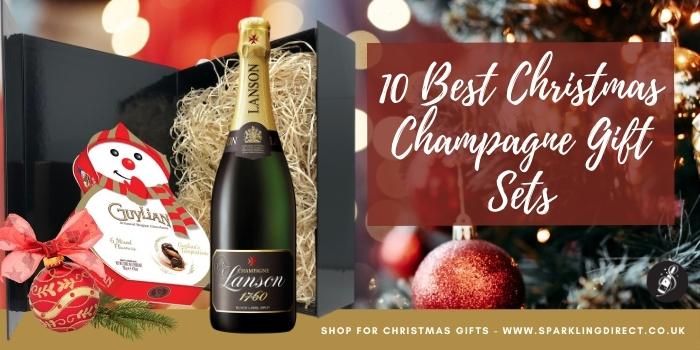 Christmas is incomplete without a bottle of Champagne to share with loved ones. When looking for a gift to give, you might be considering a bottle of bubbles. But is Champagne a good Christmas gift?
Champagne is an exceptional gift when it comes to Christmas. From Moet & Chandon to Taittinger and Lanson, we have a fantastic and delicious range of festive Champagne gifts to be sent across the UK. So why not surprise someone with one of our top ten Christmas Champagne gift sets?
---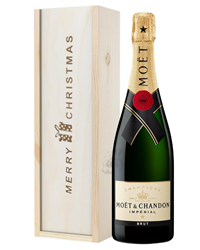 Moet & Chandon Champagne Christmas Gift
A Christmas gift that will have any recipient jumping for joy, this remarkably stylish Moet & Chandon Champagne Single Bottle Christmas Gift Box is nearly certain to be the best gift they receive this year, by far. Featuring a fashionable wooden box with the words Merry Christmas included on top, this gift box also includes a single bottle of Moet & Chandon Brut Imperial Champagne within it and is designed for secure delivery to any recipient needed. A delicious combination of Chardonnay, Pinot Noir and Pinot Meunier within one elegant bottle, every single taste of this extraordinary blend they take will have them immediately reaching for more.
---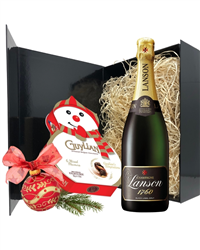 Champagne and Snowman Chocolates Gift
The best gifts are those that bring out the best in Champagne and chocolates. So no matter the recipient, send them this festive Champagne and chocolate gift set. It's presented in a sleek gift box and includes a special bottle of Lanson Champagne and a box of Guylian Belgian Chocolates. It's a simple yet delicious way to treat someone you love this Christmas. Plus, you can extend the festivities with a personalised gift message to really spoil your recipient. Next day or selected date delivery is available anywhere in the UK so no matter the distance, you can give anyone a Christmas to remember.
---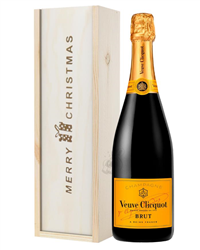 Veuve Clicquot Champagne Christmas Gift
Perfectly lined with wool for secure delivery and presented in a beautifully branded wooden box with the words 'Merry Christmas' included on top, every inch of this Veuve Clicquot Champagne Single Bottle Christmas Gift Box is designed to provide true elegance to any holiday celebration it's delivered to. Complete with a single bottle of Veuve Clicquot Yellow Label NV Champagne inside and easily personalised with a message if desired, this gift box instantly improves any Christmas party from the moment it arrives. Sending a truly meaningful and delicious Christmas gift to anyone on your gift list has never been simpler than this.
---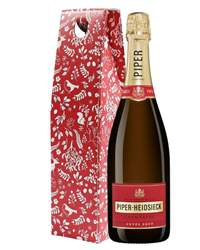 Piper Heidsieck Champagne Christmas Gift Box
What could be more festive than a bottle Piper Heidsieck presented in a stunning matching red Christmas gift carton? The signature Cuvee of the House is a round and vibrant non-vintage Cuvee Brut recalling the wide variety of its blend of 100 cru Champagnes. This stunning gift set is perfect for sending to friends or family, and we'll deliver right to their door! Add a personalised gift card message to let them know who is wishing them a Merry Christmas.
---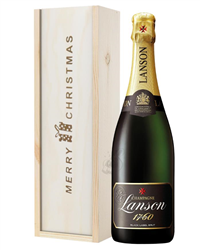 Lanson Champagne Christmas Gift
Add a little festive fizz to their Christmas with our bestselling, Lanson Champagne Christmas Gift Box. A bottle of Lanson Black Label Champagne will help them celebrate this season and is perfect for welcoming in the New Year. Packed into one of our beautiful, Merry Christmas branded wood boxes, this luxurious gift is ideal for directly sending to family and friends. You can even add your own personalised message and choose when your present arrives to wish them a great Christmas and a Happy New Year. Perfect for sisters, best friends or family further away.
---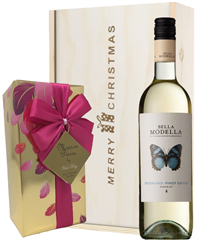 Pinot Grigio Christmas Wine and Chocolate Gift Box
This wine and chocolates Christmas gift are perfect for sending to staff or colleagues this holiday. A single bottle of deliciously dry Bella Modella Pinot Grigio is paired with a box of 20, luxury Belgian chocolates for a sweet and thoughtful gift option. It's the perfect last-minute gift for friends and family and can be personalised with a small note from you before it's delivered directly to their door. You can even choose when the present arrives with them. Each gift set is securely packaged in a wooden Christmas gift box, so you know it will arrive safe and sound.
---
Laurent Perrier Champagne Christmas Gift
No Christmas party is ever complete without a glass of sparkling joy. Help a friend to stock up for a festive season by sending them a lovely bottle of Laurent Perrier Champagne. This insanely crowd-pleasing, yet fresh and fruity champagne will make a wonderful Christmas gift. Packed in a handcrafted wooden Merry Christmas gift box with a holiday greeting, this gift pack is ready to be delivered for someone special.
---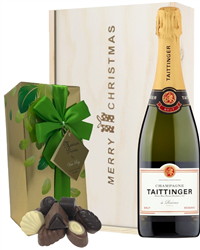 Taittinger Christmas Champagne and Chocolates Gift Box
Get the Christmas festivities flowing by sending someone this gorgeous and truly delicious Champagne and chocolate gift set. Be your own Father Christmas and surprise someone with a festive present! Send them a single bottle of the famous Taittinger Champagne with a box of assorted Belgian chocolate truffles to enjoy on Christmas Day. Beautifully paired, this gift is presented in one of our festive wooden gift boxes with 'Merry Christmas' printed on the lid and wood wool lining for style and protection. You can also add your own personalised to wish the recipient a Happy Christmas! Have it delivered straight to their door with ether next day or selected date delivery.
---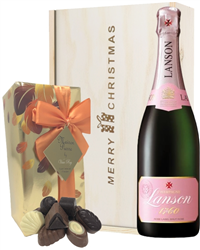 Lanson Rose Christmas Champagne and Chocolates Gift Box
Make anyone's Christmas merry and bright with this exceptional Champagne and chocolate gift set. Treat a loved one to a single bottle of Lanson Rose Champagne, beautifully paired with a box of assorted Belgian chocolates. It's the perfect surprise for anyone this Christmas! Presented in one of our wooden gift boxes with 'Merry Christmas' printed on the lid, this gift can be delivered anywhere in the UK with next day or selected date delivery. Plus, complete this gift with a personalised gift message to make this the best Christmas gift they receive this year! So why not give someone a festive and delicious surprise?
---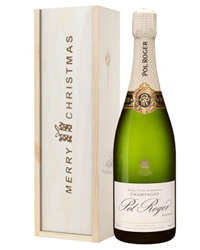 Pol Roger Champagne Christmas Gift
Spark the most engaging conversations at the Christmas dinner table with a glass of Pol Roger Brut Champagne. This elegant champagne, with subtle peach and lemon zest flavours, will never disappoint. A delightful sipper on its own, but best accompanied by family and friends. To ensure that Pol Roger Brut is fit for the occasion, we crafted a wooden Merry Christmas box and added a personalized gift card. Cheers!
---
5 Best Mini Champagne Gift Sets | 7 Best Champagne and Glasses Gift Sets
---
Top 10 Christmas Gifts For Wine Lovers
Finding the perfect gift can often be difficult, especially for wine lovers. With so many different sets to choose from it's hard to know which one is best. So what are some good Christmas wine hampers?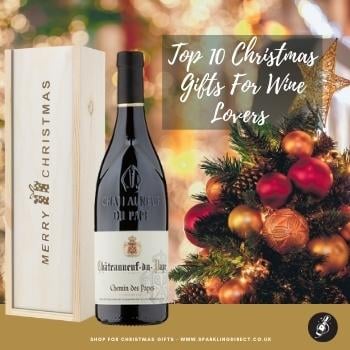 10 Best Gin Christmas Hampers
A single bottle of Gin is enough to brighten anyone's Christmas. That's why we've rounded up 10 of our best Gin hampers to help make Gin gift shopping much easier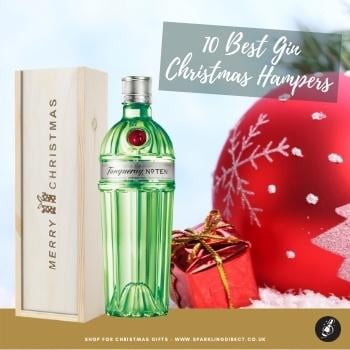 10 Best Christmas Gifts for Whisky Lovers
Whisky makes a fantastic gift when it comes to Christmas. But what is a good Whisky to give as a gift?