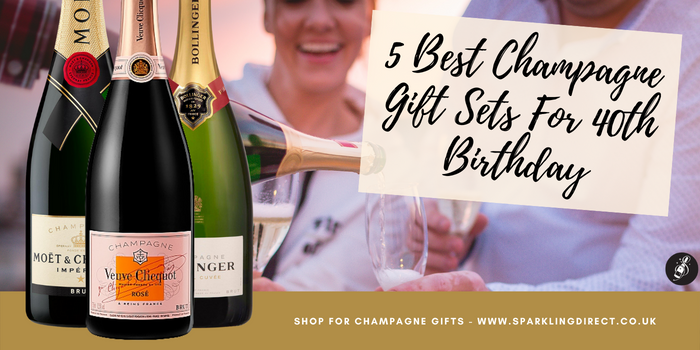 40th birthdays only come around once, which means you need the perfect gift. So what do you get someone who's turning 40?
Champagne makes a fantastic 40th birthday gift, especially for those who love a glass of bubbly. These five gift sets are perfect if you're not quite sure what to get but would like to send a bottle of Champagne. Each is joyfully presented and will guarantee a party no matter who you send it to!
---
40th Birthday Champagne And Chocolates Gift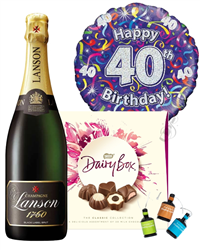 A great way to celebrate the 40th birthday of anyone in your life from a family member to your best mate and beyond. Perfect for sending to any birthday party, bash or get-together; from front to back this 40th Birthday Champagne and Chocolates Gift Box offers truly delicious flavours that no other gift set on the market can match. Complete with a bottle of Lanson Black Label Champagne, a 200g box of milk chocolates and a colourful 40th birthday balloon that pops out when its opened; this amazingly gorgeous gift set is ideal for delivery to anyone turning 40 that could use something special to smile about.
---
40th Birthday Gift – Moet Champagne – Balloon – Flute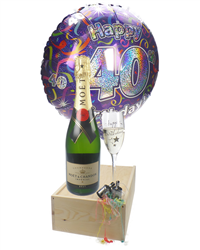 A birthday celebration in a box; not only does this incredible 40th Birthday Gift Box include an inflated 40th birthday helium balloon, it also boasts party poppers, and a single bottle of Moet & Chandon Brut Imperial Champagne, as well as a single birthday champagne flute with which to enjoy it with. Easy to customize with a truly personal message directly from you that is included along with the box upon delivery, this remarkable gift box makes a great birthday present for anyone in your life from your boss to your cousin or friend. Whether they're having a party for 1 or 100, this extraordinary gift will assure their day is unforgettable.
---
Rose Champagne and Chocolates Birthday Gift Box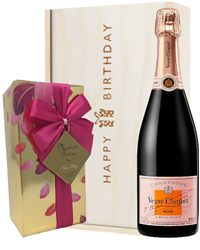 Personalise this gift set with a message from you and designed to stand out from every other birthday gift they're certain to receive; every inch of this Veuve Clicquot Rose Champagne and Chocolates Birthday Gift Box will instantly satisfy any birthday boy or girl you choose to send it to. Delivered in a solid wooden gift box lined with wood wool and featuring the words 'Happy Birthday' on top, this bold and beautiful present option is great to send to anyone in your life, from a brother, cousin or nephew to a friend, colleague or client. Complete with a 75cl bottle of Veuve Clicquot Rose Champagne and a 250g box of assorted Belgian chocolates, from front to back this amazing gift box provides nothing but incredible flavour from start to finish.
---
Bollinger Red Flute Set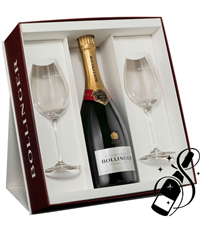 A gift set that is truly designed for two to share; from the voluminous bottle of Bollinger Special Cuvee Champagne to the two crystal-clear branded Bollinger flutes from which to enjoy it, this remarkably chic Bollinger Red Flue Set makes the perfect present to send to that special someone in your life. A limited-edition set that arrives in a bold red and amazingly elegant Bollinger gift box, no matter where you choose to have this set delivered it will easily stand out from every other gift that is received. A fantastic, fashionable gift box that makes a wonderful present for anyone that can fully appreciate the flavour that a bold, red wine offers.
---
Vintage Champagne Luxury Gift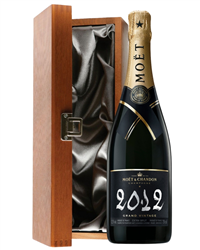 Luxurious and sophisticated, this bottle tastes as good as it looks. Treat someone to this outstanding single bottle of Moet & Chandon Vintage Champagne and help them celebrate in style. Complete with a luxurious stained wooden box with traditional joints and clasps, this is a gift for exceptional occasions and is sure to show someone how much you care. Grey silk lines the inside of the box, protecting and presenting the bottle in the best way possible. Complete the order with a personalised message and have it delivered the next day or on a day of your choice.
---
---
Birthday Champagne and Balloon Delivery
Sending a birthday gift to friends and family in the UK is a thoughtful way to show them just how much you care—delivered on the day of your choice or next day if you are shopping for a last-minute gift. Our gifts will get the party popping, with fizz, chocs, party poppers and a balloon!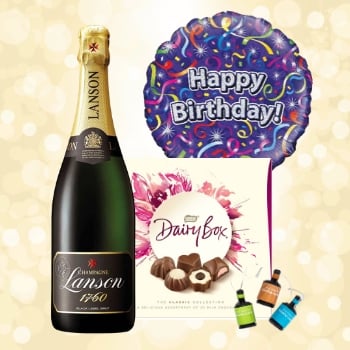 Is Champagne a Good Birthday Gift?
Champagne is more than just a good birthday gift, it's a great gift for someone who loves bubbly. A bottle of fizz is always a great way to celebrate and will always be appreciated by your friends and family. Our gift sets can be delivered the next day within London and throughout the UK.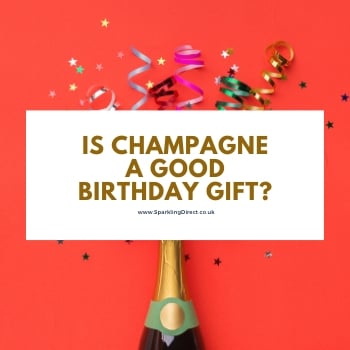 10 Best Champagne Birthday Gifts For Him
Looking for a Champagne birthday gift for a man in your life? These ten featured gifts are the perfect place to find the ultimate gift. Take a look!