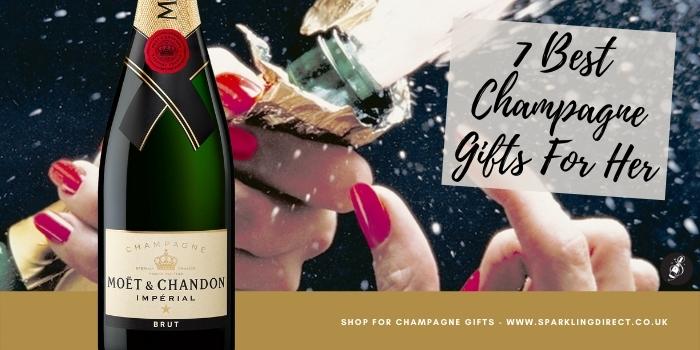 Are you looking for a special gift to give to the special woman in your life? At Sparkling Direct, we offer the best Champagne gifts for her. Our selection includes bottles of Taittinger, Moet & Chandon and Veuve Clicquot – all presented in our luxurious wooden gift boxes with a personalised message.
Whether it's an anniversary or birthday celebration, your special someone will love receiving these premium Champagne gift sets. Show them how much they mean to you with this unique and thoughtful gesture. Send Champagne today, order by 4 PM for next day delivery in the UK
---
Pink Champagne Birthday Gift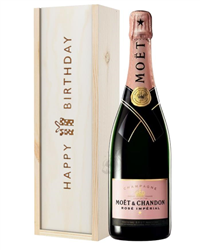 An exclusively designed, high-quality gift box that is sure to turn any recipients birthday from simply ordinary to truly extraordinary. From the moment this Moet et Chandon NV Rose Champagne Birthday Gift Box arrives to its destination, whoever receives it will be ready to pop the cork and savour every glass it provides. Delivered in a sturdy wooden box with the words 'Happy Birthday' stamped perfectly on top of the box itself, whether you send this box to your best friends birthday party or the home of a family member or colleague from work, its absolutely certain to fill any recipient with warmth and love directly from you, from start to finish.
---
Taittinger Champagne Congratulations Gift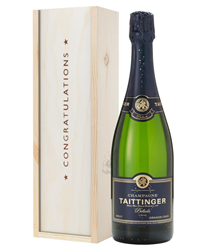 What better way to say congratulations than with an extra special bottle of Grand Crus Champagne? Gift someone a gorgeous single bottle of Taittinger Prelude Champagne to pop open and celebrate with. Whether for exam results, a new job or any other milestone, this is the perfect gift. It's packaged and presented in one of our wooden gift boxes with 'Congratulations' printed on the lid and lined with wood wool. Plus, extend the congratulations with a personal message, printed onto a plastic card and included with the gift. Have it delivered straight to their door either the next day or on a selected date.
---
Veuve Clicquot Champagne Thank You Gift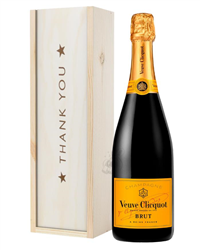 A truly incredible way to tell someone how much you appreciate them, and their help, within your life; from the stunning wooden box it's presented in to the single bottle of world-renowned Champagne placed within it, this Veuve Clicquot Champagne Thank you Gift Box offers everything you're looking for a classy, sophisticated present. Containing a bottle of Veuve Clicquot Yellow Label NV Champagne that features a crisp and full flavour any wine aficionado can deeply appreciate, this one-of-a-kind gift box is the perfect combination of bold flavour and classic appearances all throughout it's composition.
---
Bollinger Rose Red Flute Set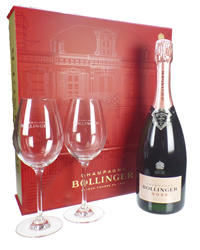 Perfect in every way; treat someone to this elegant and luxurious Rose Champagne and glasses set to mark any occasion. Presented in a Bollinger branded gift box, send someone a single bottle of the delicious Bollinger Rose with two Bollinger flute glasses to keep. Sent anywhere in the UK, this gift set is ideal for any engagement, anniversary, milestone celebration or birthday and is sure to make the recipient feel extra special. So why not give them a gift to keep as a memory of the occasion? Add a personal message to complete the gift and have it delivered either the next day or on a date of your choice.
---
Ayala Brut Champagne and Chocolate Birthday Hamper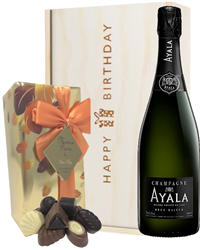 Complete with a 75cl bottle of Ayala Brut Champagne and a 250g ballotin of assorted Belgian chocolates within it, this stylish and elegant gift box provides nothing but truly delicious flavours from start to finish. Easy to personalise with a message from you if desired, this wonderful gift set comes presented in a solid wooden box filled with wood wool and features the words 'Happy Birthday' stamped perfectly on top. A great way to celebrate the birthday of nearly anyone in your life, feel free to send this gift box to your aunt, uncle, cousin, brother, sister, friend, employee or even your favourite customer or client.
---
Veuve Clicquot Vintage Champagne Luxury Gift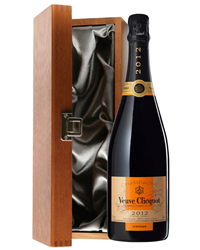 A chic and luxurious gift set that offers nothing but true elegance and sophistication from top to bottom. Containing a single bottle of Veuve Clicquot Vintage Champagne within it, this Veuve Clicquot Vintage Luxury Gift Box boasts a stunning appearance, and a full, delicious flavour that other gift boxes simply cannot match. Presented in a lovely wooden gift box that is lined with gorgeous grey silk, this gift box is meant to securely withstand delivery and makes a wonderful present to have delivered for any occasion from a retirement party to the celebration of a new life at an especially chic baby shower.
---
Lanson Mini Duo Champagne Set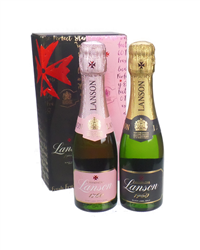 An incredibly unique gift set that allows the lucky recipient to taste more than one variety of champagne all within one remarkably thoughtful present. Whether you choose to send this amazing Lanson Mini Duo Champagne Gift Set to your best friend as a celebration you can share, or to a family member getting married or celebrating the arrival of a little one; this gift box fits perfectly into any occasion or get-together. Presented in a one of a kind branded gift box that shows what types of champagne are housed inside it, this gift set contains one 20cl bottle of Lanson Black Label and one 20cl bottle of Lanson Rose Champagne as well.
---
What is a Good Birthday Champagne?
Sending a birthday gift to friends and family in the UK is a thoughtful way to show them just how much you care—delivered on the day of your choice or next day if you are shopping for a last-minute gift. Our gifts will get the party popping, with fizz, chocs, party poppers and a balloon!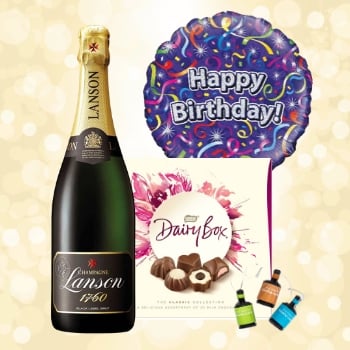 10 Best Gifts for Champagne Lovers
Champagne makes the perfect gift for all occasions. It's a sophisticated and luxurious gift that will be appreciated by anyone who receives it.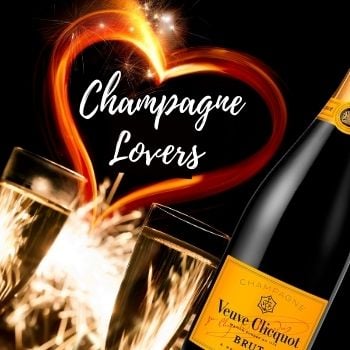 7 Best Champagne and Glasses Gift Sets
Looking for a great housewarming gift? Choosing a housewarming gift for friends or couples can take time. You'll need to decide between quirky, unique, practical or a luxury gift.