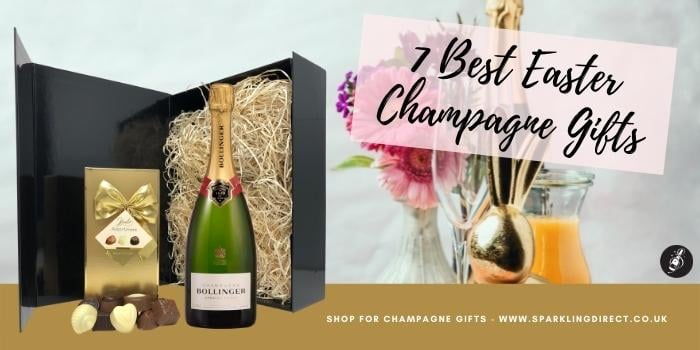 Easter is a celebration that should be celebrated in style. Many enjoy popping a bottle of Champagne to mark the occasion. But what is a good Champagne to enjoy at Easter?
A Champagne Easter gift is a great place to start when picking a Champagne to enjoy. These seven gifts offer a beautiful combination of Champagne and chocolates for the perfect Easter celebration. So if you're looking to mark the occasion in style, do it with one of these exceptional Easter gift sets.
---
Bollinger Champagne & Chocolates Gift Box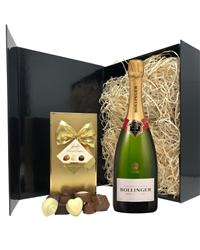 The ultimate gift of delicious flavours that anyone will instantly fall in love with; when you have one of these incredibly delectable Bollinger Champagne & Belgian Chocolates Gift Box delivered to that special someone, they will experience instant ecstasy from the very first sip and/or bite. A beautiful gift from the inside out, this extraordinary gift box includes a single 75cl bottle of Bollinger Champagne and 125g of exquisite Belgian Chocolate, all housed within a stylish presentation box designed to cushion the product as it makes its way to the desired recipient, personlised with a customized message from you.
---
Laurent Perrier Champagne Gift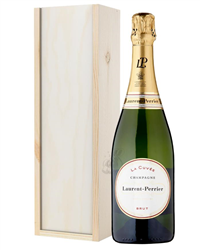 As chic and elegant as a gift box can get; from the sleek wooden box it's delivered in to the single bottle of Laurent Perrier Brut Champagne within it, this wonderful gift set offers everything you're looking for in a unique gift to send to anyone you know, no matter how well you know them. Boasting a fresh, light flavour that immediately catches the attention of anyone that tastes it, from the very first glass, your recipient won't be able to keep themselves from reaching for more until the whole bottle is gone. Easy to personalise with a message if desired, no matter the occasion this gift set will make a wonderful addition to the day.
---
Moet & Chandon Rose Champagne & Chocolates Gift Box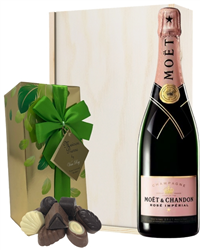 A beautiful gift which consists of Moet and Chandon Rose Champagne (75cl) together with a luxurious (250g approx 20 chocolates) ballotin of assorted Belgian chocolate truffles. Carefully packed into a wooden gift presentation box. You can use our unique gift card creator during the checkout process, to type your personal gift message. The gift card is printed onto a plastic card, inserted into a florist envelope and then enclosed with the gift.
---
Veuve Clicquot Vintage Champagne Gift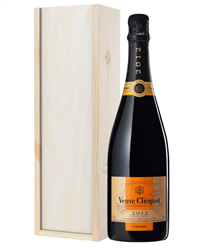 A set that contains an elegant bottle of Veuve Clicquot Vintage Champagne within it; this incredibly lovely gift set make the perfect gift to have delivered to any especially classy occasion or to send best wishes or congratulations to someone special in your life. Easy to personalise so the recipient knows who to send their appreciation to, this wonderfully delicious Veuve Clicquot Vintage Champagne Gift Box will fully and completely satisfy anyone lucky enough to receive it. Presented in a strong wooden box for secure delivery, this gift set also features a single bottle of truly fabulous champagne that provides a deep and intense flavour that any champagne connoisseur will absolutely love.
---
Ayala Rose Champagne Gift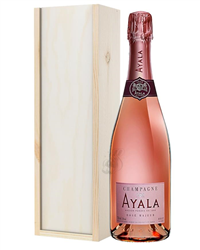 Bright, beautiful and bursting with flavour, this Champagne Ayala gift will help mark any occasion you might have. Whether for yourself or someone you know, send a single bottle of Ayala Rose Champagne. Owned by Bollinger, this Champagne is a delight to drink and is perfect for any celebration or party. This gift is presented in one of our wooden gift boxes and is protected with wood wool to ensure safe delivery anywhere in the UK. If you're sending this as a gift, don't forget to add a personalised message to let your recipient know who to thank. Have it delivered straight to their door either the next day or on a date of your choice.
---
Taittinger Champagne & Chocolates Gift Box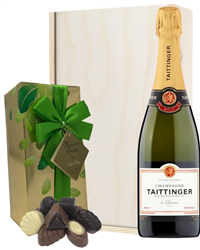 Beautifully and carefully packed for delivery to any location, or recipient, desired; not only is this Taittinger Champagne & Belgian Chocolates Gift Box absolutely stunning in appearance, it's also amazingly delicious through every single bite and sip enjoyed. Easy to personalise with a message from you if desired, this gift box includes a single bottle of Taittinger Champagne within it, as well as 250g of assorted Belgian chocolate truffles. Presented in a stylish wooden box and perfect to have delivered to anyone from your cousin to your boss, this box really makes a statement no matter what event it's sent to.
---
Veuve Clicquot Champagne & Chocolates Gift Box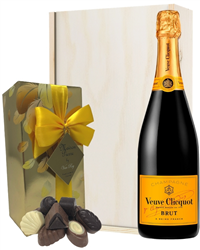 As delicious in flavour as it is elegant in design and composition, this sleek and truly gorgeous Veuve Clicquot Champagne & Belgian Chocolates Gift Box offers absolute sophistication and impressive quality throughout every item included within the set. Carefully packed within a stylish wooden gift box and complete with everything needed for absolute enjoyment of each item within it; from the single bottle of Veuve Clicquot Champagne to the assorted Belgian Chocolates, there isn't a taste of this box that isn't absolutely delightful from start to finish. A present anyone will be sure to appreciate, this gift box comes with a printed plastic gift card with a personalised message enclosed with the gift itself.
---
---
7 Best Champagne and Truffles Gift Sets
Champagne and chocolate truffles are the ultimate pairings for gifts. But what is the best chocolate hamper to give as a gift?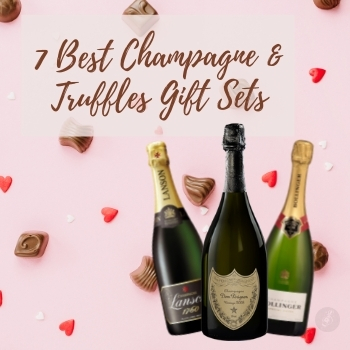 10 Best Gifts for Champagne Lovers
Champagne makes the perfect gift for all occasions. It's a sophisticated and luxurious gift that will be appreciated by anyone who receives it.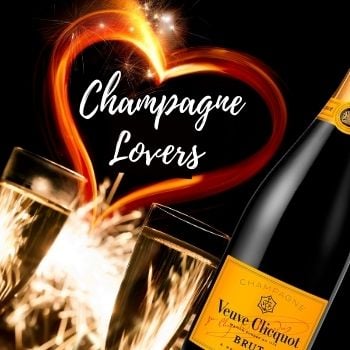 7 Best Champagne and Glasses Gift Sets
Looking for a great housewarming gift? Choosing a housewarming gift for friends or couples can take time. You'll need to decide between quirky, unique, practical or a luxury gift.