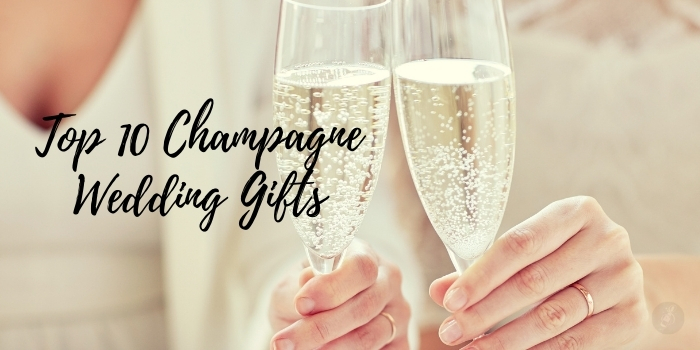 There's no event more fitting for Champagne than a wedding. When thinking of a gift for the happy couple, you should always consider a fancy bottle of bubbly to make the occasion memorable and unique. So what's a good Champagne to give as a wedding gift?
We always recommend flute gift sets or vintage bottles of Champagne with a personalised message for wedding gifts. Veuve Clicquot or Moet is also great for extra special luxury boxes. From Dom Perignon to Bollinger, these are our top ten Champagne gifts perfect for a wedding gift.
---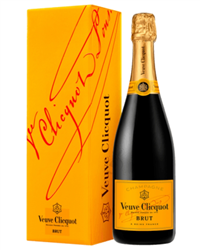 Veuve Clicquot Champagne Gift Box
The ideal gift box to choose when sending congratulations are in order, no matter the occasion, or the reason for celebration, one of these truly delicious Veuve Clicquot Champagne Gift Boxes is the perfect present to send. Arriving in a beautifully bright yellow box and containing a single bottle of exquisite champagne within, this gift box is certain to bring a smile to the face of anyone that receives it. Delivered to the address of your choice by any specified date, this remarkable box of champagne will tickle the taste buds of every single person lucky enough to enjoy it.
---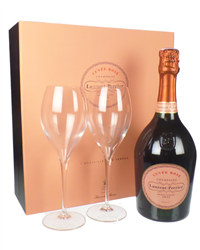 Rose Champagne Gift Set With Flute Glasses
Remarkably elegant, truly classy and created to send as the ideal romantic gesture to that special someone in your life; from the moment this incredibly special Laurent Perrier Rose Champagne Gift Set arrives, the recipient is certain to feel warm and cosy on the inside, and not just from drinking the wine itself. A limited-edition set that includes a single bottle of Laurent Perrier Rose Champagne as well as two Laurent Perrier wine flutes within it; when you send this extraordinary gift set to your spouse or significant other you get the pleasure of enjoying it with them as well. Presented in a gorgeous gift box and easy to personalise with a message from your heart to send along with it.
---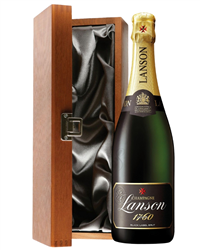 Lanson Champagne Luxury Gift
A sophisticated and luxurious gift perfect for extra special occasions. Go one step further and gift this elegant single bottle of Lanson Champagne, complete in a magnificent stained wooden box. Lined with wood silk for perfection and finished with traditional joints and a hinged lid, this box can be kept for future use to draw out memories. No matter the occasion, whether for a graduation, wedding or anniversary, this gift is guaranteed to make it feel extraordinary and have recipients be forever grateful. Complete this gift with a personalised message and have it delivered on a date of your choice.
---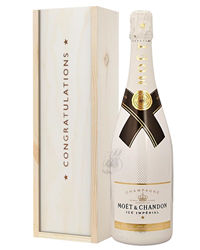 Moet Ice Imperial Champagne Congratulations Gift
Complete with a remarkably classy bottle of Moet Ice Imperial Champagne and easy to personalise with a message from you as well, every inch of this sleek and exclusively crafted gift box provides the perfect way to truly congratulate anyone, no matter what they've done or accomplished in order to earn it. A great gift option for presenting as a graduation present, a wedding gift or to celebrate the birth of a brand-new baby; this Moet Ice Imperial Champagne Congratulations Gift Box boasts unmatchable style and extraordinary flavour that you simply won't get from any other present you could send. The bottle of demi-sec champagne within this amazing gift set is specifically created to be enjoyed over ice.
---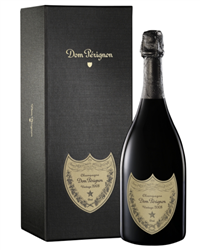 Dom Perignon Champagne Gift Box
A truly luxurious gift box that includes a bottle of one of the most well-known champagne's in the world, this incredibly elegant Dom Perignon Champagne Gift Box makes the perfect present for anyone that deserves a special congratulations of any kind. Delivered in its own sleek, black Dom Perignon branded box and filled with a bottle of the current vintage, from top to bottom this amazing gift box offers an amazingly delicious gift nearly anyone can enjoy. Simply add a personalised message for complete customization and this remarkable gift will be on its way to that special someone right away.
---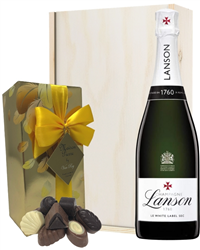 Lanson Champagne and Belgian Chocolate Gift Box
Elegant and stylish, this pair will send huge celebrations to anyone who receives it. No matter the occasion, help someone celebrate with this single bottle of gorgeous Lanson White Label Champagne to pop open and enjoy. Plus, it's paired with a luxurious ballotin of assorted Belgian chocolate truffles. Packaged and delivered in one of our wooden gift boxes, this Champagne gift is perfect for any anniversary, birthday or celebration. Have it delivered the next day or on a day of your choice anywhere in the UK.
---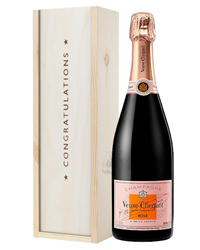 Veuve Clicquot Rose Champagne Congratulations Gift
Send congratulations with this flavorous Rose variation of the traditional Veuve Clicquot brut. Crisp, fruity and bursting with bubbles, this bottle is the perfect addition to any celebrations, no matter the occasion. There is no Champagne more suitable than Veuve Clicquot Rose Champagne. Delivered the next day or on a date of your choice, this bottle is presented in one of our 'Congratulations' stamped wooden gift boxes. Complete the gift with a personal message to emphasise your good wishes and join in on the occasion.
---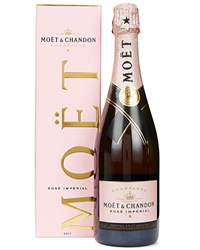 Moet Rose Champagne Gift Box
Delicate and delicious, Moet Rose Champagne is one of the most popular Champagnes and with good reason. Treat someone to an elegant twist on traditional Moet & Chandon with this single bottle of Moet Rose Champagne. Nothing says special celebrations more than this bottle of bubbly. Sent in their branded gift box, this gift is perfect for birthdays, weddings and celebrations, although it can be sent for any reason you see fit. Add a personalised message to complete the gesture and have it delivered straight to their door. Available for next day or selected date delivery.
---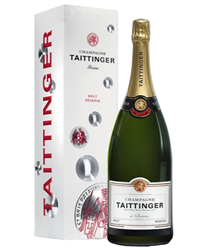 Taittinger Champagne Magnum Gift Box
Increase the size of celebrations with this monstrous magnum of Tattinger Champagne. Perfect for sharing at events or for celebrating at home, 1.5 litres is more than enough to extend the festivities and get everyone talking. Or send to someone to enjoy at home on smaller occasions. Whether for a birthday, anniversary or leaving party, this bottle will be the perfect centrepiece to bring people together for whatever reason. Delivered in its own Tattinger Champagne gift box, this gift can be perfected with a personal message and sent anywhere in the UK.
---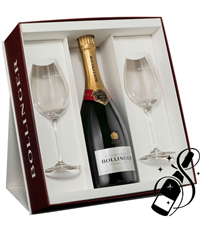 Bollinger Red Flute Set
A gift set that is truly designed for two to share; from the voluminous bottle of Bollinger Special Cuvee Champagne to the two crystal-clear branded Bollinger flutes from which to enjoy it, this remarkably chic Bollinger Red Flue Set makes the perfect present to send to that special someone in your life. A limited-edition set that arrives in a bold red and amazingly elegant Bollinger gift box, no matter where you choose to have this set delivered it will easily stand out from every other gift that is received. A fantastic, fashionable gift box that makes a wonderful present for anyone that can fully appreciate the flavour that a bold, red wine offers.
---
---
10 Best Gifts for Champagne Lovers
Champagne makes the perfect gift for all occasions. It's a sophisticated and luxurious gift that will be appreciated by anyone who receives it.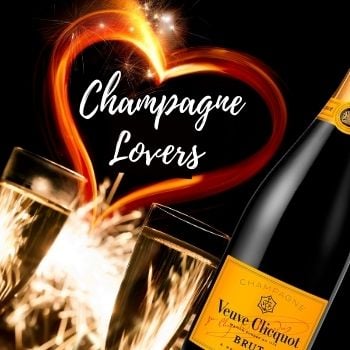 7 Best Champagne and Glasses Gift Sets
Looking for a great housewarming gift? Choosing a housewarming gift for friends or couples can take time. You'll need to decide between quirky, unique, practical or a luxury gift.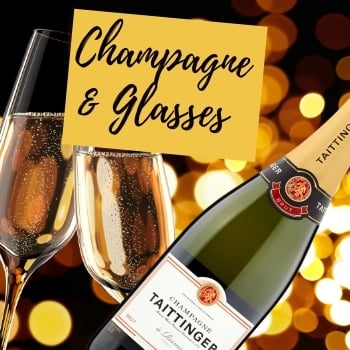 Top 12 Anniversary Champagne Gifts
From keepsake flute sets to gourmet food gift sets, we have all the best Champagne gifts perfect for making an anniversary extra special.