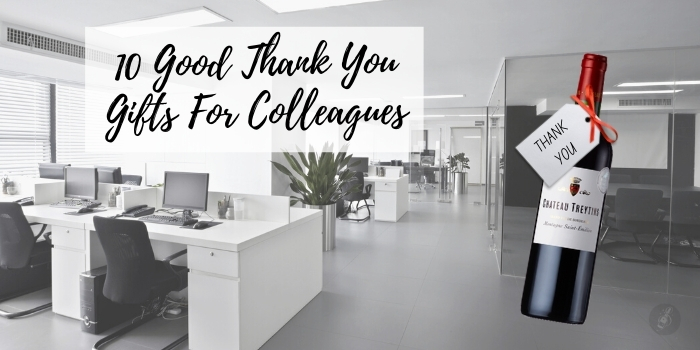 Whether you're leaving, celebrating the end of a long work haul or simply wanting to show appreciation, finding the right thank you gift for colleagues can be difficult. But, luckily we have some ideas to help. So what is a good thank you gift for coworkers?
A simple bottle or gift set is always a great gift to say thank you, especially to colleagues. You can't go wrong with a delicious bottle of wine, or a bubbly Champagne and chocolates hamper, which is why we've rounded up the top ten thank you gifts for colleagues, perfect by post in the UK.
---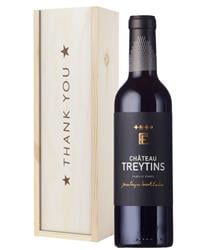 Bordeaux Red Wine Thank You Gift
Featuring a stunning wine that is produced in the Bordeaux region of France, this absolutely delicious bottle of Chateau Treytins red wine is made predominately from hand-picked Merlot grapes and boasts an aroma of red fruits and a fresh taste from start to finish. Presented in a high-quality wooden gift box and stamped with the words 'Thank You' boldly on the top, this French Bordeaux Red Wine Thank You Gift Box is truly the ideal gift to have delivered to anyone in your life that you own a special thanks to, no matter the reason. Simply personalise this box with a message and prove how thankful you really are to have them in your lives.
---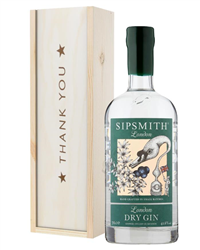 Sipsmith Gin Thank You Gift
Complete with a single bottle of Sipsmith London Dry Gin and the perfect gift idea for any gin-lover in your life; every inch of this Sipsmith Gin Thank You Gift Box boasts absolute class and true sophistication in a way that no other gift set ever could. Simple to personalise with a message from you and a one-of-a-kind way to say thank you no matter the reason. Feel free to send this bold and beautiful gift box to a family member for helping you move, a friend that you're thankful for or a co-worker that helped you succeed on the job; any recipient of this amazing gift set is certain to feel truly satisfied from the moment it's opened for enjoyment.
---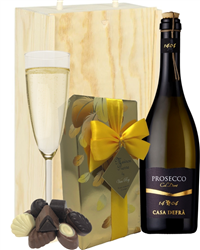 Prosecco & Chocolates Gift In Wooden Box
Beautifully paired and presented, this Prosecco and chocolate gift set is the ultimate gift for any occasion or Prosecco lover. Whether to say thank you, congratulations or sorry you're leaving, send someone special this elegant hamper containing a single bottle of luxurious Prosecco Frizzante (semi-sparkling). Enjoyable down to the last drop, this hamper also includes a delightful ballotin of assorted Belgian chocolate truffles to be relished alongside the Prosecco. Carefully packaged into one of our wooden gift boxes, you can get next day or selected date delivery with this gift for peace of mind. You can also add a personalised message to the order to be included, making this the ideal gift no matter the occasion.
---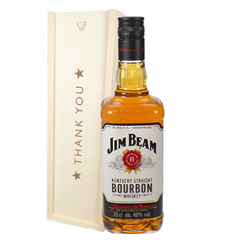 Jim Beam Bourbon Whiskey Thank You Gift
Complete with a bottle of Jim Beam Kentucky Straight Bourbon Whiskey produced by the Beam family since 1795, this chic and elegant gift box is designed to provide nothing but absolute satisfaction from beginning to end. Easy to personalise with a message from you and delivered in a solid wooden gift box with the words 'Thank You' branded on top; this Jim Beam Kentucky Bourbon Whiskey Thank You Gift Box features an incredible level of quality that no other type of present ever could. The perfect way to thank anyone from a colleague or employee to a friend or any member of your family.
---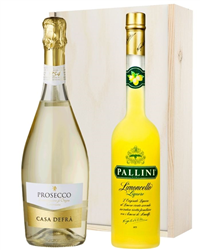 Limoncello Spritz Gift Set
Limoncello is an Italian liqueur made only with Lemons from the Amalfi Coast, mixed with Prosecco to make this very popular drink originating in Northern Italy (Much like the Aperol Spritz). How to make the perfect Limoncello Spritz 1. Fill a wine glass generously with cubed ice 2. Add a 60ml measure of Prosecco over the ice 3. Add 50ml measure of the Limoncello 4. Finish with a dash of soda water 5. Garnish with a slice of orange or if your feeling brave, a sprig of Rosemary!. Our Limoncello Spritz cocktail gift contains a full-size bottle of our lovely Prosecco together with a bottle of Limoncello, allowing you to make plenty of this great summery refreshing drink!
---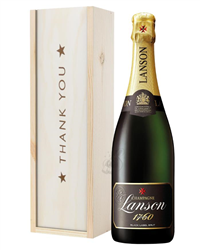 Champagne Thank You Gift In Wooden Box
Complete with a single bottle of truly tasty Lanson Black Label Brut Champagne within it as well as a chic and sophisticated appearance from the outside in; not only does this gift set come in a high-quality wooden box for protection during delivery, it also features a remarkably stunning design all throughout it as well. A great way to show how thankful you are to anyone from your sibling to a boss or co-worker that deserves something special for a job well done, this Lanson Champagne Thank You Gift Box is the perfect present to have delivered to anyone that you choose. A stunning blend of Pinot Noir, Chardonnay and Pinot Meunier grape varieties, no other gift box can match the flavour they'll receive within this one.
---
Pinot Grigio Rose Wine Thank You Gift
Chic, sophisticated and designed to withstand delivery to any location required. When you have one of these Pinot Grigio Rose Wine Thank You Gift Boxes delivered to your friend, brother, cousin, niece, dad or even to a co-worker; you can feel secure in knowing they're going to receive the best they can possibly get. Complete with a scrumptious bottle of Rose Pinot Grigio inside and delivered in a solid wooden box lined with wood wool to assure secure delivery, this gift set comes branded with the words 'Thank You' on top to make it instantly clear why it's being sent as well. Personalise this gift box with a message from you and send heartfelt thanks for any reason, any time of year.
---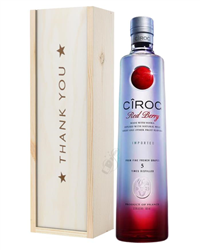 Ciroc Red Berry Vodka Thank You Gift
Red Berry is one of the first flavour-infused varietals from the makers of Ciroc Ultra-Premium Vodka and is gluten-free. Ciroc Vodka from France is extremely smooth and this is their Red Berry flavoured vodka which tastes even better than the original, well in our eyes anyway! Drunk on its own as a shot or over ice with a mixer as a long drink, this is a great drink for Vodka fans. The bottle is presented in one of our own 'Thank You' branded wooden gift boxes. You can also add a personal gift card message to the gift.
---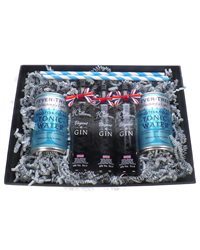 Chase Elegant Miniatures And Tonic Gift Set
Ideal for delivery to any party, no matter what is being celebrated; this Chase Elegant Miniatures and Tonic Gift Set is designed for several people to enjoy together. Presented in a sleek gift tray and wrapped up beautifully from top to bottom and front to back, this chic and high-quality gift set contains 3 5cl Mini Chase Gin bottles, 3 paper straws and 2 cans of Fever-Tree Mediterranean Tonic within it to enjoy. A great gift for celebrating a birthday, an anniversary and more; every inch of this remarkably unique set is made to truly satisfy anyone that appreciates a good gin and tonic to savour every sip of.
---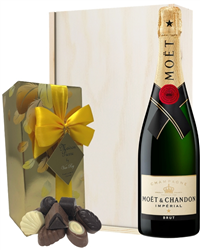 Champagne & Belgian Chocolate Gift Box
A tasty gift box that is sure to satisfy any recipient lucky enough to receive it; this Moet & Chandon Champagne & Belgian Chocolate Gift Box boasts an array of delicious flavours that no one could pass up. Complete with a single 75cl bottle of Moet & Chandon Imperial Champagne as well as a box of 250g of delectable Belgian chocolate, this gift box features a truly classy and elegant look and an incredible taste that no other combination of flavours can hope to match. Presented in a truly lovely box and securely packed for delivery to any recipient desired, this gift box can also include a personalised message that comes printed on a plastic card and enclosed with the gift.
---
---
10 Best Thank You Gifts For Friends
What's the best way to show your appreciation for a friend? Often it's hard to find that perfect gift that portrays your thanks, but we've got some great ideas to show some gratitude.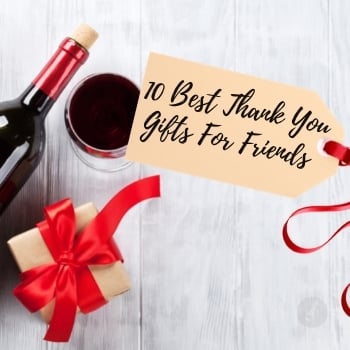 Top 10 Thank You Gifts By Post
When we want to show our appreciation for someone, we want to get something thoughtful. But when you don't live close to them, what are the best gifts to send by post?
Top 10 Thank You Gifts For Teachers
At the end of every school year, teachers deserve appreciation for all the hard work they put in each week. Whether for a tutor, lecturer, teacher or assistant, what should you give a teacher as a thank you gift