Listed below are 7 of our best selling gifts for Prosecco lovers. We are sure your friends and family would be delighted to receive one of these Prosecco themed gifts.
Prosecco Birthday Gift
A unique and tasteful way to send birthday wishes. This simply delectable Prosecco Birthday Gift comes in a modest, classic wooden box that is marked with the words "Happy Birthday" along with a lovely little gift box stamped in the center. A gift that is intricately designed to stand out from every other present the recipient receives. This wonderful gift box contains a truly delightful bottle of great tasting Prosecco Spumante from the Casa Defra family vineyards; just the smooth, refreshing flavor anyone it's sent to would love to enjoy. This gift will have any recipient begging for more each and every year.
---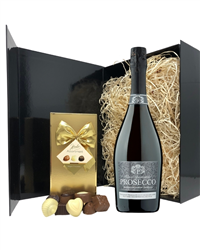 Prosecco and Chocolate Gift Set
A truly delectable gift set anyone would love to receive. From the elegant wool-lined box to the remarkably delicious items placed within it, this sincerely sumptuous set is certain to assure that anyone it's sent to will fall in love with it instantly. Sophisticated in both composition and appearance, this Prosecco and Chocolate Gift Set features a single bottle of our exquisite Prosecco Spumante alongside 125 grams of luscious Belgian chocolate and comes in a sleek, black carded gift box as well; making certain this set arrives safely and looking as chic as possible. Add your own personal touch by adding a message to send along with it if desired.
---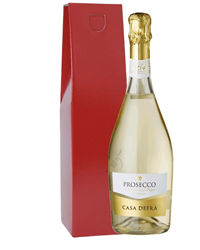 Prosecco Spumante Gift Box
Boasting a single bottle of Prosecco Spumante from the Casa Defra family vineyards, this stylish and one of a kind gift box makes an excellent addition to any special occasion, and a great way to send your best wishes or congratulations to anyone in your life. A gift box that features the most popular style of Prosecco produced; this truly delightful, sparkling wine also provides the recipient with a full and amazingly crisp flavour that you simply will not get from other types, or brands, of wine on the market. Delivered in a stunning carded gift box and easily customized with a personal message if desired, this extraordinary gift box will be certain to fully satisfy anyone it's sent to.

---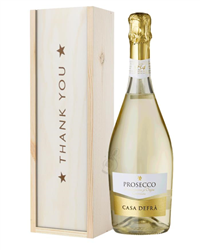 Prosecco Thank You Gift
Presented in a classy and well-made wooden box and stamped with the words 'Thank You' clearly on the top, this amazing gift box is designed to make the ultimate gift to anyone that you need to show true appreciation to. Complete with a single bottle of Prosecco Spumante within it and produced from the family owned and sustainable Casa Defra vineyards, this Prosecco Thank You Gift Box is created to allow you to thank anyone in your life in a unique and one of a kind way. The perfect present to send to your friends, family or even someone you work with; no matter the recipient, they will be certain to fall in love with every ounce of this gift box from top to bottom.
---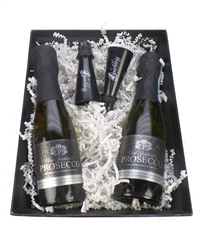 Mini Prosecco Gift Basket
This is a wonderful little gift which is ideal for all sorts of occasions. Delivered in a lovely black card gift box, you will be sending 2x20cl bottles of great tasting Prosecco complete with 2 sippers, allowing the recipient to insert these into the neck of the bottle and drink without glasses!
---
Prosecco And White Flutes Gift Box
A gorgeous, ribbon-wrapped gift box that offers absolute elegance and sophistication from the very moment it's delivered. A wonderful gift to give at a variety of different parties or even simply sent to that special someone in your life. A truly tasteful set inside and out; this beautiful gift box contains a single bottle of our great-tasting Prosecco along with 2 white, acrylic flutes with which to enjoy the Prosecco. Presented in a smooth, black carded gift box and wrapped in a delicate white ribbon, this lovely Prosecco and White Flutes Gift Box is the perfect set for sharing and sipping with a loved one.
---
Aperol Spritz Gift Set
Boasting a history in Northern Italy and often enjoyed as an aperitif, an Aperol Spritz is a unique drink concoction that can now be enjoyed by anyone, anywhere they choose to savor it. A gift set that allows you to delight in an Aperol Spritz by simply following a few directions with which to create it; this Aperol Spritz Gift Set has everything you need to blend the perfect drink every single time. Complete with a single bottle of Aperol as well as a single bottle of Casa Defra Prosecco contained within it, this gift box is housed within a well-made two-bottle wooden box and makes a wonderful gift for many different events or occasions. Simply fill a wine glass with ice, add three measures of Prosecco, two measures of Aperol and a dash of soda water, then voila; you have an Aperol Spritz you can't help but enjoy.
---
Top 3 Prosecco and Chocolate Gifts
Prosecco and chocolates next day delivery in London and across the UK.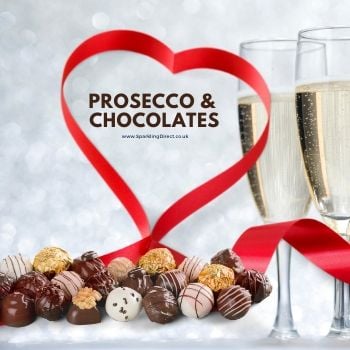 10 Amazing Prosecco Gift Sets With A £30 Budget
10 amazing gift ideas for fizz lovers with a shopping budget of just £30. WOW did we mention the budget includes next day delivery in London and throughout the UK!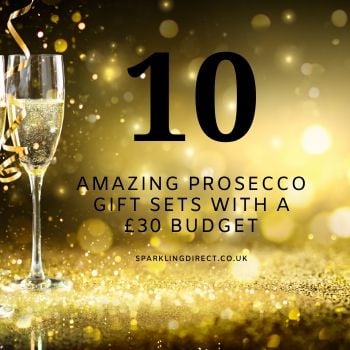 Prosecco Delivery London
If you are looking to send a gift to London, we can arrange this for you. Let us deliver a beautiful gift set to your friends and family for home delivery or the office.