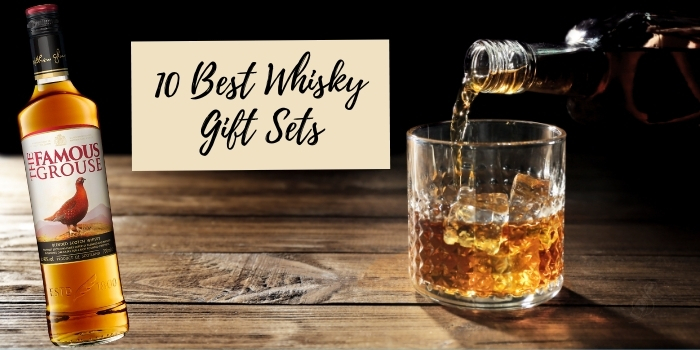 No matter the occasion, a bottle of Whisky is a great gift. We offer a great online range of Whisky gift boxes, all of which can be personalised and delivered in the UK. But what gift sets do you buy for a Whisky lover?
These top brands are the best to buy. Whether for a Dad, Uncle, Sister or Grandma, often either simple sets or unusual bottles will always make a great gift for a Whisky lover. From Famous Grouse to Glenmorangie, these top 10 Whisky sets are sure to make them happy on any occasion.
---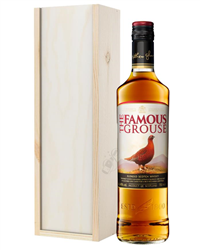 Famous Grouse Blended Scotch Whisky Gift
A wonderful gift to send to anyone with a love for the deep flavours that only whisky can offer, this truly remarkable Famous Grouse Whisky Gift Box is sure to truly satisfy any recipient from start to finish. Presented in a durable wooden box and lined with wool for true protection during delivery, this gift box is designed to arrive securely for the enjoyment of whoever is lucky enough to receive it. A gift set that contains a single bottle of The Famous Grouse Blended Scotch Whisky within it, this box makes an extraordinary gift for a wide variety of different occasions from a birthday to retirement and beyond.
---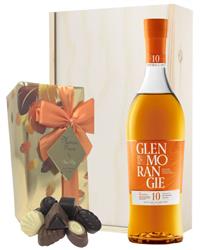 Glenmorangie Original and Chocolate Gift
A fashionable, and flavorful, gift option you can feel confident sending to anyone from your boss to your best friend to enjoy; this remarkably unique gift set includes a single bottle of Glenmorangie Original Highland Single Malt Scotch Whisky as well as a 250g box of assorted Belgian chocolates within it. Easy to personalize with a message from you if desired, this amazing gift set is delivered in a solid wooden gift box that comes lined with wood wool to ensure secure delivery to any location. Send this truly magnificent Whisky and Chocolate Gift Set to your brother, cousin, parent, friend or even a client from work, and know you're providing them with the absolute best.
---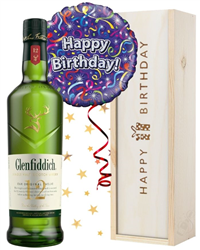 Birthday Single Malt Whisky and Balloon Gift
Nothing is more special than this birthday gift set. Treat someone to a smooth, single bottle of Glenfiddich 12-Year-Old Single Malt Whisky to enjoy for their birthday. Paired with a fully inflated helium balloon that reads Happy Birthday, this gift set is perfect for any Whisky lover's birthday. Reading Happy Birthday on the lid, it's packaged and delivered on one of our wooden boxes and protected with wood wool. Complete the order with a personalised message and have it delivered the next day within the UK or on a date of your choice.
---
Laphroaig 10 Year Old Single Malt Whisky and Pate
Full of flavour and remarkably elegant in both form and contents overall, this chic and stunning gift box includes a single bottle of Laphroaig 10-Year-Old Islay Single Malt Scotch Whisky, a 90g jar of Cottage Delight Farmhouse Pate with Pork, a 115g jar of pickles and a 150g package of Oval Alberts Savoury Biscuits within it and ready to enjoy. Delivered in a solid wooden gift box lined with wood wool to ensure secure delivery to any location, this truly one-of-a-kind gift set is certain to satisfy any recipient from your aunt to a sibling, friend or even a colleague if desired. Simple to personalize with a message from you as well, this gift set will catch attention at any event it's sent to.
---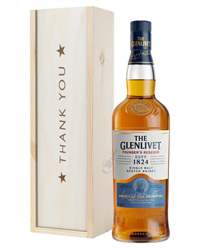 Glenlivet Single Malt Whisky Thank You Gift Box
Sending thanks in a chic and classy way just got easier; when you have one of these Glenlivet Founders Reserve Single Malt Whisky Thank You Gift Boxes delivered to someone you are especially thankful for they will be certain to fully appreciate it, and you, more than ever before. Presented in a high-quality wooden box and featuring the words 'Thank You' marked clearly on top, this gift set also contains a single bottle of Glenlivet Single Malt Whisky within it and is easy to personalise with a message from you as well if desired. Have this incredibly elegant gift box sent to your mum, your friend, your boss or even an acquaintance that deserves something great for something great they've done for you.
---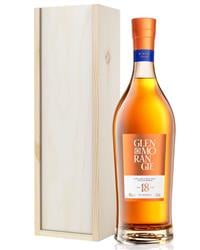 Glenmorangie 18 Year Old Single Malt Scotch Whisky Gift Box
The Eighteen-year-old from Glenmorangie has always been a fantastic malt and the current edition is no exception. This Highland Whisky is like silk over the tongue with a full, rounded flavour, starting with grapefruit & orange. The palate is then entranced with an accord of melting honey, creamy malt and aromatic florals that segue into the warm, syrupy nuttiness of hazelnuts and walnuts from the Oloroso sherry casks in which the whisky is matured. Savour the rich, sticky date and fig flavours as they are heightened by the unexpected caress of woodsmoke.
---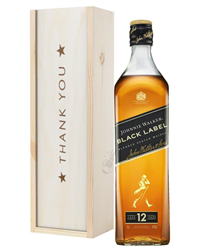 Johnnie Walker Black Label Whisky Thank You Gift Box
Easy to personalise with a message from you and boasting a solid wooden box that features a softwood wool lining within it, this remarkable gift box wraps securely around the bottle of Johnnie Walker 12-Year-Old Black Label Blended Scotch Whisky placed inside. A lovely gift to send to a co-worker that helped you complete a large project at work, a friend that supported you through a tough time or even a family member that was part of your wedding; every inch of this amazingly chic gift set is created to provide absolute beauty and true sophistication from top to bottom and start to finish.
---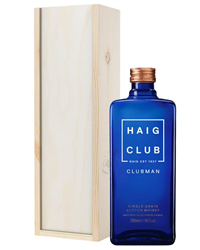 Haig Clubman Whisky Gift
The second whisky released from David Beckham's brand and matured exclusively within American casks that formerly held bourbon; every single drop of the bottle of Haig Clubman Single Grain Scotch Whisky include within this gift box provides vanilla, butterscotch and sweet toffee flavours to enjoy. Presented in a remarkably versatile wooden gift box and the perfect present option for anyone in your life from a sibling to a friend or even a client from work. Simple to personalize with a message from you as well if desired, this high-quality Haig Clubman Whisky Gift Box is just right for any whisky-lover to sip on from the very first drop until the very last.
---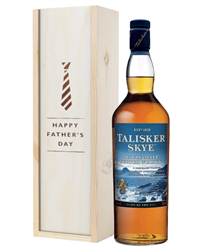 Talisker Skye Single Malt Whisky Fathers Day Gift Box
Produced from a remarkably famous distillery on the Isle of Skye and presented in a solid and stylish wooden gift box branded with the words 'Happy Father's Day' and lined with wood wool from the inside out; this Talisker Skye Single Malt Whisky Father's Day Gift Box is sure to satisfy any whisky drinker you choose to have it delivered to. Smokey, spicy, sweet and truly delicious from the first drop down to the last, the single bottle of Talisker Skye Single Malt Scotch Whisky found within this amazing gift box is meant to be sipped and savored through every single glass. Send this gift set to any dad or father-in-law in your life, just personalise it with a message from you and know you're delivering the best to the best.
---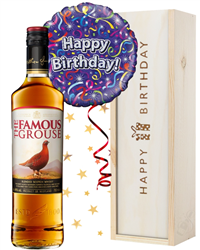 Scotch Whisky and Birthday Balloon
Bold, beautiful, and perfect for wishing almost anyone in your life a truly 'Happy Birthday'; This fantastic Scotch Whisky Birthday Gift Box is certain to satisfy anyone lucky enough to receive. Complete with a 70cl bottle of The Famous Grouse Whisky and an already inflated happy birthday balloon that pops out when it's opened. Scotland's Favourite Whisky for over 40 years the malt blend is rested longer for smoothness and filtered at a higher temperature for richness. Easy to personalise with a message from you that is included along with it if desired, this exclusively designed gift box is sure to become any recipient's favourite birthday present they will receive.
---
---
The 5 Best Whisky Gifts to Buy Dad for Father's Day
Are you searching for gifts for dads who like to drink whisky? This Father's Day treat your dad to something very special, something that he will enjoy and remember and we're not talking about socks!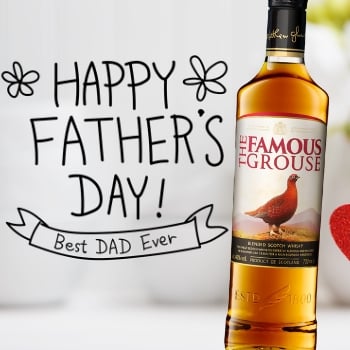 8 Single Malt Whisky Gift Sets For Scotch Lovers
Find the perfect gift set for the Scotch lover in your life. We have an extensive range of gift sets from the best-known distilleries in Scotland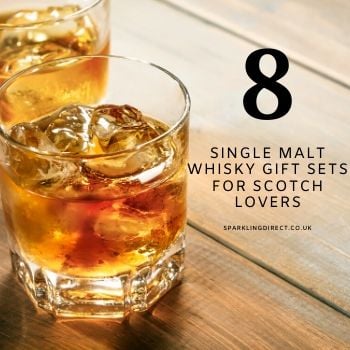 3 Single Malt Birthday Gifts For Whisky Lovers
Perfect for a whisky connoisseur, give the gift of whisky. The perfect gift to a lover of single malts! These gifts will be a hit with the whisky lovers in your life.