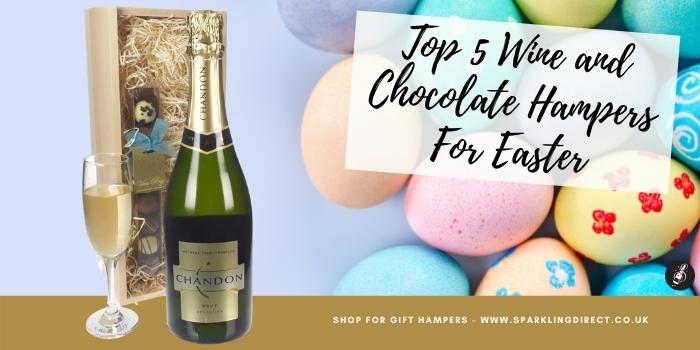 Don't just celebrate Easter with chocolate, celebrate with chocolate and wine! Making a perfect gift or treat, wine and chocolate is the perfect way for adults to get in on the Easter fun. So what wine goes best with chocolate for Easter?
When it comes to Easter, wine is a popular drink to enjoy with chocolate. Whether red, white or rose, each of these five gift sets are the perfect Easter treat. Carefully paired and packaged, if you're unsure which wine to pick, why not try one of these? Easter isn't just for children, it's for adults too!
---
Gran Reserva Wine and Chocolates Gift Set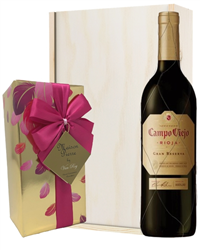 Looking for a wine gift perfect for anyone who loves Campo Viejo? This is the one! Ideal for any occasion, send someone a single bottle of the Campo Viejo Gran Reserva wine along with a delicious box of Belgian chocolates. This gift is presented in one of our beautiful wooden gift boxes and is protected with wood wool to ensure safe delivery and a stylish appearance. It's the perfect gift for any wine lover! You can also add a personalised message to help make your recipient smile on their special occasion. Have it delivered straight to their door with next day or selected date delivery anywhere in the UK.
---
Chandon Sparkling Wine and Chocolates Gift Set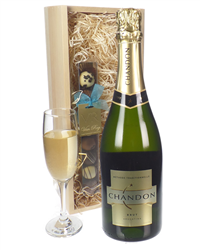 Just the gift set any particularly elegant event needs to be truly complete, from front to back this Chandon Sparkling Wine and Chocolates Gift Box features total style and absolute sophistication unlike any other type of present available for delivery. Presented in a chic and sturdy wooden box and filled with wood wool to ensure secure delivery to any location required, this amazingly high-quality gift box includes a single bottle of Chandon Sparkling Brut wine as well as a 110g box of delicious truffles within it for enjoyment. Personalise this set with a message from you and send it to any birthday, anniversary, house-warming party you choose, anywhere.
---
Pinot Grigio Rose Wine and Chocolates Gift Set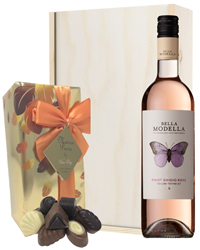 A stylish and elegant gift box that boasts several delicious flavours that come together beautifully to create a present unlike any other one they've ever received; whether you choose to have this set delivered to your spouse or as a special gift to celebrate the engagement or wedding of someone in your life, this box is the perfect choice for any event. Presented in a sleek wooden box and lined with wood wool for protection during delivery, this remarkably lovely Pinot Grigio Rose Wine and Chocolates Gift Set is easily as chic in appearance as it is bold and full of flavour. Complete with a single bottle of Bella Modella's Pinot Grigio Rose Wine from Italy and a 250g box of assorted Belgian chocolates, this gift box can also be customised with a personal message from you if desired.
---
Pouilly Fume White Wine And Chocolates Gift Set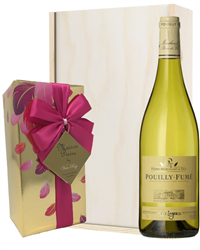 As fabulous and fashionable as a gift box can get, every single inch of this truly exclusive gift set is designed to provide class and sophistication to any event or occasion you choose to have it delivered to. Complete with a bottle of Pouilly-Fume white wine as well as a 250g box of assorted Belgian chocolates included within it, this Pouilly Fume White Wine and Chocolates Gift Set makes a stunning gift to send to anyone in your life from a teacher or tutor to a family member, friend or even a co-worker if desired. Easy to customise with a personal message from you, this high-quality gift box is certain fully satisfy anyone that receives it from top to bottom.
---
English Wine and Chocolate Gift Set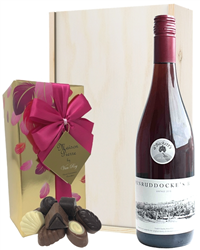 If you're looking for a delicious and elegant red wine and chocolate gift, this is it. Treat someone to a single bottle of Penruddocke's Red Pinot Noir from a'Beckett's Vineyard in Wiltshire. Plus, this award-winning and vegan-friendly English red wine is gorgeously paired with a box of assorted Belgian chocolate truffles. So you can give someone the best of both with this divine gift set, no matter the occasion. It's presented in one of our traditional wooden gift boxes, and you can also add a personal message if desired. Have it delivered the next day or on a date of your choice anywhere in the UK.
---
---
5 Best Prosecco Easter Gift Sets
Ditch the generic chocolate egg and treat someone to an extra delicious Easter gift with one of these fantastic Prosecco gift sets.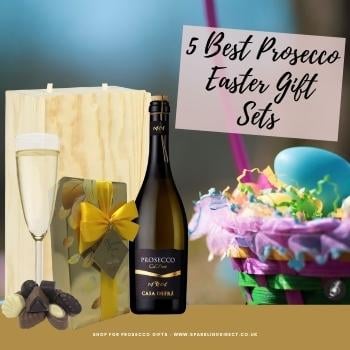 Can I Send Easter Gifts By Post?
We know that you can't always spend Easter with your loved ones, but that doesn't stop you from sending a gift. Take a look at these Easter gifts ideal to send by post.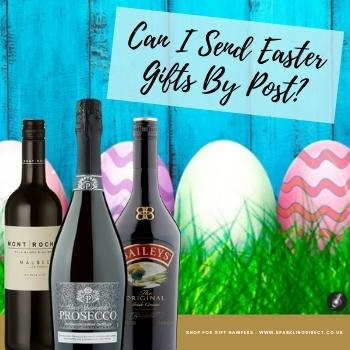 7 Best Easter Champagne Gifts
Easter is a celebration that should be celebrated in style. Many enjoy popping a bottle of Champagne to mark the occasion. But what is a good Champagne to enjoy at Easter?