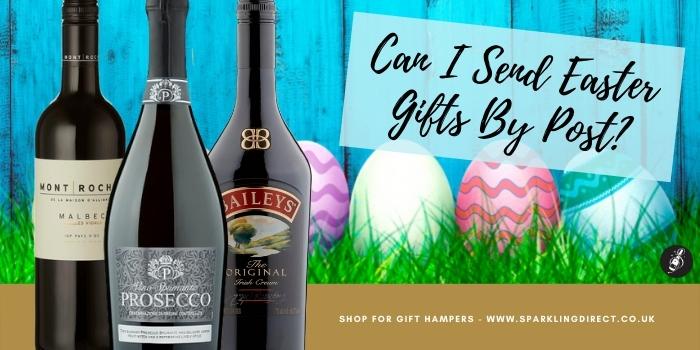 At Sparkling Direct, we know that you can't always be there to spend Easter with the ones you love. But that shouldn't stop you from sending a gift. So can you send an Easter gift by post?
No matter the distance, sending an Easter gift by post is easier than ever. Here we've outlined ten ideal, and unique, gifts to send this Easter. Whether to a family member, friend or colleague, you can send any of them anywhere in the UK with a personalised message. All you need to do is pick one
---
Red Wine and Chocolate Hamper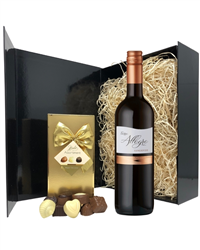 DELICIOUS WINE & CHOCOLATES HAMPER: Each red wine and chocolate hamper is packed with a bottle of Allegra Sangiovese produced in the vineyards of Northern Italy. A juicy, succulent red wine with savoury cherry and plum characters with a bright ripe fruited finish alongside 125 grams of luscious Belgian chocolates that are sure to a smile on his or her face. A special treat for red wine lovers who love to indulge in the rich and sweet taste of Belgian chocolates. A unique way to show your thanks but with a personalised gift card you can turn your gratitude or love into words. The personalised message card will be carefully delivered alongside the gift hamper to charm and surprise the recipient
---
Chase Marmalade Vodka Gift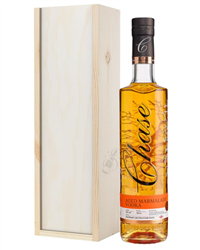 Bold in both flavour and colour, treat either you or someone you know to this amazing Chase Vodka. Whether for cocktails or mixers, let someone sit back and enjoy a single bottle of Chase Aged Marmalade Vodka. It's the best selling flavoured Vodka from the English spirit producers and it's unbeatable. This gift is presented in one of our wooden gift boxes with wood wool lining for chic style and protection. You can have this Vodka delivered anywhere in the UK with either next day or selected date delivery. It also includes a personalised message, so you can let yoru recipient know it was you who sent such a wonderful and delicious gift.
---
Champagne & Chocolates Gift Box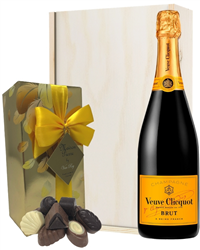 As delicious in flavour as it is elegant in design and composition, this sleek and truly gorgeous Veuve Clicquot Champagne & Belgian Chocolates Gift Box offers absolute sophistication and impressive quality throughout every item included within the set. Carefully packed within a stylish wooden gift box and complete with everything needed for absolute enjoyment of each item within it; from the single bottle of Veuve Clicquot Champagne to the assorted Belgian Chocolates, there isn't a taste of this box that isn't absolutely delightful from start to finish. A present anyone will be sure to appreciate, this gift box comes with a printed plastic gift card with a personalised message enclosed with the gift itself.
---
Malbec Mixed Two Bottle Wine Gift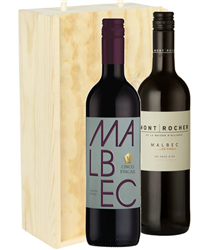 Presented in a gorgeous wooden gift box designed for secure delivery to any location, this extraordinarily delicious Malbec Mixed Two Bottle Wine Gift Box allows the recipient to enjoy more than one variety of different Malbec wine flavours. Ideal as a gift for someone with a true appreciation of bold Malbec grapes, this incredible box boasts two types of truly rich wine within it; one from the foothills of the Andes in Argentina, and one from the vineyards of France. Easily personlised so you can assure the recipient knows who to thank, this one of a kind unit is certain to be savored by anyone lucky enough to receive it.
---
Prosecco and Chocolate Gift Set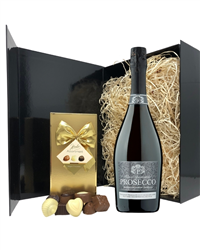 A truly delectable gift set anyone would love to receive. From the elegant wool-lined box to the remarkably delicious items placed within it, this sincerely sumptuous set is certain to assure that anyone it's sent to will fall in love with it instantly. Sophisticated in both composition and appearance, this Prosecco and Chocolate Gift Set features a single bottle of our exquisite Prosecco Spumante alongside 125 grams of luscious Belgian chocolate and comes in a sleek, black carded gift box as well; making certain this set arrives safely and looking as chic as possible. Add your own personal touch by adding a message to send along with it if desired.
---
Chase Elegant Miniatures And Tonic Gift Set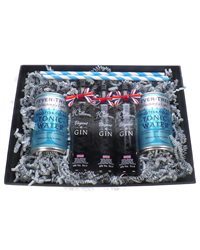 Ideal for delivery to any party, no matter what is being celebrated; this Chase Elegant Miniatures and Tonic Gift Set is designed for several people to enjoy together. Presented in a sleek gift tray and wrapped up beautifully from top to bottom and front to back, this chic and high-quality gift set contains 3 5cl Mini Chase Gin bottles, 3 paper straws and 2 cans of Fever Tree Mediterranean Tonic within it to enjoy. A great gift for celebrating a birthday, an anniversary and more; every inch of this remarkably unique set is made to truly satisfy anyone that appreciates a good gin and tonic to savour every sip of.
---
Chablis Wine Hamper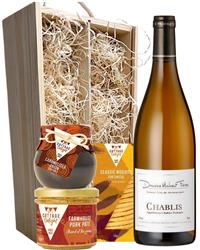 Complete with a single bottle of French Chablis White Wine, a 90g jar of Farmhouse Pate with Pork, a 115g jar of pickles and a 150g package of Oval Alberts Savoury Biscuits; from top to bottom this remarkably high-quality gift box boasts nothing but bold and delicious flavours unlike any other. Presented in a solid wooden gift box and lined with wood wool to ensure secure delivery, this Chablis and Gourmet Food Gift Box makes a magnificent gift option for any occasion from Christmas to Valentine's Day and beyond.
---
Baileys and Chocolate Hamper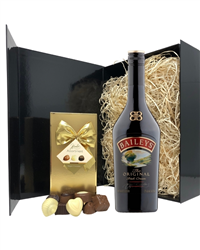 Give someone the most indulgent gift of them all with this Baileys chocolate gift set. Perfect for any occasion or recipient, send a single bottle of Baileys Irish Cream along with a box of assorted Belgian chocolates. It's beautifully presented in a sleek gift box and is protected with wood wool to ensure safe delivery. You won't find a better gift than this one. Plus, complete this gift with a personalised message and make this a present to remember! Next day or selected date delivery is available anywhere in the UK, no matter the distance. So why not give a Baileys lover the gift they deserve?
---
Prosecco and Cheese Hamper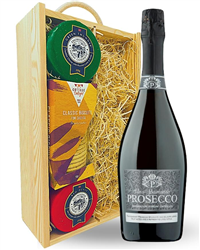 Know a Prosecco lover that also loves cheese? This is the perfect gift no matter the occasion! Make someone smile by sending them a single bottle of Vino Spumante Prosecco along with a box of Cottage Delight Biscuits, Snowdonia Green Thunder Cheese and Snowdonia Red Devil Cheese. Green Thunder is a Cheddar Cheese with roasted garlic and herbs. Red Devil is a Red Leicester with Habanero chillies and peppers. It's all presented in one of our wooden gift boxes and is protected with wood wool. You can also personalise this gift with a written and printer gift message. Send it anywhere in the UK with next day or selected date delivery for the perfect surprise!
---
English Sparkling Wine and Chocolate Gift Set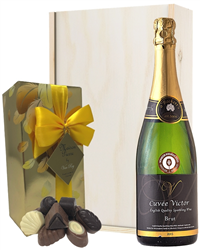 You won't find a better English wine and chocolate gift than this one. Whatever the occasion, treat someone to a beautiful single bottle of Cuvee Victor Brut from a'Beckett's Vineyard in Wiltshire. What better to accompany an English Sparkling wine than chocolates? Also included is a ballotin of assorted chocolate truffles to indulge in. Beautiful and delicious down to the last drop and bite, it's a perfect gift for any wine or chocolate lover. You can also add a personalised message to let them know you're thinking of them. Packaged and presented in one of our wooden gift boxes, this gift can be delivered either the next day or on a date of your choice.
---
---
Is Gin A Good Easter Gift?
Does Gin make a good Easter gift? We explore why Gin makes a great Easter gift and highlight seven gift sets ideal to send across the UK. Take a look here.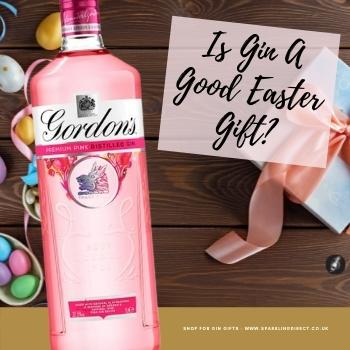 Do People Drink Baileys At Easter?
Do people drink Baileys at Easter? Whilst it might not be traditional, Baileys can make a delicious Easter treat. Read about it here.
7 Best Easter Champagne Gifts
Easter is a celebration that should be celebrated in style. Many enjoy popping a bottle of Champagne to mark the occasion. But what is a good Champagne to enjoy at Easter?