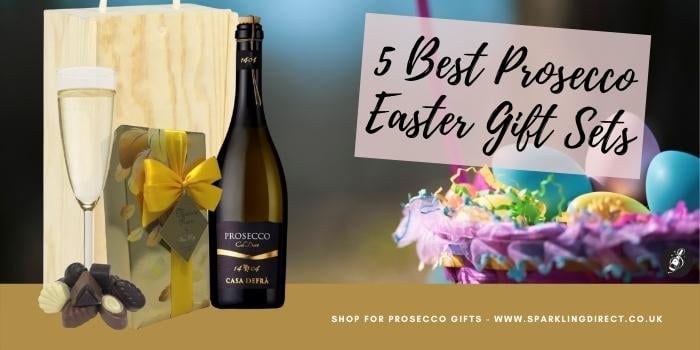 Everyone wants something special to enjoy at Easter, which is why it's nice to give gifts such as chocolate. But what makes a good Easter gift?
Chocolate is the traditional gift at Easter, but there are many gifts that you could choose from. So rather than go for the generic easter egg, get them something they'll really enjoy with one of these Prosecco gift sets. Each is sure to provide an even more delicious and fun Easter celebration!
---
Prosecco and Chocolate Gift Set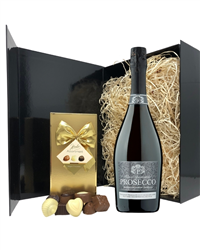 A truly delectable gift set anyone would love to receive. From the elegant wool-lined box to the remarkably delicious items placed within it, this sincerely sumptuous set is certain to assure that anyone it's sent to will fall in love with it instantly. Sophisticated in both composition and appearance, this Prosecco and Chocolate Gift Set features a single bottle of our exquisite Prosecco Spumante alongside 125 grams of luscious Belgian chocolate and comes in a sleek, black carded gift box as well; making certain this set arrives safely and looking as chic as possible. Add your own personal touch by adding a message to send along with it if desired.
---
Prosecco and Chocolates Gift Box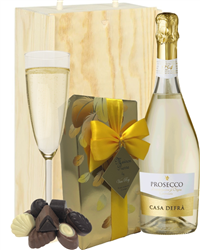 Now, this is the perfect gift for any Prosecco or chocolate lover, no matter the occasion! Surprise someone you know to a single bottle of Casa Defra Prosecco along with a box of assorted Belgian chocolates to enjoy. Deliciously paired, this gift is all packaged and presented in one of our classic wooden gift boxes and is protected with wood wool to ensure safe delivery. You can send this gift anywhere in the UK, either the next day or on a selected date, making it the perfect gift to send! Plus, don't forget to add a personalised message, so your recipient knows who to thank for such a wonderful gift.
---
Prosecco & Chocolates Gift (Frizzante)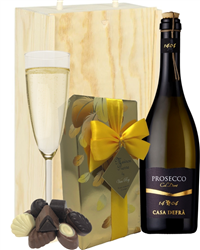 Beautifully paired and presented, this Prosecco and chocolate gift set is the ultimate gift for any occasion or Prosecco lover. Whether to say thank you, congratulations or sorry you're leaving, send someone special this elegant hamper containing a single bottle of luxurious Prosecco Frizzante (semi-sparkling). Enjoyable down to the last drop, this hamper also includes a delightful ballotin of assorted Belgian chocolate truffles to be relished alongside the Prosecco. Carefully packaged into one of our wooden gift boxes, you can get next day or selected date delivery with this gift for peace of mind. You can also add a personalised message to the order to be included, making this the ideal gift no matter the occasion.
---
Mini Prosecco Gift Basket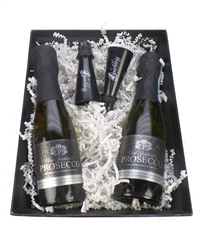 A unique, one-of-a-kind gift box that allows the recipient to enjoy it immediately upon arrival if desired. Complete with 2 20cl mini bottles of Prosecco and 2 sippers included along with it, this remarkable gift set is certain to get the party started, no matter the location. Simply insert a sipper into the neck of the bottle itself and get drinking; when you send this set to celebrate the birthday of a friend, the retirement of a parent, or wedding of friends, you can be certain any recipient will enjoy every single sip no matter what occasion you choose to have it delivered for. Just personalise this set with a message from you and know you've chosen to deliver the very best.
---
Prosecco Mixed Two Bottle Wine Gift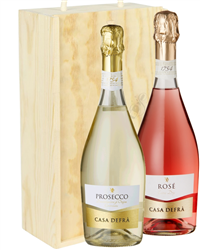 A delicious combination of flavours and a stylish bottle set, this truly remarkable Prosecco Mixed Two Bottle Wine Gift Box makes the perfect present for any occasion or simply just to show someone how much you deeply care about them. Complete with a single bottle of Casa Defra Rose Spumante and a single bottle of Casa Defra Spumante within it, this incredible gift box will be fully appreciated by anyone that is fortunate enough to receive it. Offered in a stylish wooden box and designed for secure delivery, this amazing set of wines was created to allow the recipient to enjoy two different varieties of Casa Defra wine all in one place.
---
---
Can I Send Easter Gifts By Post?
We know that you can't always spend Easter with your loved ones, but that doesn't stop you from sending a gift. Take a look at these Easter gifts ideal to send by post.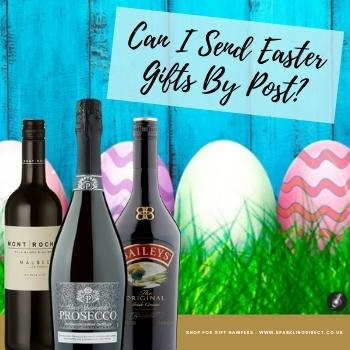 7 Best Easter Gifts For Employees
Don't let your employees feel left out this Easter. Show your appreciation for all their hard work with one of these seven Easter gift sets.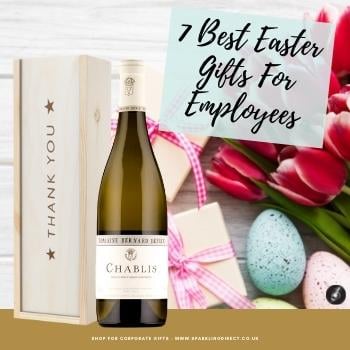 5 Great Easter Gifts For Mum and Dad
Looking to make your parents feel like kids this Easter? These gift hampers are the perfect Easter gifts to surprise them with this year!