No matter how many years a couple has been together, they deserve to celebrate their anniversary with style and elegance every time. So whether you're buying for friends, parents, girlfriend, boyfriend, husband or wife, you need to know which gift is the best to get. So What should you send for an anniversary?
Champagne is a great gift when it comes to anniversaries because they scream special celebrations. The best champagne to get depends on what you're looking for. From keepsake flute sets to gourmet food gift sets, we have all the best Champagne gifts perfect for making an anniversary extra special.
---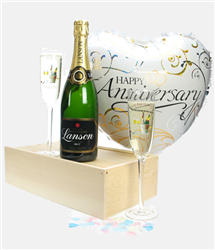 Happy Wedding Anniversary Gift
Help someone celebrate their anniversary with this amazing gift set. Nothing says celebration more than a single bottle of tasteful Lanson Black Label Champagne to enjoy whilst looking back on time spent together. Plus, to keep the memories going, this bottle is paired with a set of two Wedding Anniversary Champagne flutes and a helium Happy Anniversary Balloon. Whether for a friend, family member or for each other, personalised this gift with a written message and have it delivered on a day of your choice.
---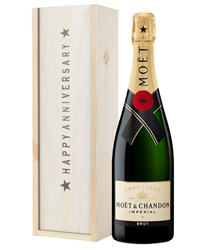 Champagne Anniversary Gift
A chic and incredibly delicious gift option that is truly ideal for celebrating any, and every, anniversary that comes up this year. Complete with a single bottle of Moet & Chandon Imperial Brut Champagne and easy to personalise with a message from you as well, this sleek and high-quality Champagne Anniversary Gift Box offers extraordinary taste and unmatchable style you simply won't get from any other present like it on the market. Presented in a sturdy wooden gift box lined with wood wool, this amazing gift also features the words 'Happy Anniversary' printed clearly on top to assure any recipient knows exactly why they've received such an amazing gift to enjoy.
---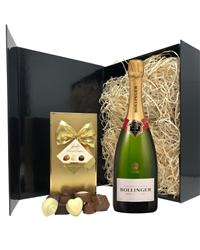 Bollinger Champagne and Chocolate Gift Box
The ultimate gift of delicious flavours that anyone will instantly fall in love with; when you have one of these incredibly delectable Bollinger Champagne & Belgian Chocolate Gift Box delivered to that special someone, they will experience instant ecstasy from the very first sip and/or bite. A beautiful gift from the inside out, this extraordinary gift box includes a single 75cl bottle of Bollinger Champagne and 125g of exquisite Belgian Chocolate, all housed within a stylish presentation box designed to cushion the product as it makes its way to the desired recipient, personalised with a customized message from you.

---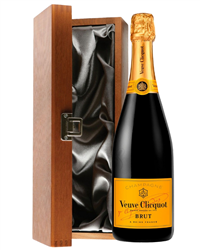 Veuve Clicquot Champagne Luxury Gift
As delicious in flavour, as it is chic in design, from top to bottom this Veuve Clicquot Luxury Gift Box offers everything you're looking for in a unique gift for someone special in your life. A stunning present to send anyone that can fully appreciate a delectable bottle of Champagne, this wonderful gift box makes an incredible present to send to offer your best wishes, your heartfelt congratulations or even your deepest sympathies to. Offered in a stylish stained wooden box and secured for delivery via a high-quality latch, this truly classy gift box is lined with grey silk and can be personalised with a custom message from you as well.
---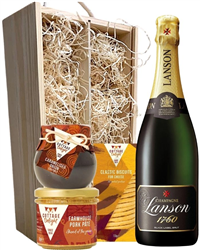 Lanson Champagne & Gourmet Food Gift Box
Forget the generic chocolates and treat someone to this sophisticated and indulgent gift set. Including a single bottle of Lanson Champagne, this gift offers a unique collection of gourmet food including Cottage Delight Farmhouse Pate with Pork, a jar of fabulous Pickle and Oval Alberts Savoury Biscuits. Whether for a birthday, milestone celebration or anniversary, this set is sure to stand out from the rest and surprise whoever receives it. Delivered in a wooden box, you can personalise this gift with a personalised message and have it delivered on a day of your choice.
---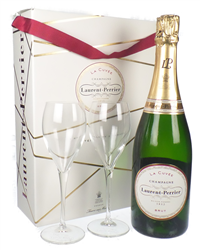 Laurent Perrier Branded Flute Set
A gift set unlike any other; this truly stunning and amazingly classy Laurent Perrier Gift Set includes not only an absolutely delicious single bottle of Laurent Perrier La Cuvee Brut Champagne, it also features two beautifully crafted, Laurent Perrier branded wine flutes as well with which to enjoy it. Contained within a chic and clearly branded box that allows this gift to stand out from the crowd of presents they may receive; this set makes a wonderful gift to send as an engagement or wedding gift if desired. A present that can also be personalised if needed, this flute set can come with a personal message included with it as well.
---
Pink Champagne Anniversary Gift
A delightfully delicious gift set that features a single bottle of Moet Rose Champagne within it; if you've been searching for a one-of-a-kind anniversary gift, this truly remarkably gift set offers everything you want, and so much more. Presented in a solid wooden gift box and lined with wood wool to ensure secure delivery to any location, this Pink Champagne Anniversary Gift Box can help celebrate any anniversary from a wedding to years spent working a career and more. Easy to personalise with a message from you as well if desired, this amazing gift box makes any anniversary as great as it can possibly be.
---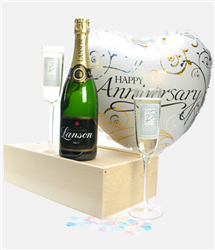 25th Wedding Anniversary Gift
If there's any anniversary that needs extra special celebrations, it's the 25th Anniversary. Whether for a friend, family member or your partner, help them celebrate the occasion with a single bottle of Lanson Black Label Champagne and a pair of 25th Wedding Anniversary Champagne flutes as a keepsake. No gift is more special than this complete and elegant set. Perfected with a helium Happy Anniversary balloon, this gift can be personalised with a written message and be delivered the next day or on a day of your choice.
---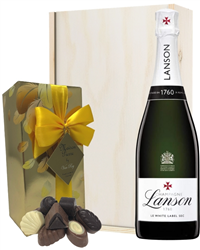 Lanson White Label Champagne & Chocolate Gift Box
Elegant and stylish, this pair will send huge celebrations to anyone who receives it. No matter the occasion, help someone celebrate with this single bottle of gorgeous Lanson White Label Champagne to pop open and enjoy. Plus, it's paired with a luxurious ballotin of assorted Belgian chocolate truffles. Packaged and delivered in one of our wooden gift boxes, this gift set is perfect for any anniversary, birthday or celebration. Have it delivered the next day or on a day of your choice anywhere in the UK.
---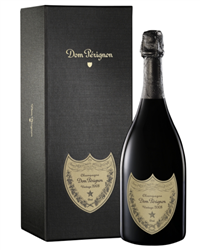 Dom Perignon Champagne Gift Box
A truly luxurious gift box that includes a bottle of one of the most well-known champagne's in the world, this incredibly elegant Dom Perignon Champagne Gift Box makes the perfect present for anyone that deserves a special congratulations of any kind. Delivered in its own sleek, black Dom Perignon branded box and filled with a bottle of the current vintage, from top to bottom this amazing gift box offers an amazingly delicious gift nearly anyone can enjoy. Simply add a personalised message for complete customization and this remarkable gift will be on its way to that special someone right away.
---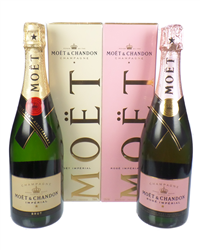 Moet And Chandon Champagne Two Bottle Gift Box Moet And Moet Rose
Double the celebrations with this magnificent gift set of two bottles of Moet & Chandon Champagnes. Gift someone the best of both worlds with one single bottle of the Non-Vintage Brut Champagne and one single bottle of Rose. A delightful pair for extended celebrations. Whilst a perfect gift for couples, this gift is great for any occasion and can be completed with a personal message in branded gift boxes. Get this gift set delivered the next day or on a day of your choice anywhere in the UK.
---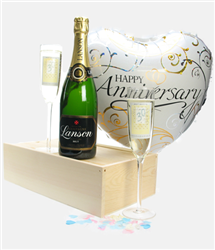 30th Wedding Anniversary Gift
30 years together cannot go un-celebrated and deserves an extra special gift. This is the perfect gift for any couple celebrating the milestone. Let them celebrate in style with a single bottle of Lanson Black Label Champagne with a pair of 30th Wedding Anniversary flutes to keep for memories of the occasion. Packed with a fun, helium Happy Anniversary Balloon, this gift is guaranteed to make the occasion feel both memorable and distinct. Finish the gift with a personalised message and have it delivered the next day or on a date of your choice.
---
---
10 Best Gifts for Champagne Lovers
Champagne makes the perfect gift for all occasions. It's a sophisticated and luxurious gift that will be appreciated by anyone who receives it.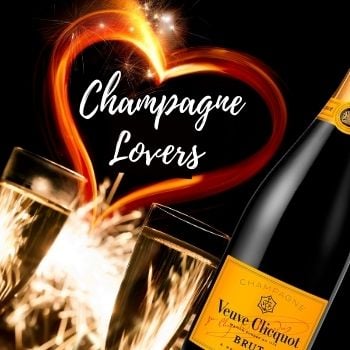 What is a Good Champagne to Give as a Gift?
Whether you're looking to say Happy Birthday, Congratulations or Thank You, we have the most beautiful gift sets created from the worlds most well-known brands. Here are our top picks when choosing the best Champagne to give as a gift.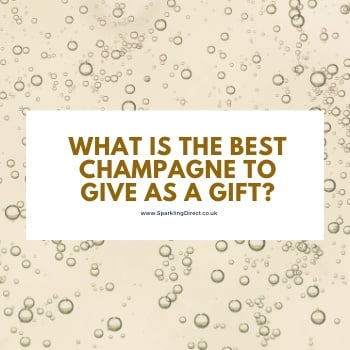 12 Best Champagne Gifts For Graduations
If you know someone about to graduate from university then you'll probably be thinking about getting them something to help celebrate the occasion.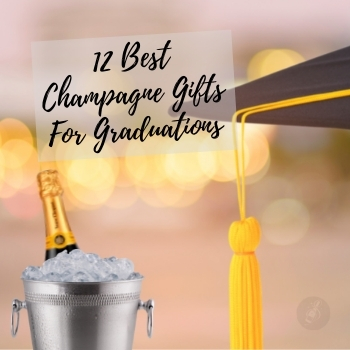 7 Best Champagne and Glasses Gift Sets
Looking for a great housewarming gift? Choosing a housewarming gift for friends or couples can take time. You'll need to decide between quirky, unique, practical or a luxury gift.