When it comes to Gin, it can be hard to know what makes a good gift. With so many choices and variations, you might be unsure what's good and what they'll like best. So what do you get someone who likes Gin?
Unique Gin sets and gifts are great for Gin lovers, no matter the occasion. Gin and Tonic sets, quirky bottles and food or chocolate hampers are all great choices. Whether to say thank you, happy birthday or for a celebration, these 9 Gin gifts are guaranteed to make any UK Gin lover happy.
---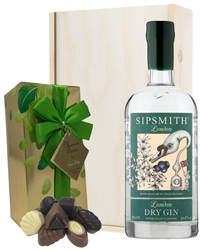 Sipsmith Gin And Chocolates Gift Set
A gift set ideal for slowly savoring, this truly delicious Sipsmith Gin and Chocolates Gift Set is a gift you can assure the recipient will fully enjoy every moment from the first taste to the very last. Housed in a sturdy wooden box and perfect for delivery to anyone to choose to send it to, this gift box includes a single bottle of Sipsmith London Dry Gin that was handcrafted in small batches for the ultimate enjoyment as well as 250g of assorted Belgian chocolates. Full of flavour throughout the box and easy to customize with a personal message if desired, this gift box makes a great gift for any special occasion on your calendar.
---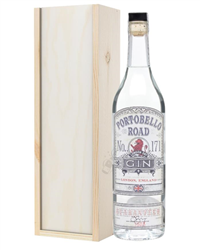 Portobello Road Gin Gift
Full of lovely flavour, send someone a bottle of this Portobello Road premium Gin no matter the occasion. A grain-based Gin, this bottle is distilled with nine different botanicals, cassisa bark and a hint of nutmeg to create a perfectly unique taste. It makes a perfect addition to any gin collection and is ideal for any gin lover looking to try something different. Packaged in a wooden gift box and protected with wood wool, this gift can be completed with a personally written message and delivered on a date of your choice.
---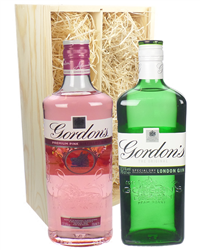 Gordons Gin Twin Gift Set
An amazing gift option for any gin-lover no matter the occasion to choose to send it for. Featuring a bottle of Gordon's Special Dry London Gin as well as a bottle of Gordon's Pink Gin included along with it, from the inside out this truly remarkable gift box boasts everything you've been searching for in a truly unique present option that will stand out from any other gift the intended recipient receives. Delivered in a high-quality wooden box and complete with a personal message from you if desired, this Gordons Gin Gift Set makes an elegant gift to send to any birthday party, housewarming party, retirement celebration or simple family get-together for everyone to share and enjoy.
---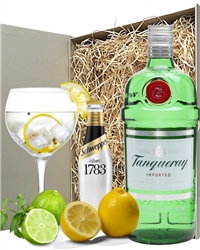 Tanqueray Gin And Tonic Gift Set
The perfect present to send to anyone in your life with a true appreciation for a quality gin and tonic to enjoy; every single ingredient required to create this smooth and delicious drink, besides a glass, is included within this gift box to assure the recipient doesn't have to wait even a moment after it arrives. Presented in a chic and amazingly sleek black gift box and filled with fabulous items from top to bottom, this Tanqueray Gin and Tonic Gift Set includes not only a single bottle of Tanqueray Gin, but also a bottle of Schweppes 1783 Tonic Water as well as a lemon and lime to complete the required flavours. Just the gift set that improves any occasion it's delivered to.
---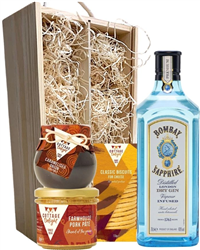 Bombay Gin And Pate Gift
Delivered in a stylish, high-quality wooden gift box and lined with wood wool to ensure secure delivery no matter the occasion. This sleek and beautiful Bombay Gin and Pate Gift Box make the perfect gift for any occasion from a wedding to retirement and more. Complete with a single bottle of Bombay Sapphire London Dry Gin, a 90g jar of Cottage Delight Farmhouse Pate with Pork, a 115g jar of pickles and a 150g package of Oval Alberts Savoury Biscuits; every single taste of this marvellous gift set you enjoy is certain to satisfy any set of taste buds lucky enough to receive it. Easy to personalize with a message from you, feel confident sending this unique gift box to anyone from your brother to your boss to savour every bit of.
---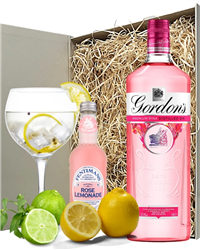 Gordons Pink Gin And Lemonade Gift
Presented in a luxurious black gift box and boasting a truly sophisticated form from the outside in; this remarkably unique and elegant gift set includes a single bottle of Gordon's Premium Pink Gin as well as a 275ml bottle of Fentimans Rose Lemonade within it. A perfectly pink present option that makes a gorgeous gift for an array of occasions from Valentine's Day to Christmas and beyond. A one-of-a-kind way to surprise that special someone with a lovely and delicious gift box that they'll be happy to savour every sip of. Simply personalize this gift set with a message from you as well if desired.
---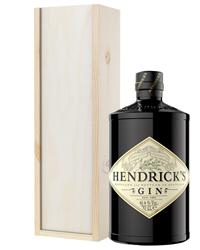 Hendricks Gin Gift
Distilled and bottled in the country of Scotland and offering full and unique flavour throughout every glass; when you send one of these truly remarkable Hendricks Gin Gift Boxes to an event or occasion, the recipient is sure to open it immediately upon arrival for enjoyment. One of the most popular varieties of Gin and certain to be savoured by anyone with a true appreciation for this particular spirit, this gift set contains a single bottle of Hendricks Gin within it and will have the recipient begging you for more the moment it's gone. Presented in a high-quality wooden gift box, this set can also include a personal message from you along with it if desired.
---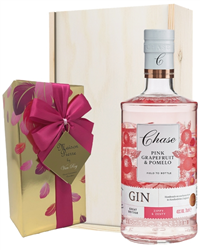 Pink Grapefruit Gin And Chocolates Gift Set
Offering a remarkably refreshing and amazingly tasty flavour through every single bite and sip provided, this chic and elegant gift box includes a single bottle of Chase Pink Grapefruit and Pomelo Gin and a 250g box of assorted Belgian chocolates to enjoy. Delivered in a sturdy wooden gift box lined with wood wool and boasting a simply stylish appearance unlike any other; this Chase Gin and Chocolates Gift Set is the perfect addition to any occasion from a wedding reception to a backyard birthday bash and more. The perfect present for anyone that loves to sip on something sweet and flavorful, especially during the spring and summer months of the year.
---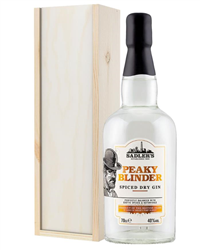 Peaky Blinder Spiced Dry Gin Gift
Inspired by the exploits of Tommy Shelby and by the order of the Peaky Blinders, get your hands on this excellent gin. A unique spiced dry gin from Sadlers, Peaky Blinder Gin is expertly balanced with exotic spices and botanicals to create something new to try. Whatever the occasion, this unique bottle will please both Gin lovers and Peaky Blinders fans across the UK. We deliver this to you in one of our wooden gift boxes, so there is no need to have them smuggled out of Birmingham with car parts!!
---
---
5 Best Birthday Gifts For Gin Lovers
Are you looking for a really unique birthday gift for a gin-loving friend? Look no further, our guide below lists 5 of our most popular gin presents.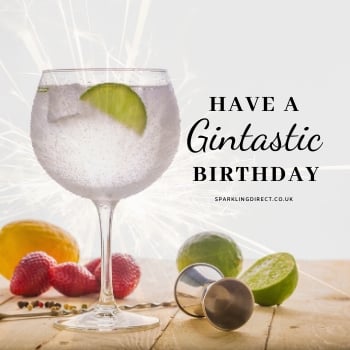 10 Best Gin Gift Sets
Searching for the perfect gin to give as a present? The UK's favourite spirit makes the perfect present for the gin lover in your life. We've got luxury gin gift sets that include a selection of flavoured gin gifts to suit every kind of gin-fluencer.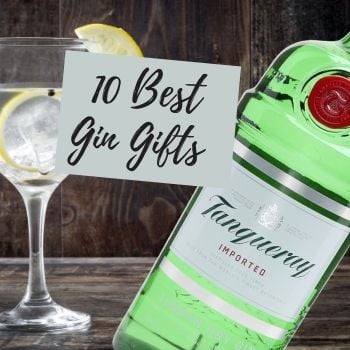 Gin by Post
Gin is most definitely the spirit of favour, so what better gift to give than a bottle of this fantastic drink. No longer demonised as 'Mothers Ruin' gin has come a long way and is enjoying its popularity, making a Gin Gift a real treat for a lot of people.