Struggling to choose a bottle of fizz? Sometimes bigger really is better! A Magnum size Champagne bottle is 150cl equal to 2 Standard Bottles. Here are the 9 of our best magnums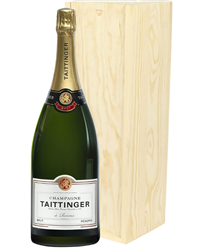 Taittinger Champagne Magnum
Perfectly sized for sharing if desired, this truly incredible Taittinger Champagne Magnum 150cl Gift Box includes an impressively large bottle of absolutely delicious champagne, one that can be enjoyed several times or by several people. Great to personalise with your own meaningful, personal message, this gift box comes presented in a simple wooden box that is easily as fashionable in look as it is fantastic in flavour. Lined with wool so it's completely secure during the delivery process, this gift box is certain to arrive just as intended no matter where, and who, it's meant to be sent to.
---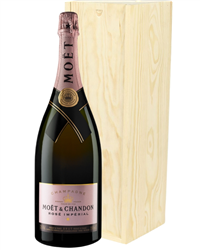 Moet Rose Champagne Magnum
The perfect amount of champagne for one, or more than one, recipient to enjoy; from the moment this Moet Rose Champagne Magnum 150cl Gift Box arrives it won't be long until every sip has been fully savored. Delivered in a high-quality wooden gift box and lined with a protective wood wool lining within it from top to bottom, this remarkably elegant gift box is also fast and easy to personalise with a message straight from you to send along with it as well. Boasting double the volume of a single wine bottle and featuring a crisp and delightful flavour, every glass of rose champagne contained within this box is created to please from beginning to end.
---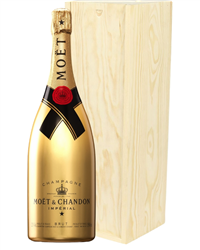 Moet & Chandon Gold Edition Champagne Magnum
This superb magnum of Champagne by Moet et Chandon has been made that even more special by the edition of its limited gold sleeve. The bottle looks stunning and anyone would love to receive this as a gift. Be confident in sending this bottle knowing it both looks and tastes fantastic.
---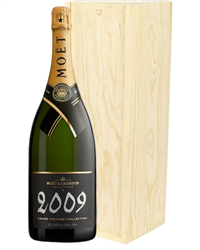 Moet & Chandon Vintage Champagne Magnum
A large and luxurious gift box that boasts an impressive volume as well as a crisp, delicious flavour; this remarkably stylish gift set is made to satisfy any recipient from an important client at work, to your best mate, or even your mother when you want to send something special for them to truly enjoy. Presented in a lovely wooden gift box and lined with wood wool for secure delivery, this Moet & Chandon Vintage Champagne Magnum Gift Box makes a chic addition to any event it's sent to from an engagement party to a graduation or even as a reward for a job well done at work.
---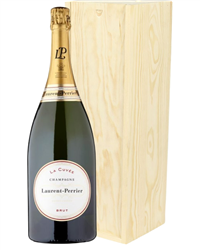 Laurent Perrier Champagne Magnum
An amazing gift box that allows any recipient to fully savor the flavor the wonderful bottle of Champagne placed within it; this Laurent Perrier Champagne Magnum 150cl Gift Box provides them with more than enough volume to enjoy or even share with others if desired. A great gift option to send for a large array of different possible occasions or events, this incredibly versatile gift box makes an amazing option to send to a birthday party, a wedding, an engagement and beyond. Securely contained within a wool-lined wooden box and easy to personalise with a personal message, this gift box makes a lovely delivery that anyone would be truly thrilled to receive.
---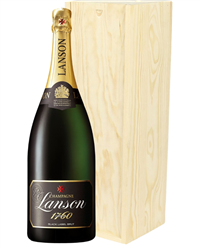 Lanson Champagne Magnum
Offering an impressively large volume within a simply chic gift box, this set includes a magnum size bottle of Lanson Black Label Brut NV Champagne within it that features a bold and crisp flavour that any recipient is sure to fully enjoy. A great gift to give for any occasion you can come up with, this Lanson Champagne Magnum 150cl Gift Box makes the perfect present to have delivered to a special event, or even just as a way to say congratulations on a job well done. Simple to customise with a truly personal message if desired as well, this gift box will have anyone that receives it showering you with thanks for sending such a wonderful gift.
---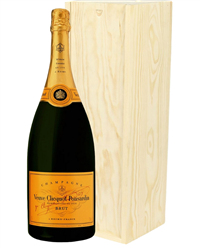 Veuve Clicquot Champagne Magnum
The perfect size for sharing with someone you love; when you surprise your spouse, significant other or a close friend with this Veuve Clicquot Champagne Magnum 150cl Gift Box, you can enjoy its delightful flavour along with them. Easy to customize with your own personal message if desired, this gift box is presented in a fashionable wooden box and is lined with wool so it always arrives to its destination just as it should; ready for your recipient to sip and enjoy through glass after glass. Containing a 1.5-litre bottle of Veuve Clicquot Yellow Label Champagne within it, this high-quality gift box allows anyone that receives it to fully savor the flavor of this delectable champagne.
---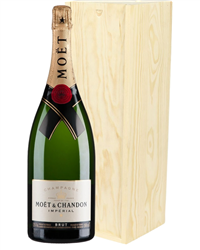 Moet & Chandon Champagne Magnum
A gift box that provides the recipient with a bit more champagne to enjoy than a traditionally sized bottle; this especially voluminous Moet & Chandon Champagne Magnum Gift Box offers an especially large volume of 150cl to enjoy and a stylish appearance that offers a sturdy method of delivery as well. The perfect present for anyone with a little extra personalisation added, this lovely gift box can come with a personlised message along with it if desired. Great as an engagement, wedding, retirement or even a thank you or simple congratulations for any important event that comes up in their lives.
---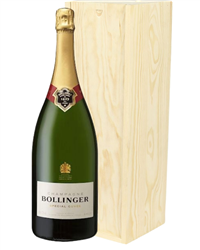 Bollinger Champagne Magnum
Elegant, stylish, and just right for delivery to any location or occasion, this Bollinger Champagne Magnum 150cl Gift Box provides anyone that receives it with an impressively large volume of nut-like, fruity, spicy, and delightful flavour that they won't be able to pass up. Presented in a fashionable wooden box and boasting an appearance that will stand out from every other gift they receive; this truly remarkable gift box will instantly become the recipients favorite present from the moment they open it. Personalise this gift with a heartfelt personal message if desired and know that you've sent the absolute best.
---