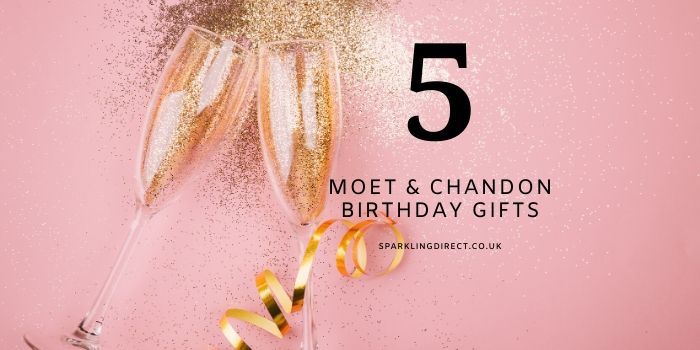 If you're looking for the perfect Champagne birthday gift, look no further. Send a Bottle of Moet Champagne to Say Happy Birthday & Celebrate an 18th, 21st, 30th, 40th or 50th in style.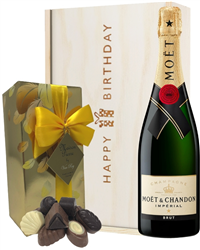 Moet Champagne & Chocolates
The gift that any birthday celebration needs to be truly complete; when you choose to send one of these amazingly delicious Moet & Chandon Champagne and Chocolates Birthday Gift Box to someone in your life, you know that they are receiving the best birthday present they could possibly get. Presented in a stylish wooden gift box that includes the words 'Happy Birthday' stamped clearly on top, this set is designed to be delivered to anyone, at nearly any location, in a totally secure way. Easy to personalise with a message as well, this gift box makes a true statement at any birthday bash it's delivered to.

---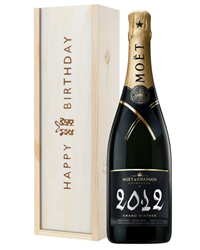 Moet Vintage Birthday Gift
A single bottle of Moet & Chandon Vintage Champagne. The current vintage is 2012 and tastes superb. This is presented in our 'Happy Birthday' branded wooden gift box and is lined with wood wool. Personalize this gift by adding your own personal message. The champagne is notable for its remarkable balance built on intensity and depth.
---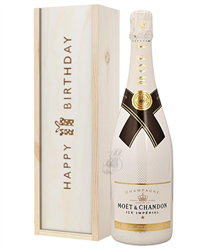 Moet Ice Imperial Birthday Gift
Get the refreshing Moet Ice imperial Champagne. Its a demi-sec Champagne which has been specifically designed to be drunk over ice – ideal for chilling out! A demi-sec Champagne is sweeter than your usual Brut, which is a lot drier in taste. This is presented in our 'Happy Birthday' branded wooden gift box and delivered just in time to get the celebrations started!!
---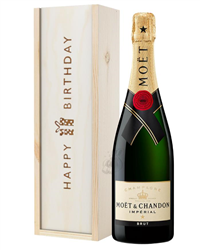 Moet Champagne Birthday Gift
Sending heartfelt birthday wishes to someone you love has never been easier, or more elegant, than this. From the high-quality and sleek wooden gift box it comes in to the single bottle of Moet Brut Champagne held within it, there is truly no other gift box available that will make an impression quite like this one whether the birthday celebrations are classy or casual in overall style. Easy to customise with a personal message from you if desired and boasting a simple yet chic appearance, from end to end this Moet & Chandon Champagne Birthday Gift Box features the words 'Happy Birthday' on top to assure the reason for its delivery is clear from the moment it arrives.
---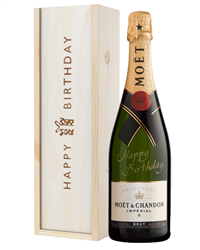 Happy Birthday Moet Champagne
A wonderful birthday gift that is sure to arrive in style to any birthday party or bash you're invited to; from top to bottom this extraordinary gift box boasts nothing but truly chic design and delicious flavour as well. Presented in a stunning, high-quality wooden box and stamped with the words Happy Birthday clearly on top, this box is absolutely certain to arrive safely and looking its best no matter where you choose to have it delivered. Complete with a single bottle of Moet & Chandon Imperial Brut Champagne adorned with the words 'Happy Birthday' in gold on the bottle, this Happy Birthday Moet Champagne Gift Box is created to satisfy anyone celebrating another year of life to enjoy.
---