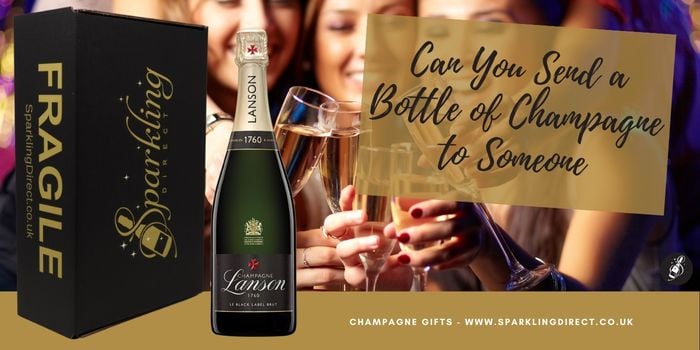 Looking for the perfect gift? Sparkling Direct offers a wide selection of luxury Champagne, ideal for special occasions or as a thoughtful present. From renowned labels to exclusive finds, our collection of Champagnes will help you find that unique bottle that's sure to make your recipient feel extra special. Plus with next day delivery across the UK, it's easy and convenient to send Champagne as a gift at any time!
Enjoy luxury bubbly from some of the world's most popular Champagne houses; whether it be for wedding gifts, corporate events or simply because you know someone who deserves something special – let Sparkling Direct take care of you. Our exquisite range is designed to help you get in touch with those who mean the most in your life through beautiful bottles that are sure to delight.
---
Personalised Champagne Gift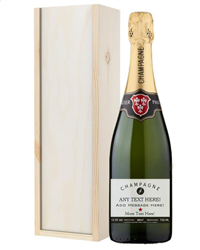 Are you looking for the perfect gift for a special occasion? Look no further! Our Personalised Champagne Gift is sure to impress and delight your recipient. This gift includes a luxurious 75cl bottle of Paul Langier Champagne, presented in a stylish wooden gift box. The bottle can be customised with your own words, making this gift truly unique and special. Imagine the look on your recipient's face when they open this thoughtful and sophisticated gift. Whether you're celebrating a birthday, or anniversary, or just want to show your appreciation, our Personalised Champagne Gift is a perfect choice. Don't wait to give this amazing gift! Our convenient next-day delivery or date of your choice option means you can have it delivered straight to your recipient's door, no matter where they are. Order now and make someone's day extra special with our Personalised Champagne Gift.
---
Lanson Champagne Gift Box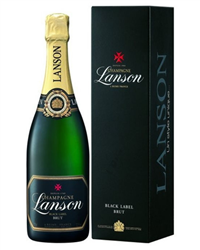 A simple way to send the gift of a remarkably popular bottle of Champagne that anyone will truly appreciate receiving. An exceptional gift that will bring instant delight after only one taste, this Lanson Black Label Champagne Gift Box makes an extraordinary gift for an engagement, a wedding, a promotion, or any other special occasion you can come up with. Presented in its own Lanson branded gift box and just what any day of celebration is missing, this wonderful gift box can even include your own personalised message along with it if desired. A great taste that is sure to please and will never disappoint, Lanson Black Label Champagne is a gift unlike any other.
---
Veuve Clicquot Champagne Magnum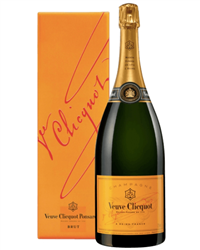 Presented in a bold, bright yellow carded gift box that makes it clear what elegant bottle of champagne is placed within it. Easy to personalise with a message that is included in the gift box as well if desired, this Veuve Clicquot Magnum 150cl Gift Box is ideal to have delivered to anyone on your gift list from a parent to a co-worker and everyone else in between. A delicious blend of Pinot Noir, Chardonnay and Pinot Meunier grapes and offered in a dry, Brut style; this gift box contains a large, single bottle of Veuve Clicquot Yellow Label champagne with a traditional taste that will have anyone's taste buds begging for more.
---
Veuve Clicquot Champagne and Chocolate Gift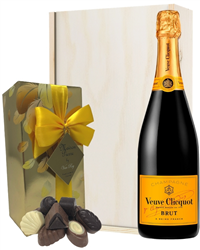 As delicious in flavour, as it is elegant in design and composition, this sleek and truly gorgeous Veuve Clicquot Champagne & Belgian Chocolates Gift Box offers absolute sophistication and impressive quality throughout every item included within the set. Carefully packed within a stylish wooden gift box and complete with everything needed for absolute enjoyment of each item within it; from the single bottle of Veuve Clicquot Champagne to the assorted Belgian Chocolates, there isn't a taste of this box that isn't absolutely delightful from start to finish. A present anyone will be sure to appreciate, this gift box comes with a printed plastic gift card with a personalised message enclosed with the gift itself.
---
Champagne Birthday Gift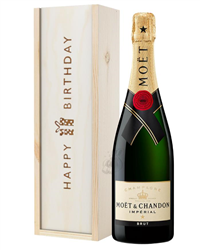 Sending heartfelt birthday wishes to someone you love has never been easier, or more elegant, than this. From the high-quality and sleek wooden gift box it comes in to the single bottle of Moet & Chandon Imperial Brut Champagne held within it, there is truly no other gift box available that will make an impression quite like this one whether the birthday celebrations are classy or casual in overall style. Easy to customise with a personal message from you if desired and boasting a simple yet chic appearance, from end to end this Moet & Chandon Champagne Birthday Gift Box features the words 'Happy Birthday' on top to assure the reason for its delivery is clear from the moment it arrives.
---
Personalised Champagne and Chocolate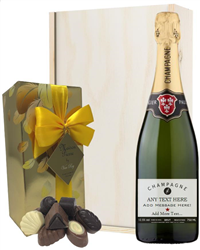 Treat someone special to a luxurious gift they won't soon forget with this exclusive Personalised Champagne and Chocolates box. With your own message printed on the bottle label, Paul Langier Brut Champagne pairs perfectly with 250g of Belgian assorted chocolates presented in our classic wooden gift box – plus have the option for an extra greeting card! Delivered next day or at any date you choose throughout the UK; let them experience one-of-a-kind sophistication & deliciousness all rolled into one perfect package.
---
Where Can I Order Champagne For Delivery?
Get luxurious champagne delivered straight to your door with next-day delivery. Discover an extensive selection of fine and exclusive Champagnes from prestigious Champagne Houses at unbeatable prices with Sparkling Direct. Make any occasion extra special – one click away!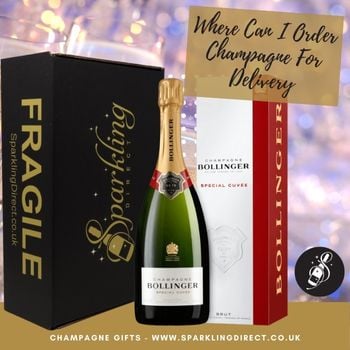 Can You Send Champagne by Post UK?
Sending a bottle of Champagne by post is always a hassle. That's why we've made it easier with our exceptional gift delivery service. Read more here.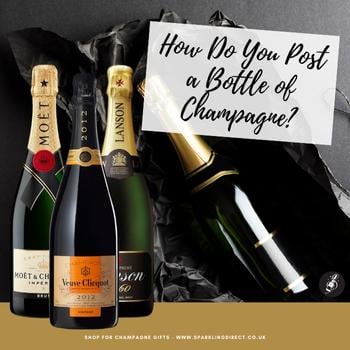 Can You Gift Someone Champagne?
Thinking of getting a bottle of Champagne delivered? Find out how we've made it easier than ever to send a bottle of Champagne here in this post.