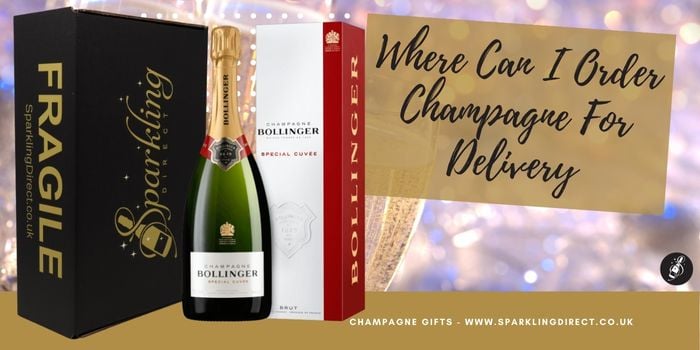 Looking to send a special bottle of bubbly? Sparkling Direct has you covered when it comes to Champagne delivery. With an extensive selection of fine and exclusive champagnes, we can help make any occasion extra special with just one click. From prestigious Champagne Houses, every carefully-selected bottle will bring delight for any occasion. And with competitive prices and free next day delivery across the UK (order by 4 PM), you're guaranteed unbeatable service from us – no matter where in the country your recipient is located!
So why not treat someone special today? Make their day with the gift of sparkling beauty that never fails to please! Our range caters for all tastes and budgets so everyone is sure to find something they love here at Sparkling Direct.
---
Personalised Champagne Gift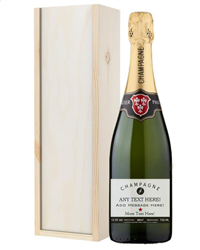 Are you looking for the perfect gift for a special occasion? Look no further! Our Personalised Champagne Gift is sure to impress and delight your recipient. This gift includes a luxurious 75cl bottle of Paul Langier Champagne, presented in a stylish wooden gift box. The bottle can be customised with your own words, making this gift truly unique and special. Imagine the look on your recipient's face when they open this thoughtful and sophisticated gift. Whether you're celebrating a birthday, or anniversary, or just want to show your appreciation, our Personalised Champagne Gift is a perfect choice. Don't wait to give this amazing gift! Our convenient next-day delivery or date of your choice option means you can have it delivered straight to your recipient's door, no matter where they are. Order now and make someone's day extra special with our Personalised Champagne Gift.
---
Veuve Clicquot Vintage Champagne Gift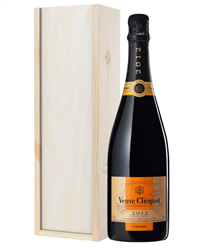 A set that contains an elegant bottle of Veuve Clicquot Vintage Champagne within it; this incredibly lovely gift set makes the perfect gift to have delivered to any especially classy occasion or to send best wishes or congratulations to someone special in your life. Easy to personalise so the recipient knows who to send their appreciation to, this wonderfully delicious Veuve Clicquot Vintage Champagne Gift Box will fully and completely satisfy anyone lucky enough to receive it. Presented in a strong wooden box for secure delivery, this gift set also features a single bottle of truly fabulous champagne that provides a deep and intense flavour that any champagne connoisseur will absolutely love.
---
Louis Roederer Champagne Gift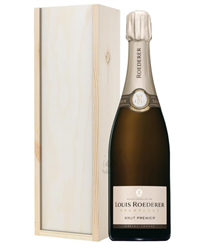 A gift box that offers a chic appearance as well as an amazingly elegant flavour; from the inside out this remarkably sophisticated gift set features everything you're looking for in a truly impressive, easy-to-send gift option. Simple to personalise with a message directly from the sender if desired, this Louis Roederer Champagne Gift Box makes a wonderful gift to have delivered to anyone you choose, from an employee that has earned a special incentive to a sibling that is celebrating a birthday or a friend that finally got engaged to their long-time significant other. When you send a bottle of Louis Roederer NV, you send the very best.
---
Bollinger Champagne Gift Box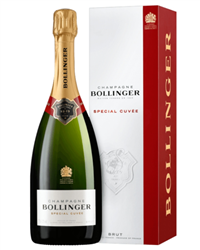 A classy, sophisticated way to truly impress anyone you choose to send it to. From the simple yet eye catching gift box it comes in to the incredibly exquisite single bottle of Bollinger Special Cuvee Champagne placed within it, this amazing Bollinger Champagne Gift Box offers everything you're looking for in a bottle of bubbly. Boasting a unique, palate refreshing taste and fruity, spicy, nut-like flavour; from beginning to end this truly exclusive bottle of champagne will be certain to impress anyone that receives it, from your boss to your best friend and anyone in between.
---
Champagne Birthday Gift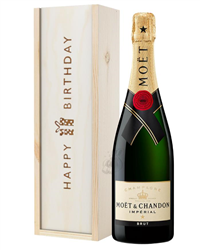 Sending heartfelt birthday wishes to someone you love has never been easier, or more elegant, than this. From the high-quality and sleek wooden gift box it comes in to the single bottle of Moet & Chandon Imperial Brut Champagne held within it, there is truly no other gift box available that will make an impression quite like this one whether the birthday celebrations are classy or casual in overall style. Easy to customise with a personal message from you if desired and boasting a simple yet chic appearance, from end to end this Moet & Chandon Champagne Birthday Gift Box features the words 'Happy Birthday' on top to assure the reason for its delivery is clear from the moment it arrives.
---
Laurent Perrier and Glasses Gift Set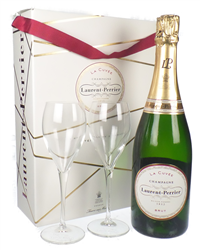 A gift set unlike any other; this truly stunning and amazingly classy Laurent Perrier Branded Flute Gift Set includes not only an absolutely delicious single bottle of Laurent Perrier La Cuvee Brut Champagne, it also features two beautifully crafted, Laurent Perrier branded wine flutes as well with which to enjoy it. Contained within a chic and clearly branded box that allows this gift to stand out from the crowd of presents they may receive; this set makes a wonderful gift to send as an engagement or wedding gift if desired. A present that can also be personalised if needed, this flute set can come with a personal message included with it as well.
---
Can I Get a Bottle of Champagne Delivered?
Thinking of getting a bottle of Champagne delivered? Find out how we've made it easier than ever to send a bottle of Champagne here in this post.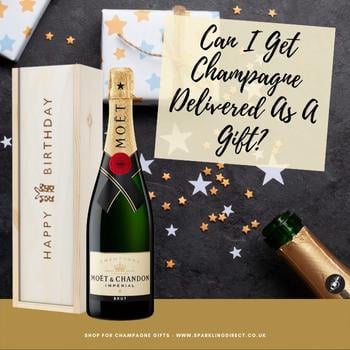 How Do You Send a Bottle of Champagne in the Post?
Sending a bottle of Champagne by post is always a hassle. That's why we've made it easier with our exceptional gift delivery service. Read more here.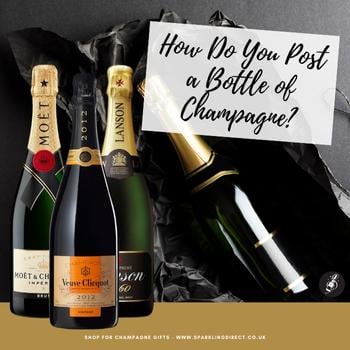 How Do I send Champagne to a Friend?
Looking for a unique gift? Check out these personalised Champagne gifts that will make any occasion special. From birthday to anniversary, these champagnes are sure to please. Add a personal touch with a custom message or name for the recipient. Order now and have them delivered in time for the celebration!