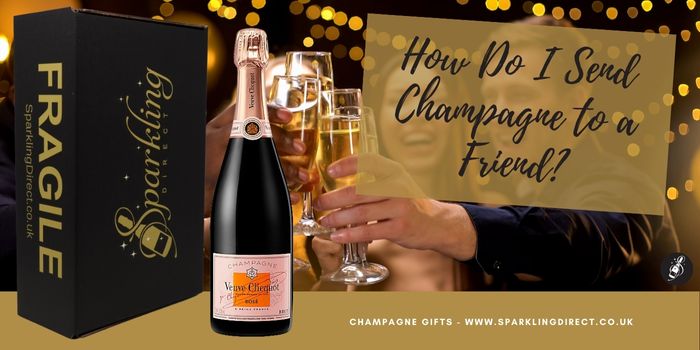 Looking for the perfect present for a special friend? Sparkling Direct makes it easy to send champagne and sparkling wine gifts that are sure to brighten someone's day. Choose from our selection of hand-selected bottles, add your own personal message and have the gift delivered next day, straight to their door! Plus, our delivery service covers all of mainland UK.
Whether you're celebrating an occasion or sending a kind gesture just because – with our speedy delivery service and wide range of champagnes available – you can be sure your friend will enjoy receiving a bottle as much as they love drinking it.
---
Rose Champagne Gift Box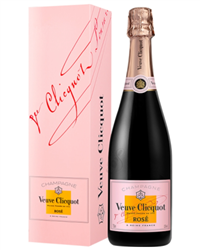 Fun, flirty and incredibly elegant, this Veuve Clicquot Rose is the perfect gift for any occasion. Whether for an engagement, housewarming or birthday gift, send someone this gorgeous bottle of bubbly Champagne and make the occasion extra special. It contains one single bottle of delightful Veuve Clicquot Rose Champagne and is sent in its own branded Veuve Cliquot Rose gift box. Meaning it looks as good as it tastes upon arrival. Send it anywhere in the UK with a personalised message and have it delivered the next day or on a date of your choice. You can't go wrong with this perfectly divine Champagne gift set.
---
Personalised Champagne Gift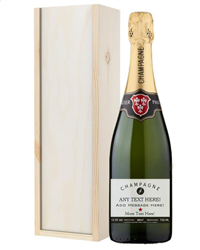 Are you looking for the perfect gift for a special occasion? Look no further! Our Personalised Champagne Gift is sure to impress and delight your recipient. This gift includes a luxurious 75cl bottle of Paul Langier Champagne, presented in a stylish wooden gift box. The bottle can be customised with your own words, making this gift truly unique and special. Imagine the look on your recipient's face when they open this thoughtful and sophisticated gift. Whether you're celebrating a birthday, or anniversary, or just want to show your appreciation, our Personalised Champagne Gift is a perfect choice. Don't wait to give this amazing gift! Our convenient next-day delivery or date of your choice option means you can have it delivered straight to your recipient's door, no matter where they are. Order now and make someone's day extra special with our Personalised Champagne Gift.
---
Champagne Birthday Gift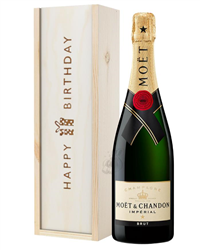 Sending heartfelt birthday wishes to someone you love has never been easier, or more elegant, than this. From the high-quality and sleek wooden gift box it comes in to the single bottle of Moet & Chandon Imperial Brut Champagne held within it, there is truly no other gift box available that will make an impression quite like this one whether the birthday celebrations are classy or casual in overall style. Easy to customise with a personal message from you if desired and boasting a simple yet chic appearance, from end to end this Moet & Chandon Champagne Birthday Gift Box features the words 'Happy Birthday' on top to assure the reason for its delivery is clear from the moment it arrives.
---
Veuve Clicquot Champagne Magnum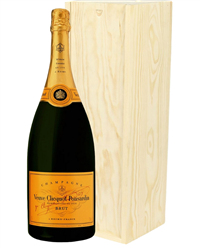 The perfect size for sharing with someone you love; when you surprise your spouse, significant other or close friend with this Veuve Clicquot Champagne Magnum 150cl Gift Box, you can enjoy its delightful flavour along with them. Easy to customize with your own personal message if desired, this gift box is presented in a fashionable wooden box and is lined with wool so it always arrives to its destination just as it should; ready for your recipient to sip and enjoy through glass after glass. Containing a 1.5-litre bottle of Veuve Clicquot Yellow Label Champagne within it, this high-quality gift box allows anyone that receives it to fully savour the flavour of this delectable champagne.
---
Champagne and Cheese Hamper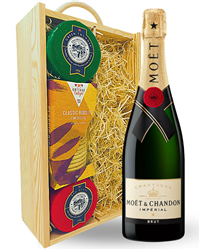 Bring the bubbles and elegance to any occasion with this delicious Champagne and cheese hamper. Complete with a bottle of Moet & Chandon NV Champagne, this hamper includes a box of Cottage Delight Biscuits, Snowdonia Green Thunder Cheese and Snowdonia Red Devil Cheese. Green Thunder is a Cheddar Cheese with roasted garlic and herbs. Red Devil is a Red Leicester with Habanero chillies and peppers. It's all presented in one of our wooden gift boxes and is protected with wood wool. You can complete this gift with a personalised message and send it anywhere in the UK with next day or selected date delivery.
---
Does Champagne Come In A Box?
When it comes to Champagne gifts, presentation is key. So if you're wondering whether our Moet & Chandon gifts are presented in a gift box. This is the post for you!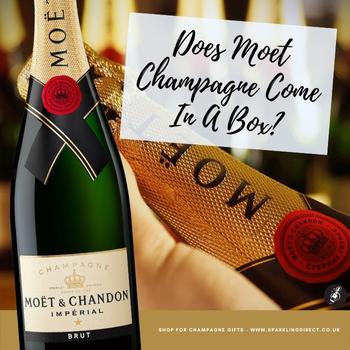 Can You Send Champagne by Post?
Sending a bottle of Champagne by post is always a hassle. That's why we've made it easier with our exceptional gift delivery service. Read more here.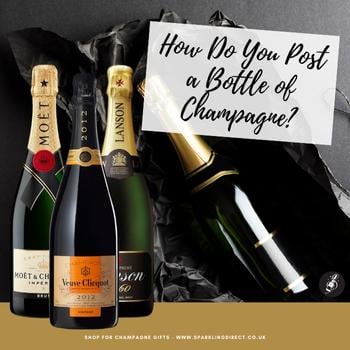 Can You Gift Someone Champagne?
Whether you're looking to say Happy Birthday, Congratulations or Thank You, we have the most beautiful gift sets created from the worlds most well-known brands. Here are our top picks when choosing the best Champagne to give as a gift.