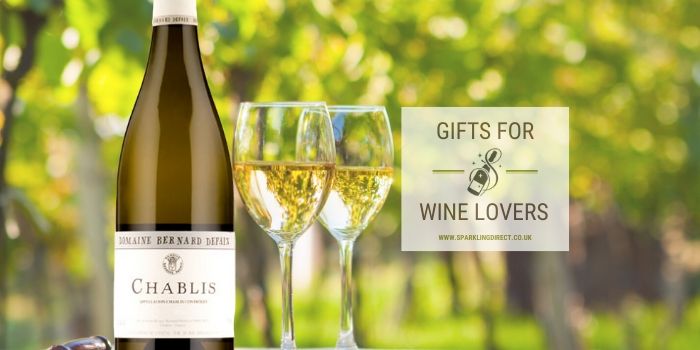 People often ask what type of wine a Chablis is? Produced in the most northwest corner of Burgundy in France, Chablis is made 100% from the Chardonnay grape variety. White wine enthusiasts who love drinking dry, crisp white wines with flavours of citrus and pear will enjoy the taste unlike other Chardonnay wines from around the world, Chablis wines rarely use oak casks for ageing.
When searching for the best Chablis gifts for wine lovers, you'll want to consider the occasion. One of our best selling gifts is the lovely combination of Belgian chocolates together with a bottle of Domaine Bernard Defaix Chablis, this is a beautiful looking gift set and will certainly be appreciated. At Sparkling Direct, all of our white wine gift sets include Free next working day delivery across the UK.
---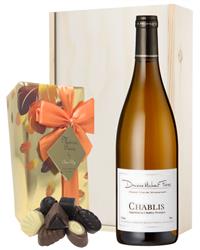 Chablis Wine and Chocolates
Boasting a level of elegance and chicness that no other type of gift can hope to compete with; from top to bottom this Chablis White Wine and Chocolates Gift Set features absolute style, and sophistication, any recipient is certain to truly appreciate. Delivered in a remarkably sturdy wooden gift box and complete with a single bottle of Chablis wine from France and a 250g box of assorted Belgian chocolates included within it, this remarkable gift box adds instant dignity and refinement to any occasion it's sent to. Ideal for delivery to a birthday party, retirement celebration or even a baby shower as a post-baby surprise, this extraordinary gift box offers nothing but amazingly delicious flavours throughout each and every taste.
---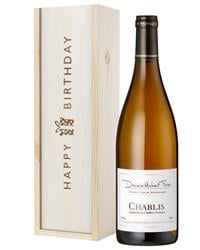 Chablis Birthday Gift
A beautiful birthday gift that any wine aficionado will fully appreciate every sip of; when this Chablis Wine Birthday Gift Box arrives, you can be certain the recipient will clearly understand why they are receiving such an elegant gift. Presented in a solid wooden box and perfect for delivery to any party location anywhere, this remarkable gift set comes with the words 'Happy Birthday' printed clearly on top. It will bring a smile to the face of anyone you choose to send it to. Complete with a single bottle of Chablis that will keep them reaching for more until the bottle is gone, this uniquely posh present option is perfect for anyone from your grandma to an aunt, cousin, teacher, tutor or friend.
---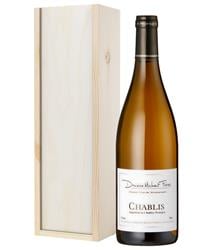 Chablis Wine Gift in Wooden Box
Delivered in a solid wooden box and filled with an incredibly delicious bottle of wine any wine lover will instantly fall in love with, every inch of this Chablis White Wine Gift Box boasts absolute quality as well as true elegance unlike any other. The perfect gift to send to celebrate an impressive array of possible occasions or events. Whether you have this remarkable gift set delivered to your mother or father to celebrate a special anniversary or to your co-worker to commemorate a promotion; no matter who is lucky enough to receive this gift box, they are certain to appreciate the flavours it offers, down to the very last drop.
---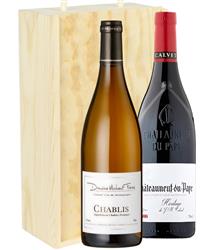 Chablis and Chateauneuf-du-Pape Gift Set
A bold combination of wines ideal for anyone with an eclectic sense of taste. An incredible gift that contains a bottle each of a red and a white wine within it; this set contains a single bottle of Chablis and well as a single bottle of Chateauneuf Du Pape, both of which offer truly incredible flavour to enjoy. Featured in a stunning wooden gift box that is lined with wool and is specially designed for secure delivery of both bottles within one package, this Chablis and Chateauneuf-Du-Pape Mixed Two Bottle Wine Gift Box is the perfect present for any recipient whose wine preferences you may be unaware of.
---
7 Best Gift Sets For Sauvignon Blanc Wine Lovers | 5 Great Gift Sets For Pinot Grigio Wine Lovers
---
Top 5 Pinot Grigio Wine Gifts
Finding the right pinot grigio gift for your friends and family can be a little challenging sometimes–especially when it comes to finding the right price. Here is a list of some of our most popular gifts at varying prices.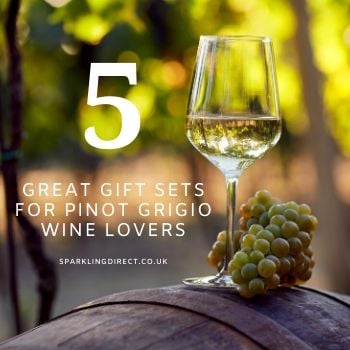 7 Gift Ideas For Bordeaux Wine Enthusiasts
Beautifully packaged gifts for Bordeaux wine enthusiasts. Chateau Treytins wines offer fantastic value and great taste from the world-renowned region of Bordeaux France.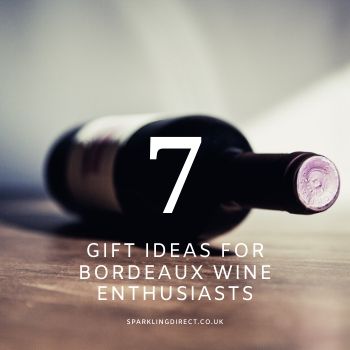 5 Classic Gifts For Wine Snobs
If you know a wine connoisseur and are searching for a unique gift, look no further. Even the biggest wine snobs will appreciate these hand-packed gift sets from the best wine regions in the world.