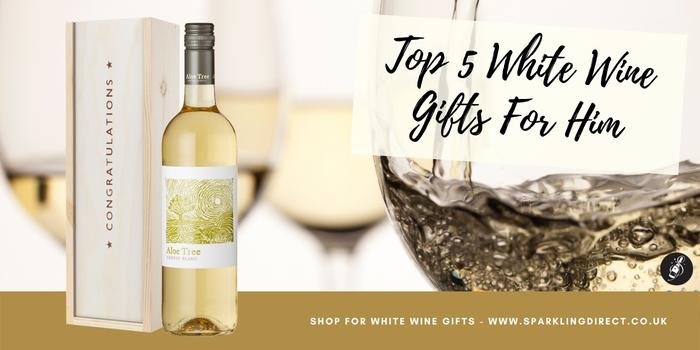 White wine makes an incredible gift for a wide range of occasions. But does white wine make a good gift for men?
White wine makes a fantastic gift for any man who loves wine. Whether a bottle of Chablis, Sauvignon Blanc or Chardonnay, these five gifts are perfect for any man in your life. From birthdays to anniversaries, each of these gifts includes a personalised message and UK delivery, so why not take a look?
---
Chablis White Wine and Chocolates Gift Set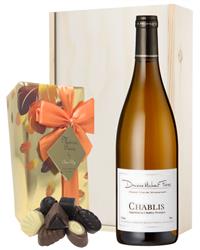 Boasting a level of elegance and chicness that no other type of gift can hope to compete with; from top to bottom this Chablis White Wine and Chocolates Gift Set features absolute style, and sophistication, any recipient is certain to truly appreciate. Delivered in a remarkably sturdy wooden gift box and complete with a single bottle of Chablis wine from France and a 250g box of assorted Belgian chocolates included within it, this remarkable gift box adds instant dignity and refinement to any occasion it's sent to. Ideal for delivery to a birthday party, retirement celebration or even a baby shower as a post-baby surprise, this extraordinary gift box offers nothing but amazingly delicious flavours throughout each and every taste.
---
Sauvignon Blanc Wine and Cheese Hamper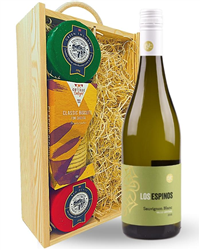 What better gift for a wine and cheese lover than this delicious hamper? Let someone taste beautiful combinations by sending them a single bottle of Los Espinos Sauvignon Blanc white wine along with a box of Cottage Delight Biscuits, Snowdonia Green Thunder Cheese and Snowdonia Red Devil Cheese. Green Thunder is a Cheddar Cheese with roasted garlic and herbs. Red Devil is a Red Leicester with Habanero chillies and peppers. It's all presented in one of our wooden gift boxes with wood wool lining for protection. You can complete this gift with a written and printed personalised message. Send it anywhere in the UK with next day or selected date delivery for the perfect surprise no matter the occasion.
---
Australian Chardonnay White Wine Birthday Gift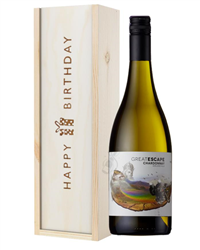 Say 'Happy Birthday' to anyone from your brother to your tutor and everyone in-between. When you have one of these truly wonderful Australian Chardonnay White Wine Birthday Wooden Gift Boxes delivered to someone you can rest assured; they will truly enjoy every sip it provides them. Securely housed within one of our solid wooden boxes with the words Happy Birthday boldly emblazoned on the top, this extraordinary gift box includes a single bottle of Great Escape Chardonnay that is produced by Thistledown Wines and is harvested from the Eden Valley of Australia. Add a personalised message to assure the recipient knows who sent it, then sit back, relax and know you chose to send the very best.
---
South African White Wine Congratulations Gift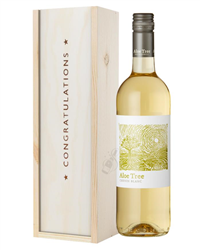 A perfectly chic way to send your deepest congratulations to nearly anyone in your life. Whether you send this South African Chenin Blanc White Wine Congratulations Gift Box to your parents for celebrating their anniversary, an employee for earning a promotion, or a friend celebrating their recent engagement; any recipient will be truly thankful to you for sending such a unique and absolutely delicious gift to enjoy. Easy to personalise with a custom message from you and presented in a solid wooden gift box with the word 'Congratulations' on top, this stunning present option is designed to easily withstand delivery to any location required, any time of year.
---
English White Wine Hamper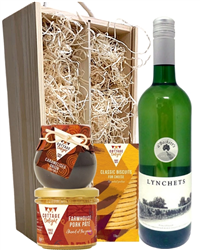 This gift is nothing but sophisticated and full of flavour. Whatever the occasion, send someone this gorgeous white wine and gourmet food hamper. Beautifully paired, this gift contains a single bottle of Lynchets English white wine from a'Beckett's Vineyard, a jar of Cottage Delight Farmhouse Pate With Pork, a jar of pickles and a packet of Oval Alberts Savoury Biscuits. Made in the heart of Wiltshire, Lynchets white wine is perfect for sharing alongside these gourmet foods with friends and family. Complete the gift with a personalised message for the recipient. Next day or selected date delivery is available to any destination in the UK.
---
---
5 Best Wine Gifts For Chardonnay Lovers
Looking for the perfect Chardonnay gift? No matter the occasion or recipient, these five gift sets are the ideal choice. Take a look here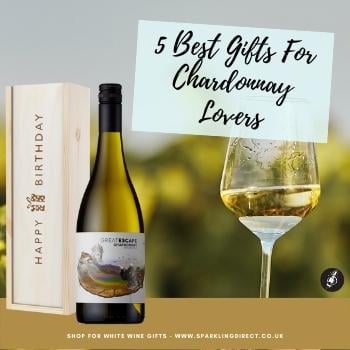 Top 5 Pinot Grigio Wine Gifts
Finding the right pinot grigio gift for your friends and family can be a little challenging sometimes–especially when it comes to finding the right price. Here is a list of some of our most popular gifts at varying prices.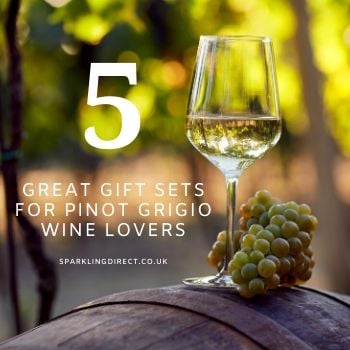 9 Best Wine Gifts For Him
What better gift for him than wine? Take a look at our top nine delicious wine gifts for any man in your life. Go on, we know you want to!