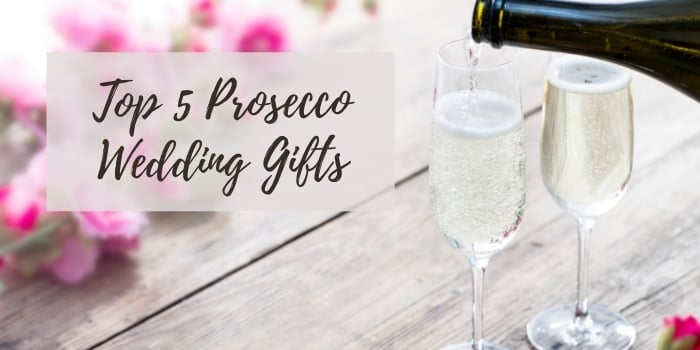 Every wedding needs to hear the pop from a bottle of fizzing prosecco. Whether on their special day or after it's all over, the happy couple deserves to enjoy a glass or bottle together. So is Prosecco a good gift?
Nothing says celebrations more than a bubbly bottle of Prosecco, especially if it comes in a gorgeous gift set. Prosecco makes perfect wedding gifts as it gives the couple something to enjoy whilst looking back on their happy day. So if you're looking for a Prosecco wedding gift, any of these five will do.
---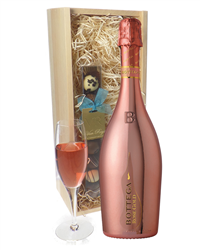 Rose Gold Prosecco and Chocolate Gift
Send some celebrations or thanks with this stylish bottle of Botegga Rose Gold Prosecco. Made in Italy, this bottle is perfect for any occasion and is sure to wow anyone who receives it. This gift set also includes an indulgent selection of chocolate truffles (110g) to accompany the Prosecco, providing a truly celebratory experience upon arrival. Both are sent in one of our wooden gift boxes and protected with wood wool to ensure it's safe delivery. Available for next day delivery anywhere in the UK, this is the ideal gift for anyone who loves Prosecco.
---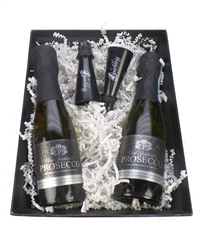 Mini Prosecco Gift Basket
A unique, one-of-a-kind gift box that allows the recipient to enjoy it immediately upon arrival if desired. Complete with 2 20cl mini bottles of Prosecco and 2 sippers included along with it, this remarkable gift set is certain to get the party started, no matter the location. Simply insert a sipper into the neck of the bottle itself and get drinking; when you send this set to celebrate the birthday of a friend, the retirement of a parent, or wedding of friends, you can be certain any recipient will enjoy every single sip no matter what occasion you choose to have it delivered for. Just personalise this set with a message from you and know you've chosen to deliver the very best.
---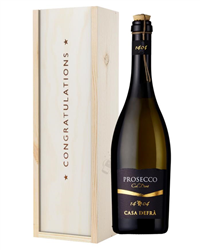 Prosecco Frizzante Congratulations Gift
A lovely and sophisticated way to send heartfelt congratulations to nearly anyone in your life; whether it's a co-worker receiving a promotion or a member of your family that is getting married or having a baby, they're certain to love this chic expression of best wishes from the moment it arrives. Presented in a gorgeous wooden gift box with the word 'Congratulations' stamped clearly on top, when this one of a kind Prosecco Frizzante Congratulations Gift Box is delivered the recipient is certain to fully enjoy it from start to finish. Containing a single bottle of Casa Defra Prosecco Frizzante within it, this gift set boasts a delectable semi-sparkling flavour that simply can't be matched.
---
Prosecco and White Flutes Gift Box
A gorgeous, ribbon-wrapped gift box that offers absolute elegance and sophistication from the very moment it's delivered. A wonderful gift to give at a variety of different parties or even simply sent to that special someone in your life. A truly tasteful set inside and out; this beautiful gift box contains a single bottle of our great-tasting Prosecco along with 2 white, acrylic flutes with which to enjoy the Prosecco. Presented in a smooth, black carded gift box and wrapped in a delicate white ribbon, this lovely Prosecco Gift Box is the perfect set for sharing and sipping with a loved one.
---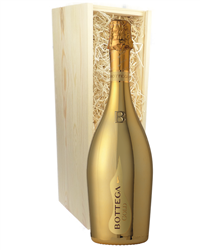 Gold Prosecco Magnum
Boasting crisp, delicious flavours that are housed within a gorgeous gold bottle, the single bottle of Bottega Gold Prosecco is sure to catch attention anywhere it's delivered. A fantastic gift to have delivered to any occasion, this truly incredible Gold Prosecco Magnum Gift Box is designed to stand out as part of any crowd of gifts whether it's at the wedding reception of your best friend or a retirement party for someone you've worked with for years. Featuring double the volume to enjoy and a sleek, shining appearance from cork to base, this bold bottle of prosecco is perfect to savor from start to finish.
---
---
Top 10 Champagne Wedding Gifts
There's no event more fitting for Champagne than a wedding. When thinking of a gift for the happy couple, you should always consider a fancy bottle of bubbly to make the occasion memorable and unique.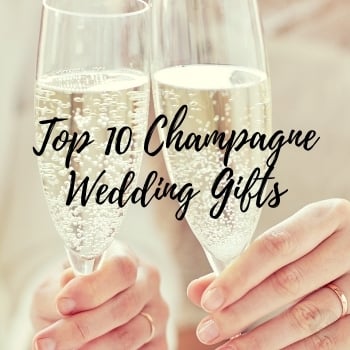 7 Best Anniversary Wine Gifts
Every couple deserves a special, celebratory drink to celebrate their years together. Whether for their 1st, 20th or 50th anniversary, you want to get them a special bottle to share. But is wine a good anniversary gift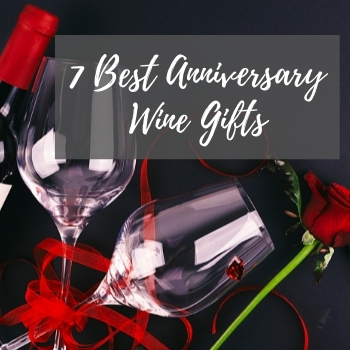 Top 12 Anniversary Champagne Gifts
From keepsake flute sets to gourmet food gift sets, we have all the best Champagne gifts perfect for making an anniversary extra special.