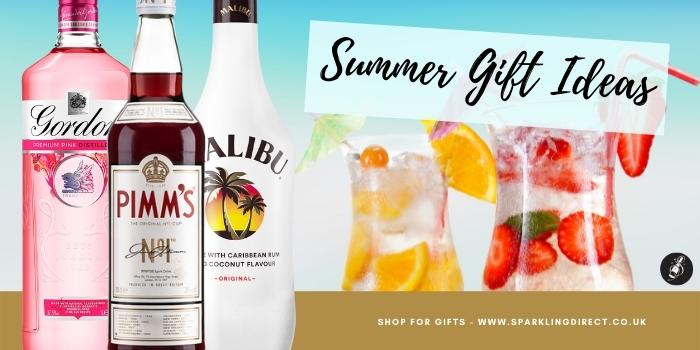 With summer now around the corner, it's time to start thinking about seasonal gifts. But what makes a good summer gift?
Summer drinks are a perfect gift. Pimms, Gin, chilled Wine, Rum and Prosecco all make fantastic gifts during the hotter months. Take a look at these 12 gifts ideal for any occasion this summer. From a party to a birthday, you won't find another gift guide like this one, so why not take a look?
---
Pimms Gift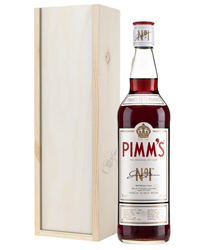 Is it Pimms O'Clock? Make it so with this delightfully fruity Pimms gift set. Perfect for that hot summers day, treat you or someone you know to a single bottle of Pimms to enjoy in the sunshine. Ideal with lemonade, strawberries and cucumber, this gift is packaged in one of our traditional wooden gift boxes, making it perfect for any occasion. It's also protected with wood wool to ensure safe delivery anywhere in the UK. So no matter where you are, you can enjoy the taste of summer with this fantastic gift. Plus, add a personalised message if you're sending this to someone you know. Next day or selected date delivery is available.
---
White Wine and Balloon Birthday Gift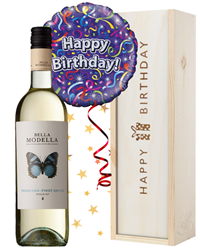 A contemporary and remarkably chic happy birthday gift unlike any other; Offering a magnificent Pinot Grigio white wine that tastes as great as it looks. This bottle of Italian wine comes presented in a sturdy wooden box with the words 'Happy Birthday' printed clearly on the top and an inflated 'Happy Birthday' helium balloon that pops out as a surprise when the box is opened upon arrival. Just the birthday gift anyone would love to receive; whether you choose to send this Pinot Grigio White Wine Birthday Gift Box to your wife, husband, mother, father, cousin or even just a friend. Easy to customise with a personal message from you.
---
Mini Prosecco Gift Basket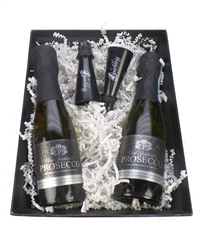 A unique, one-of-a-kind gift box that allows the recipient to enjoy it immediately upon arrival if desired. Complete with 2 20cl mini bottles of Prosecco and 2 sippers included along with it, this remarkable gift set is certain to get the party started, no matter the location. Simply insert a sipper into the neck of the bottle itself and get drinking; when you send this set to celebrate the birthday of a friend, the retirement of a parent, or wedding of friends, you can be certain any recipient will enjoy every single sip no matter what occasion you choose to have it delivered for. Just personalise this set with a message from you and know you've chosen to deliver the very best.
---
Aperol Spritz Gift Set
Boasting a history in Northern Italy and often enjoyed as an aperitif, an Aperol Spritz is a unique drink concoction that can now be enjoyed by anyone, anywhere they choose to savor it. A gift set that allows you to delight in an Aperol Spritz by simply following a few directions with which to create it; this Aperol Spritz Gift Set has everything you need to blend the perfect drink every single time. Complete with a single bottle of Aperol as well as a single bottle of Casa Defra Prosecco contained within it, this gift box is housed within a well-made two-bottle wooden box and makes a wonderful gift for many different events or occasions. Simply fill a wine glass with ice, add three measures of Prosecco, two measures of Aperol and a dash of soda water, then voila; you have an Aperol Spritz you can't help but enjoy.
Category: Two Bottle Prosecco Gifts
---
Ciroc Red Berry Vodka Congratulations Gift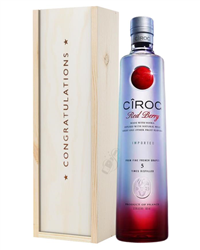 Treat someone to the delightful and delicious, gluten free Ciroc Vodka congratulations gift. No matter the reason for congratulations, let them celebrate in style with a single bottle of the beautiful Ciroc Red Berry Vodka. It's presented in one of our wooden gift boxes with 'Congratulations' printed on the lid, making it the perfect gift for vodka fans! Plus, add a personalised message to extend your congratulations and have it delivered directly to their door. With next day or selected date delivery anywhere in the UK, there's no reason not to treat someone to this exceptional gift. So why not send one today?
---
Gordons Pink Gin And Lemonade Gift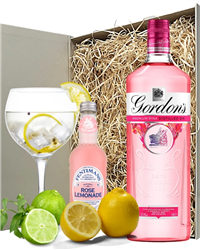 Presented in a luxurious black gift box and boasting a truly sophisticated form from the outside in; this remarkably unique and elegant gift set includes a single bottle of Gordon's Premium Pink Gin as well as a 275ml bottle of Fentimans Rose Lemonade within it. A perfectly pink present option that makes a gorgeous gift for an array of occasions from Valentine's Day to Christmas and beyond. A one-of-a-kind way to surprise that special someone with a lovely and delicious gift box that they'll be happy to savour every sip of. Simply personalize this gift set with a message from you as well if desired.
---
Captain Morgan Spiced Rum Hamper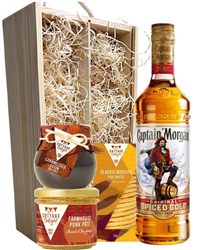 A truly gourmet gift box that features an amazing blend of flavours that are both bold and savory in taste. Complete with a single bottle of Captain Morgan Spiced Rum as well as 90g of Cottage Delight Farmhouse Pate with Pork, a 115g jar of pickles and a 150g package of Oval Alberts Savory Biscuits; this remarkably unique and incredibly delicious gift box is the perfect addition to any event, occasion or any day of the year for no reason at all. Presented in a sturdy wooden gift box lined with wood wool to ensures secure delivery to any location, this Captain Morgan Spiced Rum and Gourmet Food Gift Box makes the perfect present for Valentine's Day, Christmas, an anniversary, or even as a birthday gift if desired.
---
Limoncello Spritz Gift Set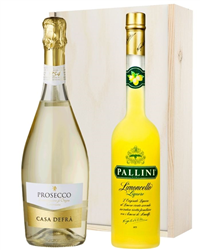 Limoncello is an Italian liqueur made only with Lemons from the Amalfi Coast, mixed with Prosecco to make this very popular drink originating in Northern Italy (Much like the Aperol Spritz). How to make the perfect Limoncello Spritz 1. Fill a wine glass generously with cubed ice 2. Add a 60ml measure of Prosecco over the ice 3. Add 50ml measure of the Limoncello 4. Finish with a dash of soda water 5. Garnish with a slice of orangeor if your feeling brave, a sprig of Rosemary!. Our Limoncello Spritz cocktail gift contains a full size bottle of our lovely Prosecco together with a bottle of Limoncello, allowing you to make plenty of this great summery refreshing drink!
---
Sauvignon Blanc White Wine Thank You Gift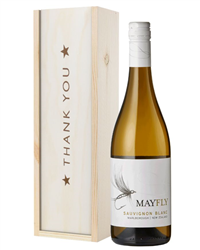 Featuring a lovely, crisp flavour that any wine lover will instantly fall in love with. The truly incredible bottle of New Zealand Sauvignon Blanc included within this gift box provides the perfect way to thank anyone in your life that truly appreciates a unique and incredibly delicious bottle of wine. Delivered in a secure wooden box and presented with the words 'Thank You' printed beautifully on top, every bit of this New Zealand Sauvignon Blanc White Wine Thank You Gift Box is meant to make a statement at any event or occasion you choose to send it for. Surprise anyone from your spouse to a co-worker with this amazing gift set.
---
Bombay Sapphire Gin And Tonic Gift Set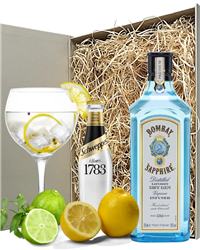 The perfect gift set for allowing any recipient to easily create a truly delicious gin and tonic to enjoy; this Bombay Sapphire Gin and Tonic Gift Set makes a one-of-a-kind gift ideal for presenting to anyone with an appreciation for gin and the flavours it provides. Presented in a sleek and durable black gift box and easy to personalize with a message from you if desired, this simply amazing gift set makes a wonderful addition to any event or occasion from a birthday to a baby shower. Complete with a 70cl single bottle of Bombay Sapphire London Dry Gin, a bottle of Schweppes 1783 tonic water as well as a lemon and a lime; every single inch of this exclusively crafted gift set is certain to satisfy any recipient.
---
Laurent Perrier Rose Champagne Gift Box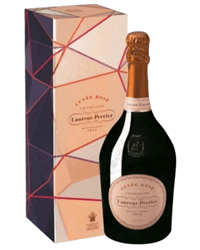 Boasting a beautiful rose colour all throughout this truly delectable gift box; from the rose-coloured, branded box to the delightful single bottle of rose champagne contained within it, this Laurent Perrier Rose Champagne Gift Box is just as special as presenting a bouquet of roses to someone you love. A truly elegant option for surprising anyone from a friend to a significant other with, this wonderful gift set makes an amazing present for any occasion from a wedding to a retirement or just as a simple "I love you". Presented in a sleek bottle inspired by the time of Henry IV, this remarkable champagne features the aroma, and flavour, of berries anyone would truly enjoy.
---
Malibu Birthday Gift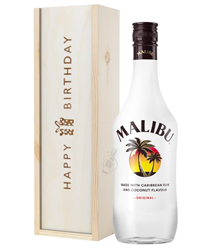 Send someone a bottle of everyone's favourite coconut rum-based liqueur to help make their birthday memorable. Whether for a family member, friend or colleague, treat someone to a single bottle of Malibu to enjoy in some celebratory drinks. It's presented in one of our classic wooden gift boxes with 'Happy Birthday' printed on the lid and wood wool lining for protection and style. Delivery is available anywhere in the UK, either the next day or on a selected date. Plus, don't forget to add a personalised message to ensure your lucky recipient knows who to thank for such a fantastic birthday gift!
---
---
10 Best Thank You Gifts For Friends
What's the best way to show your appreciation for a friend? Often it's hard to find that perfect gift that portrays your thanks, but we've got some great ideas to show some gratitude.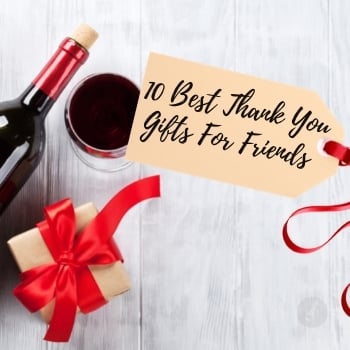 Congratulations Gifts For Best Friends
Looking for a congratulations gift for your best friend? Make any occasion memorable with these seven gifts ideas for any bestie in your life.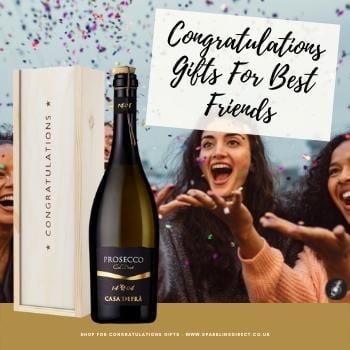 10 Best Wedding Anniversary Gifts
Looking for a modern wedding anniversary gift for someone but don't know what to get? We've got some ideas for you! What are good wedding anniversary gifts?