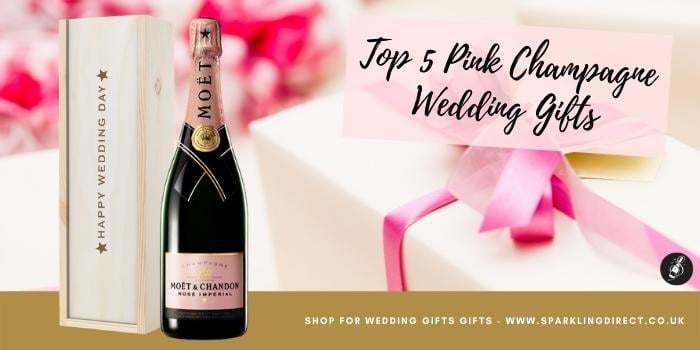 So you know someone getting married but aren't sure what to get them as a wedding gift. Luckily for you, we have a few ideas for you to consider. So what makes a good wedding gift?
Pink Champagne is a great choice when it comes to wedding gifts. Forget the generic gravy boats and towels and get them something they can really enjoy. Perfect to enjoy as a newly-married couple, take a look at our top five pink Champagne wedding gifts perfect for any couple getting married!
---
Pink Champagne Wedding Gift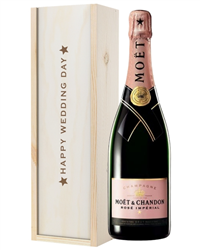 Let the happy couple pop another bottle in memory of their big day with this delightfully delicious Pink Champagne wedding gift. Give them a lovely surprise by sending them a single bottle of the fantastic Moet & Chandon Rose Imperial to enjoy. Perfectly presented, this gift comes in one of our elegant wooden gift boxes with 'Happy Wedding Day' printed on the lid. Plus, you can add a personal message to let the happy couple know it was you who sent such a beautiful gift. Have it delivered either the next day or on a date of your choice anywhere in the UK. So no matter where they live, you can give them the wedding gift they deserve.
---
Taittinger Rose Champagne Congratulations Gift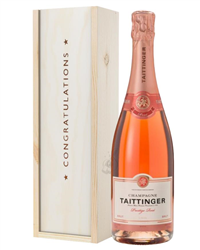 Delivered in high-quality wooden gift box branded with the word 'Congratulations' clearly on top; this remarkably elegant gift set included a single bottle of Taittinger Rose Champagne to enjoy housed securely within it. Offering amazing flavour and a sophisticated appearance unlike any other, this Taittinger Rose Champagne Congratulations Gift Box is designed to stand out from every other gift they receive in congratulations. From front to back this amazingly chic and stylish gift set is a simply stunning way to congratulate your best friend on their wedding, a cousin with a brand-new baby or a member of your staff that earned a special incentive.
---
Laurent Perrier Rose Champagne & Chocolates Gift Box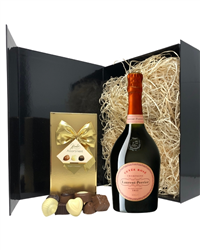 A unique way to send your beloved a "rose" and some delectable chocolates to enjoy; every bit of this incredible Laurent Perrier Rose Champagne & Belgian Chocolates Gift Box is meant to fully satisfy anyone lucky enough to receive it. A truly beautiful present that is carefully packed within a simple yet stylish wooden gift box; this amazing gift set contains a single bottle of Laurent Perrier Rose Champagne as well as a ballotin of 250g, or approximately 20, assorted Belgian chocolates. Complete with an enclosed plastic, printed gift card that can be personalised by you, this remarkable gift box boasts nothing but wonderful flavor, no matter which portion of this set you're currently enjoying.
---
Bollinger Rose Red Flute Set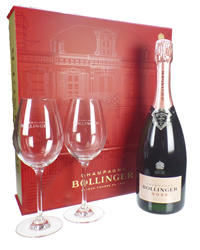 Perfect in every way; treat someone to this elegant and luxury Rose Champagne and glasses set to mark any occasion. Presented in a Bollinger branded gift box, send someone a single bottle of the delicious Bollinger Rose with two Bollinger flute glasses to keep. Sent anywhere in the UK, this gift set is ideal for any engagement, anniversary, milestone celebration or birthday and is sure to make the recipient feel extra special. So why not give them a gift to keep as a memory of the occasion? Add a personal message to complete the gift and have it delivered either the next day or on a date of your choice.
---
Moet Rose Champagne Magnum in Wooden Gift Box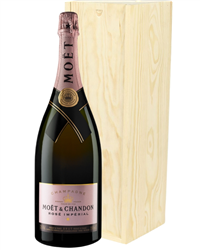 The perfect amount of champagne for one, or more than one, recipient to enjoy; from the moment this Moet Rose Champagne Magnum 150cl Gift Box arrives it won't be long until every sip has been fully savoured. Delivered in a high-quality wooden gift box and lined with a protective wood wool lining within it from top to bottom, this remarkably elegant gift box is also fast and easy to personalise with a message straight from you to send along with it as well. Boasting double the volume of a single wine bottle and featuring a crisp and delightful flavour, every glass of rose champagne contained within this box is created to please from beginning to end.
---
---
Our 10 Best Pink Champagne Gift Sets
When it comes to finding the right Pink Champagne gift, you can't go wrong with these ten choices. So why not take a look?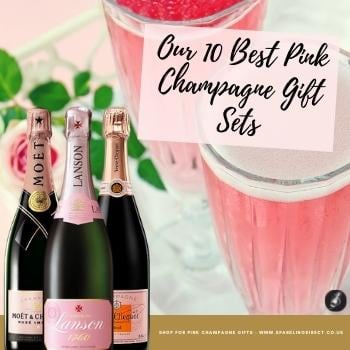 Top 10 Champagne Wedding Gifts
There's no event more fitting for Champagne than a wedding. When thinking of a gift for the happy couple, you should always consider a fancy bottle of bubbly to make the occasion memorable and unique.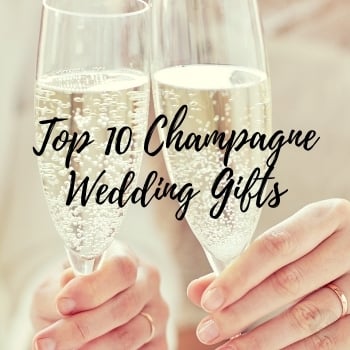 7 Best Champagne and Glasses Gift Sets
Looking for a great housewarming gift? Choosing a housewarming gift for friends or couples can take time. You'll need to decide between quirky, unique, practical or a luxury gift.