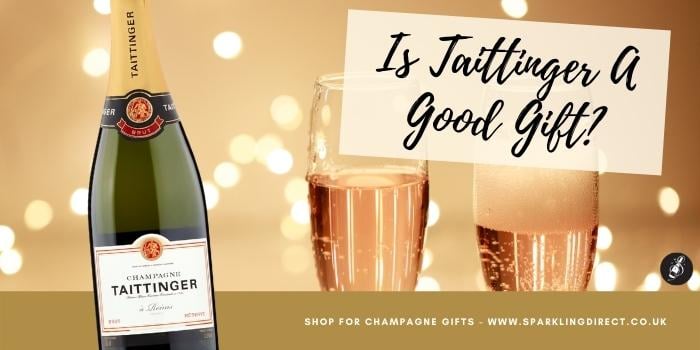 Taittinger is a well-known and leading Champagne House. With an impeccable reputation and delicious Champagne, it's no wonder they're so popular. But does their Champagne make a good gift?
The answer is yes, it does! Whether a bottle of Brut, Prelude, Vintage or Rose, it makes a fantastic gift for any occasion or recipient. But which one do you choose? Here are our top five Taittinger Champagne gift sets to give you some inspiration. Each is stylishly presented with a personalised message.
---
Taittinger Champagne Gift Box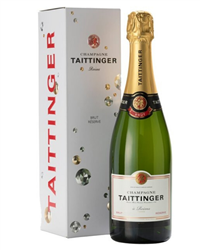 A bold, stylish gift box from the eye-catching box itself to the absolutely delicious bottle of champagne contained within it. A tasty and truly fantastic present for any occasion from an engagement to a wedding and beyond, this wonderful Taittinger Champagne Gift Box offers a remarkably unique flavour that boasts hints of honey, fresh fruit and more. Featuring depth and balance from the very first taste to the very last, this amazingly elegant gift box provides anyone that receives it with a sincerely special addition to any special event. Easy to personalize with a message along with it, this box is certain to brighten the day of anyone that receives it.
---
Taittinger Rose Champagne Branded Flute Set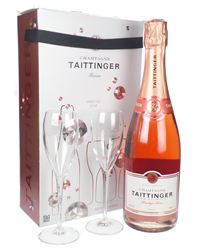 Nothing says celebrations more than a Champagne and flute set by Tattinger. Let someone enjoy a single bottle of elegant Tattinger Rose Champagne for their special occasion, and show them how much you care. Complete with two stylish, Tattinger branded Champagne flutes to keep for memories and make the occasion extra special. Whatever the celebration, this set is perfect. Let them know how you feel with a personal message included in the order and have it delivered either the next day or on a day of your choice.
---
Taittinger Vintage Champagne Gift Box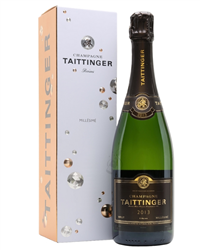 Featuring a fresh and lively flavour that boasts true depth as well as a balanced taste, the single bottle of Taittinger Brut Vintage Champagne that comes housed inside this gift box also offers hints of both honey and fresh fruit within every glass. A wonderful present to have delivered to anyone from a parent to a simple acquaintance that deserves a special thanks or congratulations; this Taittinger Vintage Champagne Gift Box is absolutely certain to fully please any person fortunate enough to receive it. Presented in a gorgeous branded box, every ounce of this incredible champagne is meant to be savored from start to finish.
---
Taittinger Prelude Champagne and Chocolates Birthday Gift Box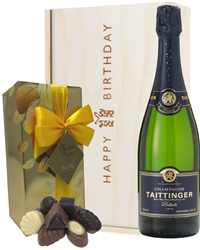 An extraordinary way to send your deepest wishes for a truly happy birthday this year; from the moment this Taittinger Prelude Champagne and Chocolates Birthday Gift Box arrives you can be certain any recipient will feel loved and appreciated in a whole new way. Delivered in a solid wooden box with the words 'Happy Birthday' printed perfectly on top, this unique and gorgeous present option makes the ideal gift to send to anyone from your sister, cousin, friend, or even your favourite co-worker. Complete with a single bottle of Taittinger Prelude Champagne and a 250g box of assorted Belgian chocolates, no other gift set provides the level of class and elegance that this one does.
---
Taittinger And Taittinger Rose Two Bottle Champagne Gift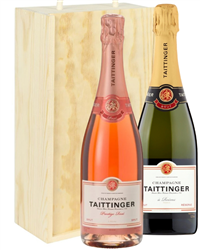 A lovely two-bottle set that is designed to feature crisp and delightful flavours through every single glass, this Taittinger and Taittinger Rose Two Bottle Champagne Gift Box makes a bold statement at any event, occasion or location you choose have this amazing present delivered to. A lovely way to allow the recipient to sample more than one variety of champagne, this extraordinary gift box is the perfect gift to send to any event from a wedding reception to a birthday party and beyond. Presented in a unique wooden box that is designed to hold two single bottles of champagne safely and securely for delivery, this gift box can also include a personal message from you along with it if desired.
---
---
Who Delivers Champagne Hampers?
Did you know Sparkling Direct can deliver gift hampers? Check out our top best-selling Champagne hampers and how to send one in this post.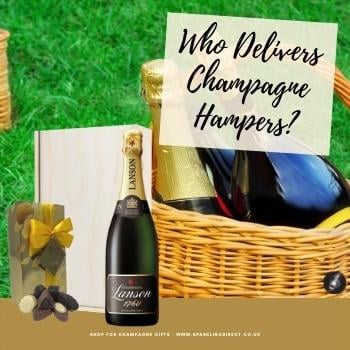 What is a Good Champagne to Give as a Gift?
Whether you're looking to say Happy Birthday, Congratulations or Thank You, we have the most beautiful gift sets created from the worlds most well-known brands. Here are our top picks when choosing the best Champagne to give as a gift.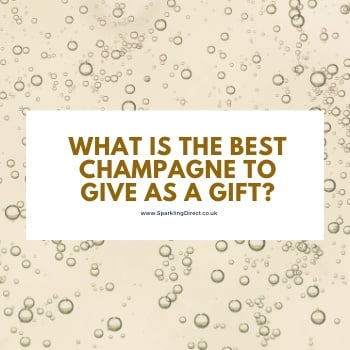 15 Luxury Gifts For Champagne Lovers
Looking for the most luxurious Champagne gift? We have 15 right here for you to send no matter the occasion, recipient or distance.