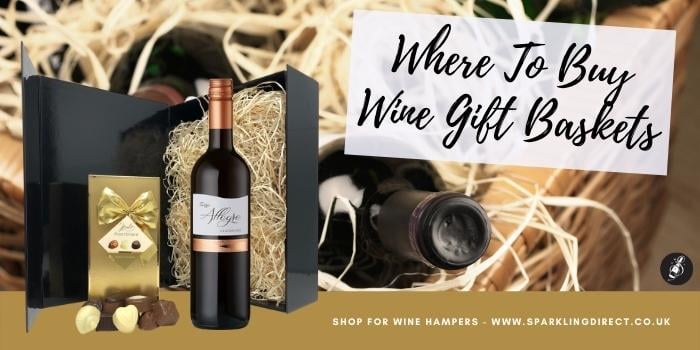 Wine gift baskets make a fantastic gift for any occasion or wine lover. But finding one isn't always easy. So where can you buy a wine gift basket?
We don't just sell wine gift baskets, we gift and deliver them too. Straight from warehouse to recipient, we'll handle it all. So all you need to do is pick one. We've selected five wine gift baskets to get you started Each is ideal for any situation and includes a wide variety of styles, wines and flavours!
---
Shiraz Red Wine and Cheese Hamper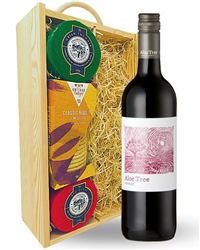 What better pairing than wine and cheese? No matter the occasion, treat someone to this delicious gift hamper. It contains a single bottle of Aloe Tree Shiraz. a box of Cottage Delight Biscuits, Snowdonia Green Thunder Cheese and Snowdonia Red Devil Cheese. Green Thunder is a Cheddar Cheese with roasted garlic and herbs. Red Devil is a Red Leicester with Habanero chillies and peppers. This hamper is presented in one of our wooden gift boxes and is protected with wood wool for safe delivery. Complete with a personalised gift message, you can send this hamper anywhere in the UK with next day or selected date delivery. It's the perfect surprise for any wine and cheese lover!
---
New Zealand Sauvignon Blanc Wine Hamper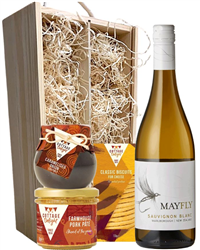 An amazingly unique gift box that boasts an array of truly remarkably flavours from start to finish; this New Zealand Sauvignon Blanc Wine and Gourmet Food Gift Box features a chic appearance and a high-quality form that no other gift set can offer. Complete with a single bottle of New Zealand Sauvignon Blanc White Wine from the Marlborough region of New Zealand, a 90g jar of Cottage Delight Farmhouse Pate with Pork, a 115g jar of pickles as well as a 150g package of Oval Alberts Savoury Biscuits. This incredibly tasty gift box is created to provide everything you've been searching for in a gift that says 'thank you', 'happy birthday' or even 'congratulations' with absolute ease.
---
Chablis White Wine and Chocolates Gift Set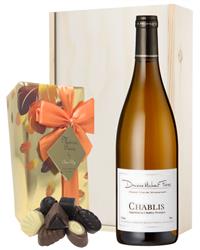 Boasting a level of elegance and chicness that no other type of gift can hope to compete with; from top to bottom this Chablis White Wine and Chocolates Gift Set features absolute style, and sophistication, any recipient is certain to truly appreciate. Delivered in a remarkably sturdy wooden gift box and complete with a single bottle of Chablis wine from France and a 250g box of assorted Belgian chocolates included within it, this remarkable gift box adds instant dignity and refinement to any occasion it's sent to. Ideal for delivery to a birthday party, retirement celebration or even a baby shower as a post-baby surprise, this extraordinary gift box offers nothing but amazingly delicious flavours throughout each and every taste.
---
Pinot Grigio Mixed Two Bottle Wine Gift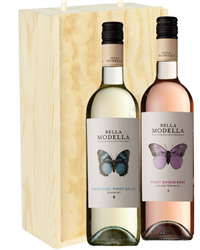 A wonderful set of wines to send to anyone with a special affinity for a delicious variety of Pinot Grigio; this truly unique Pinot Grigio Mixed Two Bottle Wine Gift Box offers two different types of this remarkable wine variety to taste and enjoy. Presented in a sleek wooden box and designed to securely hold two separate single bottles of wine for delivery, this gift box includes two bottles from Bella Modella vineyards located in Northern Italy and features one Pinot Grigio and one Rose Pinot Grigio bottle to savour. Have this amazing gift set sent to any event and assure that your recipient is getting the absolute best.
---
Red Wine and Chocolate Hamper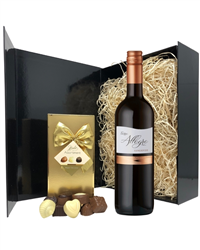 DELICIOUS WINE & CHOCOLATES HAMPER: Each red wine and chocolate hamper is packed with a bottle of Allegra Sangiovese produced in the vineyards of Northern Italy. A juicy, succulent red wine with savoury cherry and plum characters with a bright ripe fruited finish alongside 125 grams of luscious Belgian chocolates that are sure to a smile on his or her face. A special treat for red wine lovers who love to indulge in the rich and sweet taste of Belgian chocolates. A unique way to show your thanks but with a personalised gift card you can turn your gratitude or love into words. The personalised message card will be carefully delivered alongside the gift hamper to charm and surprise the recipient
---
---
10 Best UK Wine Hampers
Wine makes a great gift hamper for any occasion. So if you're looking for a gift to give to a Wine lover, you'll be considering a wine hamper. But what is a good wine to choose?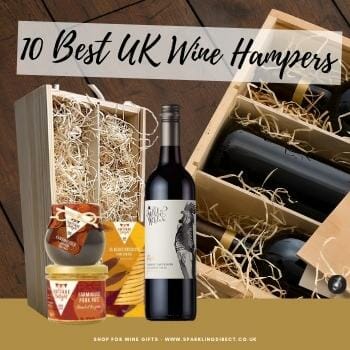 7 Best Wine Cheese and Pate Hampers
Wondering where you can find the perfect wine and cheese or pate hamper? Check out this post containing seven unbeatable hampers.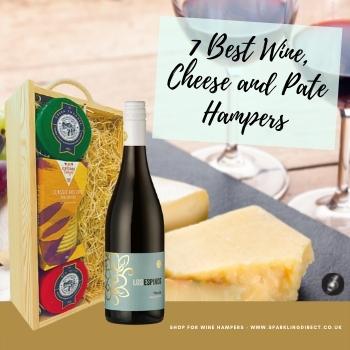 Top 10 Christmas Gifts For Wine Lovers
Finding the perfect gift can often be difficult, especially for wine lovers. With so many different sets to choose from it's hard to know which one is best. So what are some good Christmas wine hampers?