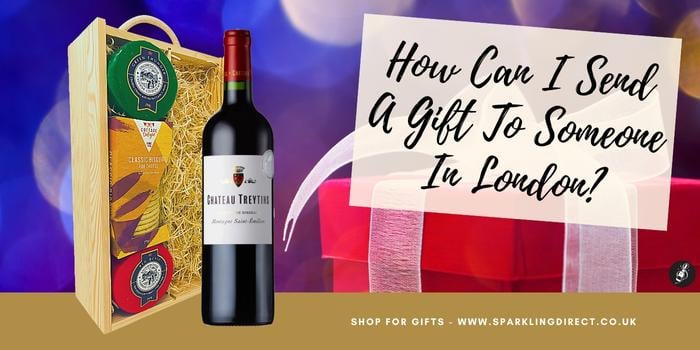 No matter the occasion, we can't always be there to share gifts with the people we love. So how can you send a gift to someone in London?
Whether a bottle of Champagne, Prosecco, Gin, Vodka or Whisky, we'll deliver a gift of your choice to any London doorstep. Complete with a personalised gift card and UK delivery, it's the perfect surprise for any family member, colleague or friend. Take a look at our selected gifts below to get started.
---
Veuve Clicquot Champagne Gift Box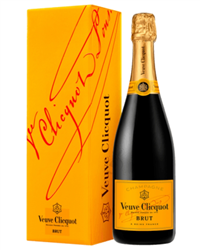 The ideal gift box to choose when sending congratulations are in order, no matter the occasion, or the reason for celebration, one of these truly delicious Veuve Clicquot Champagne Gift Boxes is the perfect present to send. Arriving in a beautifully bright yellow box and containing a single bottle of exquisite champagne within, this gift box is certain to bring a smile to the face of anyone that receives it. Delivered to the address of your choice by any specified date, this remarkable box of champagne will tickle the taste buds of every single person lucky enough to enjoy it.
---
Gin And Flowers Congratulations Gift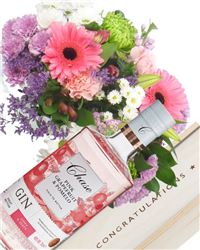 This gift makes an excellent way to congratulate someone. A wonderful gift comprising of a lovely bouquet of hand-tied flowers together with a bottle of Bloom Gin. All our flowers are expertly hand-tied by our team of florists, so no arranging is needed. Colour tones may vary slightly as our flower arrangments are made fresh on the day of despatch, from the best flowers available.
---
Prosecco and Chocolate Gift Set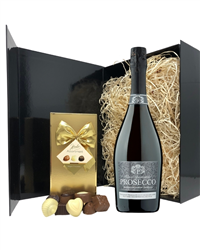 A truly delectable gift set anyone would love to receive. From the elegant wool-lined box to the remarkably delicious items placed within it, this sincerely sumptuous set is certain to assure that anyone it's sent to will fall in love with it instantly. Sophisticated in both composition and appearance, this Prosecco and Chocolate Gift Set features a single bottle of our exquisite Prosecco Spumante alongside 125 grams of luscious Belgian chocolate and comes in a sleek, black carded gift box as well; making certain this set arrives safely and looking as chic as possible. Add your own personal touch by adding a message to send along with it if desired.
---
Bordeaux Red Wine and Cheese Hamper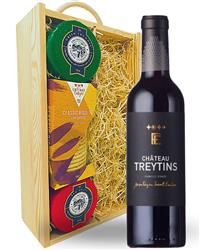 No matter the occasion, the night is never complete without some cheese and wine. So why not treat someone to this delicious hamper? Send them a single bottle of French Bordeaux red wine along with a box of Cottage Delight Biscuits, Snowdonia Green Thunder Cheese and Snowdonia Red Devil Cheese. Green Thunder is a Cheddar Cheese with roasted garlic and herbs. Red Devil is a Red Leicester with Habanero chillies and peppers. It's all carefully packaged and presented in one of our wooden gift boxes and is protected with wood wool to ensure safe delivery. You can personalise this gift with a written message and send it anywhere in the UK with next day or selected date delivery.
---
Scotch Whisky and Birthday Balloon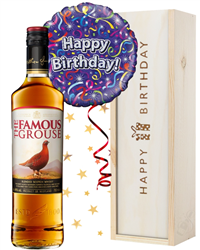 Bold, beautiful, and perfect for wishing almost anyone in your life a truly 'Happy Birthday'; This fantastic Scotch Whisky Birthday Gift Box is certain to satisfy anyone lucky enough to receive. Complete with a 70cl bottle of The Famous Grouse Whisky and an already inflated happy birthday balloon that pops out when its opened. Scotland's Favourite Whisky for over 40 years the malt blend is rested longer for smoothness and filtered at a higher temperature for richness. Easy to personalise with a message from you that is included along with it if desired, this exclusively designed gift box is sure to become any recipient's favourite birthday present they will receive.

---
Absolut Vodka Twin Gift Set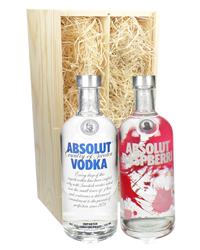 This Absolut Vodka gift set is both fun and unique. From 21st Birthdays to Anniversaries, nothing says trendy more than these two. Made in Sweden, this collection includes two single bottles of the finest flavours of Absolut: Original and Raspberri. Both make an excellent selection for any Vodka lover and will be sure to surprise no matter the occasion. Packaged in a twin wooden box, complete the gift with a personal message and have it delivered either the next day or on a day of your choice anywhere in the UK.
---
Captain Morgan Spiced Rum Hamper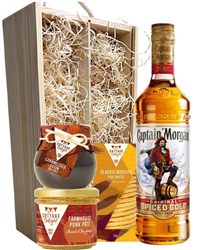 A truly gourmet gift box that features an amazing blend of flavours that are both bold and savory in taste. Complete with a single bottle of Captain Morgan Spiced Rum as well as 90g of Cottage Delight Farmhouse Pate with Pork, a 115g jar of pickles and a 150g package of Oval Alberts Savory Biscuits; this remarkably unique and incredibly delicious gift box is the perfect addition to any event, occasion or any day of the year for no reason at all. Presented in a sturdy wooden gift box lined with wood wool to ensures secure delivery to any location, this Captain Morgan Spiced Rum and Gourmet Food Gift Box makes the perfect present for Valentine's Day, Christmas, an anniversary, or even as a birthday gift if desired.
---
---
How Can I Send a Birthday Gift in London?
Looking to send a birthday gift to someone living in London? Find out how to do so and which gifts to send here in our latest gift guide.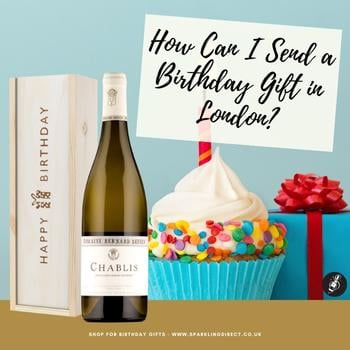 How Do I Get Wine Delivered to London?
Thinking of sending a wine gift to a London address? We've got everything you need to know here in this exclusive gift guide.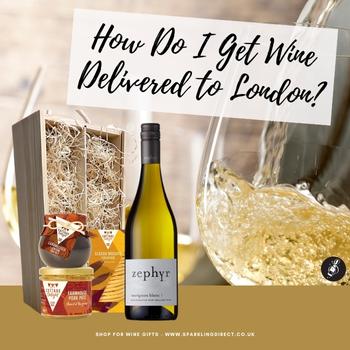 7 Best Christmas Wine Gift Boxes
Everyone deserves a glass of wine at Christmas, so why not send a bottle? We've selected seven of our best Christmas wine gift boxes to help you find that perfect gift for a wine lover.