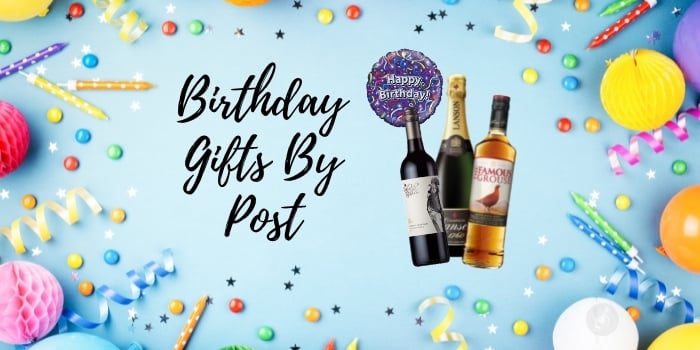 You have a birthday coming up, but you're unable to give it to them in person. What should you do? That's where we can help. With loads of gifts perfect for sending, we can make sure they get that perfect gift from you. So what can be delivered as a birthday gift?
Gift baskets and bottles are great gifts to send as they're easy to select online and easy to deliver in the UK. Plus, they have just as much thought and meaning. Whether for him or her, these products are our top birthday gifts to send by post, all of which can be delivered straight to your door.
---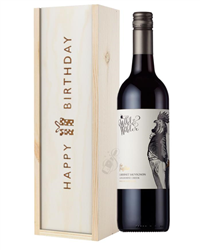 Cabernet Sauvignon Red Wine Birthday Gift
Produced in the incredible Limestone Coast region of Australia and boasting a strong and bold flavour throughout every single glass, this gift box contains a single bottle of The Pugilist Cabernet Sauvignon and provides a taste that is the true epitome of what a variety like this should be. Presented in a unique wooden gift box that features the words 'Happy Birthday', as well as the image of a gift, stamped clearly for view on top; this Limestone Coast Cabernet Sauvignon Red Wine Gift Box is just what any special celebration needs to feel truly complete. Tell your mum, your cousin, your father-in-law or even a simple acquaintance that you are happy they exist within the world.
---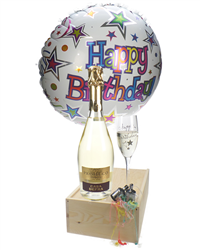 Prosecco Birthday Flute Gift
Make a birthday extra special with this gorgeous Prosecco and flute gift set. Fizzing with celebrations, this exclusive gift set includes a single bottle of Prosecco to toast on their special day. Plus, a single Happy Birthday flute to toast the Prosecco in to create a memorable and well-rounded gift. What's a birthday without a balloon and poppers? Also included are a fully-inflated helium Happy Birthday balloon and a few party poppers, making this the ultimate birthday package for any lucky recipient. All packaged in a wooden gift box, this bundle can be delivered the next day or on a selected date. A personalised message can also be added to make this gift extraordinarily special.
---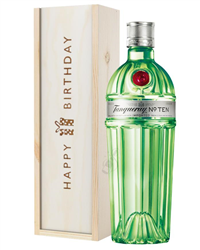 Tanqueray Ten Gin Birthday Gift
Offering a smooth taste and a potent formulation that no other bottle of gin, or gift box, can provide; the single bottle of Tanqueray Number 10 Gin included within this gift set is a small batch gin that is distilled to export quality and is, therefore, stronger than any other variety of Tanqueray Gin available. Created from whole citrus fruits and perfectly selected botanicals, the gin found resting within this gift box is especially delicious served over ice or with tonic. Presented in a high-quality wooden gift box and stamped with the words 'Happy Birthday' on top, this Tanqueray Ten Gin Birthday Gift Box is just what any birthday party needs to be truly complete.
---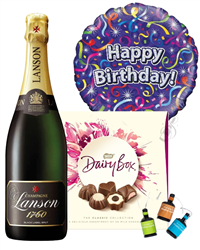 Happy Birthday Champagne and Chocolate Gift
An incredibly unique birthday gift that is absolutely certain to surprise anyone that receives it, this Happy Birthday Champagne and Chocolates Gift also features an ultra-fun inflated balloon within the box that pops out upon opening for a little extra something special. A surefire way to bring a smile to the face of anyone celebrating a birthday; this gift set includes a single bottle of Lanson Black Label Brut Champagne as well as 200g of delightful milk chocolate within it, a winning combination for any yearly birthday celebration. Sending someone happy birthday wishes has never been easier than this.
---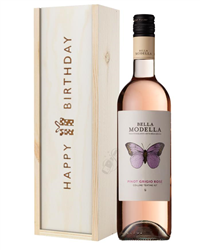 Pinot Grigio Rose Wine Birthday Gift
An incredibly elegant way to wish someone you care for a truly happy birthday; from the moment this absolutely stunning gift box arrives you can be certain the recipient will be filled with appreciation from the inside out. Presented in a solid and stunning wooden gift box with the words 'Happy Birthday' printed perfectly on top, this Pinot Grigio Rose Wine Birthday Gift Box is designed to stand out from any other birthday gift they receive this year. Offering a bottle of one of Italy's most famous grape varieties, pinot grigio, within it and amazingly chic and elegant as well; no other gift option will make the statement that this one does when it's delivered.
---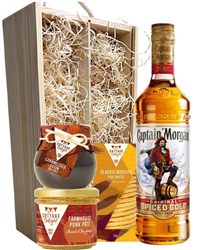 Captain Morgan Spiced Rum Hamper
A truly gourmet gift box that features an amazing blend of flavours that are both bold and savoury in taste. Complete with a single bottle of Captain Morgan Spiced Rum as well as 90g of Cottage Delight Farmhouse Pate with Pork, a 115g jar of pickles and a 150g package of Oval Alberts Savory Biscuits; this remarkably unique and incredibly delicious gift box is the perfect addition to any event, occasion or any day of the year for no reason at all. Presented in a sturdy wooden gift box lined with wood wool to ensures secure delivery to any location, this Captain Morgan Spiced Rum and Gourmet Food Gift Box makes the perfect present for Valentine's Day, Christmas, an anniversary, or even as a birthday gift if desired.
---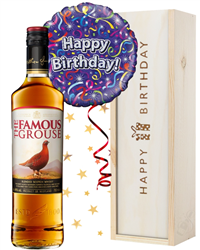 Scotch Whisky and Birthday Balloon
Bold, beautiful, and perfect for wishing almost anyone in your life a truly 'Happy Birthday'; This fantastic Scotch Whisky Birthday Gift Box is certain to satisfy anyone lucky enough to receive. Complete with a 70cl bottle of The Famous Grouse Whisky and an already inflated happy birthday balloon that pops out when it's opened. Scotland's Favourite Whisky for over 40 years the malt blend is rested longer for smoothness and filtered at a higher temperature for richness. Easy to personalise with a message from you that is included along with it if desired, this exclusively designed gift box is sure to become any recipient's favourite birthday present they will receive.
---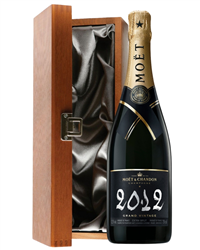 Vintage Champagne Luxury Gift
Luxurious and sophisticated, this bottle tastes as good as it looks. Treat someone to this outstanding single bottle of Moet & Chandon Vintage Champagne and help them celebrate in style. Complete with a luxurious stained wooden box with traditional joints and clasps, this is a gift for exceptional occasions and is sure to show someone how much you care. Grey silk lines the inside of the box, protecting and presenting the bottle in the best way possible. Complete the order with a personalised message and have it delivered the next day or on a day of your choice.
---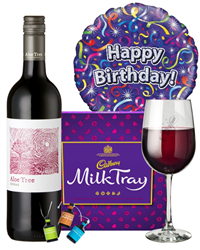 Red Wine And Chocolates Birthday Gift
A versatile gift box that makes it easy to send birthday wishes to anyone in your life from your parent, aunt, cousin or friend to a co-worker or boss; this truly delightful Red Wine and Chocolates Birthday Gift Set provides everything needed to have a real celebration. A set that contains a single bottle of Aloe Tree Shiraz, a box of 200g of milk chocolates and a 'Happy Birthday' balloon that pops out of the box upon opening, this extraordinary gift box is absolutely certain to bring joy to anyone's special day. A great gift to send to someone you care for, no matter the distance between you.
---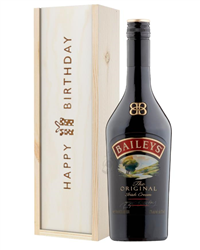 Baileys Birthday Gift In Wooden Box
Presented in a perfectly smooth and remarkably solid wooden box with the words 'Happy Birthday' stamped clearly on top; this Baileys Birthday Gift in Wooden Box is designed for secure delivery to any birthday party location, anywhere. Simple to personalise with a message from you as well if desire, this amazing gift box includes a 70cl single bottle of Bailey's Original Irish Cream and will truly satisfy anyone celebrating a birthday. Whether it's sent to a client, employee, friend or family member, this chic and elegant gift set is certain to bring absolute sophistication to any stack of birthday gifts, it's added to.
---
---
5 Best Birthday Gifts For Gin Lovers
Are you looking for a really unique birthday gift for a gin-loving friend? Look no further, our guide below lists 5 of our most popular gin presents.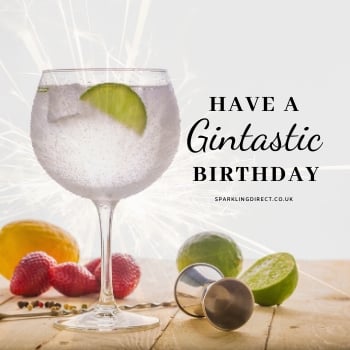 Top 10 Prosecco Birthday Gifts
Make their day with a bottle of Prosecco by treating them to something spectacular from our range of birthday gifts below.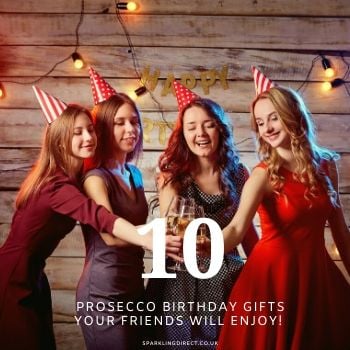 14 Birthday Gift Ideas For Red Wine Drinkers
These unique birthday gifts for red wine lovers include classics from the Bordeaux and Chateauneuf Du Pape wine regions.