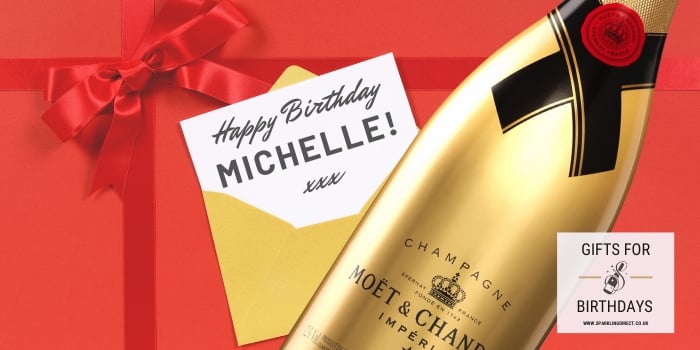 Do you need a last-minute gift delivered tomorrow in the UK? Don't panic you're not the first and won't be the last person to have just remembered it's a friend or family members birthday tomorrow. The good news is we can deliver next day throughout the UK if your order by 4 PM.
So now you just need to choose a gift. At Sparkling Direct we have a fabulous range of gifts in stock which can be delivered the next day. Champagne is a fantastic way to celebrate a birthday, and our hand-packed gift sets are sure to bring a smile on arrival. We have gifts for wine enthusiasts, gifts for gin lovers, gifts for whisky connoisseurs and prosecco for mum! Our gift boxes are carefully hand-packed to order, and we enclose a personal gift card message from yourself to wish the recipient a Happy Birthday and let them know just whos thinking about them on their special day.

---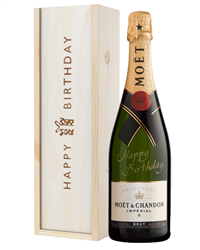 Champagne Birthday Gift
A wonderful birthday gift that is sure to arrive in style to any birthday party or bash you're invited to; from top to bottom this extraordinary gift box boasts nothing but truly chic design and delicious flavour as well. Presented in a stunning, high-quality wooden box and stamped with the words Happy Birthday clearly on top, this box is absolutely certain to arrive safely and looking its best no matter where you choose to have it delivered. Complete with a single bottle of Moet & Chandon Imperial Brut Champagne adorned with the words 'Happy Birthday' in gold on the bottle, this Happy Birthday Moet Champagne Gift Box is created to satisfy anyone celebrating another year of life to enjoy.
---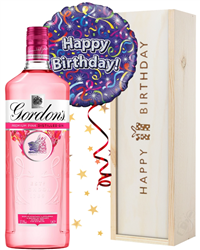 Pink Gin Birthday Gift
A unique and delightful pink gin gift box that is certain to make any birthday special from the moment it arrives. Containing a 70cl bottle of Gordons pink gin which has the taste of Gordons balanced with the sweetness of Raspberry, Strawberry and Redcurrant. Beautifully presented in a gorgeous wooden box and crafted with the words 'Happy Birthday' emblazoned upon the sliding lid and a delightful 18-inch happy birthday helium balloon as well. Easy to personalise with a message from you to make it clear who is sending their best birthday wishes.
---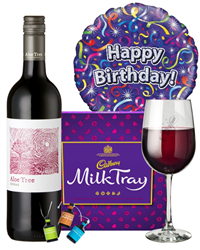 Red Wine and Chocolates
A versatile gift box that makes it easy to send birthday wishes to anyone in your life from your parent, aunt, cousin or friend to a co-worker or boss; this truly delightful Red Wine and Chocolates Birthday Gift Set provides everything needed to have a real celebration. A set that contains a single bottle of Aloe Tree Shiraz, a box of 200g of milk chocolates and a 'Happy Birthday' balloon that pops out of the box upon opening, this extraordinary gift box is certain to bring joy to anyone's special day. A great gift to send to someone you care for, no matter the distance between you.
---
Prosecco Birthday Gift
An amazing birthday gift that will have anyone that receives it offering their true thanks and gratitude. Presented in a solid wooden box and stamped with the words 'Happy Birthday' beautifully on top, this amazing gift set also includes a single bottle of elegant Prosecco Spumante produced in the northeast of Italy and an inflated 'Happy Birthday' helium balloon that pops out as a surprise when the box is opened upon arrival. A gift box that makes the perfect present for any birthday celebration big or small, this Prosecco and balloon Birthday Gift Box is sure to please. Also great to personalise with a message from you that is included along with the gift box as well.
---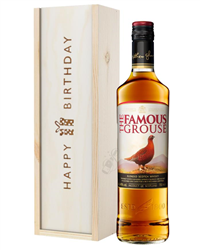 Scotch Whisky Birthday Gift
A simple way to send your truest birthday wishes to anyone in your life; complete with a single bottle of The Famous Grouse Whisky within it, this gift box boasts bold and absolute flavour throughout every sip taken from it. Presented in a sturdy wooden box with the words 'Happy Birthday' stamped beautifully on top, this remarkably chic Famous Grouse Whisky Birthday Gift Box is a versatile gift that anyone from your co-worker or customer to your parent, friend or relative will surely enjoy. Celebrate any birthday, anywhere, with a little something special when you have one of these remarkable gift boxes delivered to any type of birthday event.
---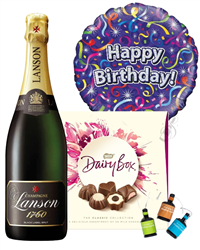 Champagne and Chocolates
An incredibly unique birthday gift that is absolutely certain to surprise anyone that receives it, this Happy Birthday Champagne and Chocolates Gift also features an ultra-fun inflated balloon within the box that pops out upon opening for a little extra something special. A surefire way to bring a smile to the face of anyone celebrating a birthday; this gift set includes a single bottle of Lanson Black Label Brut Champagne as well as 200g of delightful milk chocolate within it, a winning combination for any yearly birthday celebration. Sending someone happy birthday wishes has never been easier than this.
---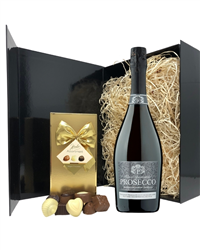 Prosecco and Chocolates
A truly delectable gift set anyone would love to receive. From the elegant wool-lined box to the remarkably delicious items placed within it, this sincerely sumptuous set is certain to assure that anyone it's sent to will fall in love with it instantly. Sophisticated in both composition and appearance, this Prosecco and Chocolate Gift Set features a single bottle of our exquisite Prosecco Spumante alongside 125 grams of luscious Belgian chocolate and comes in a sleek, black carded gift box as well; making certain this set arrives safely and looking as chic as possible. Add your own personal touch by adding a message to send along with it if desired.

---
---
How to Send a Birthday Gift to Friends and Family in the UK
Our selection of birthday gifts are sure to please anyone who enjoys a drink! We have gifts for wine lovers, prosecco for her, scotch whisky for him, port for grandad, baileys for grandma, gin for mum or dad, brothers, sisters and friends.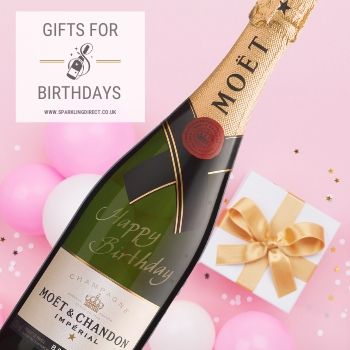 5 Best Birthday Gifts For Gin Lovers
Are you looking for a really unique birthday gift for a gin-loving friend? Look no further, our guide below lists 5 of our most popular gin presents.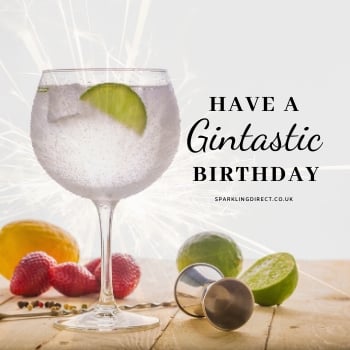 Top 10 Prosecco Birthday Gifts
Make their day with a bottle of Prosecco by treating them to something spectacular from our range of birthday gifts below.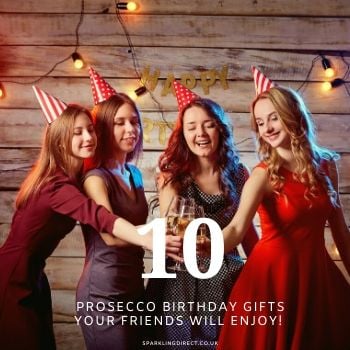 Birthday Champagne and Balloon Delivery
Sending a birthday gift to friends and family in the UK is a thoughtful way to show them just how much you care—delivered on the day of your choice or next day if you are shopping for a last-minute gift.