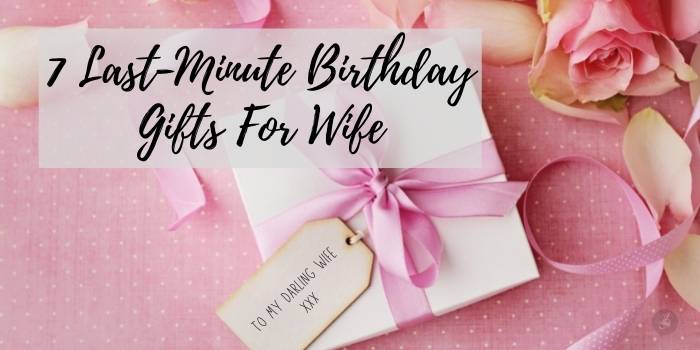 We've all had those moments where we leave the shopping until the last minute. So when looking for a last-minute birthday gift for your wife, you might be asking yourself: What is the best gift for a wife?
A bottle of her favourite drink is always a great choice, especially when it comes with chocolates or a birthday balloon. From fine wine to bubbly Champagne, any one of these seven gifts is perfect for any wife's birthday. Plus, all can be delivered the next day. So why not give her one of these?
---
Prosecco and Balloon Birthday Gift
An amazing birthday gift that will have anyone that receives it offering their true thanks and gratitude. Presented in a solid wooden box and stamped with the words 'Happy Birthday' beautifully on top, this amazing gift set also includes a single bottle of elegant Prosecco Spumante produced in the northeast of Italy and an inflated 'Happy Birthday' helium balloon that pops out as a surprise when the box is opened upon arrival. A gift box that makes the perfect present for any birthday celebration big or small, this Prosecco and balloon Birthday Gift Box is sure to please. Also great to personalise with a message from you that is included along with the gift box as well.

---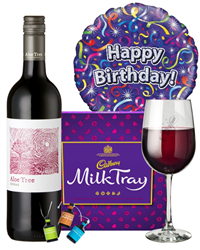 Red Wine and Chocolates Birthday Gift
A versatile gift box that makes it easy to send birthday wishes to anyone in your life from your parent, aunt, cousin or friend to a co-worker or boss; this truly delightful Red Wine and Chocolates Birthday Gift Set provides everything needed to have a real celebration. A set that contains a single bottle of Aloe Tree Shiraz, a box of 200g of milk chocolates and a 'Happy Birthday' balloon that pops out of the box upon opening, this extraordinary gift box is absolutely certain to bring joy to anyone's special day. A great gift to send to someone you care for, no matter the distance between you.
---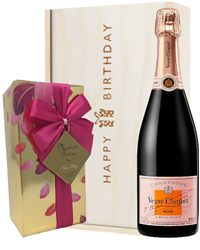 Rose Champagne and Chocolates Birthday Gift Box
Personalise this gift set with a message from you and designed to stand out from every other birthday gift they're certain to receive; every inch of this Veuve Clicquot Rose Champagne and Chocolates Birthday Gift Box will instantly satisfy any birthday boy or girl you choose to send it to. Delivered in a solid wooden gift box lined with wood wool and featuring the words 'Happy Birthday' on top, this bold and beautiful present option is great to send to anyone in your life, from a brother, cousin or nephew to a friend, colleague or client. Complete with a 75cl bottle of Veuve Clicquot Rose Champagne and a 250g box of assorted Belgian chocolates, from front to back this amazing gift box provides nothing but the incredible flavour from start to finish.
---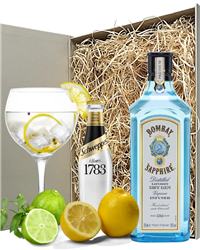 Bombay Sapphire Gin and Tonic Gift Set
The perfect gift set for allowing any recipient to easily create a truly delicious gin and tonic to enjoy; this Bombay Sapphire Gin and Tonic Gift Set makes a one-of-a-kind gift ideal for presenting to anyone with an appreciation for gin and the flavours it provides. Presented in a sleek and durable black gift box and easy to personalize with a message from you if desired, this simply amazing gift set makes a wonderful addition to any event or occasion from a birthday to a baby shower. Complete with a 70cl single bottle of Bombay Sapphire London Dry Gin, a bottle of Schweppes 1783 tonic water as well as a lemon and lime; every single inch of this exclusively crafted gift set is certain to satisfy any recipient.
---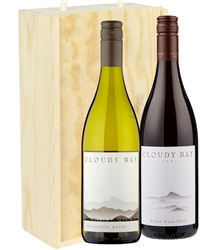 Sauvignon Blanc and Pinot Noir Two Bottle Wine Gift
Presented in a high-quality wooden gift box that is lined with a softwood wool lining for protection during delivery, this Cloudy Bay Sauvignon Blanc and Pinot Noir Two Bottle Wine Gift Box is created to arrive looking its best no matter what event or location it's sent to. Easy to personalise with a message from the sender if desired, this remarkably chic gift box makes a great gift to have delivered for a wide variety of reasons or events. Add some class to a simple engagement party or have this gift box sent to an employee that has reached a milestone at work; no matter where it's delivered this set is sure to satisfy anyone lucky enough to receive it.
---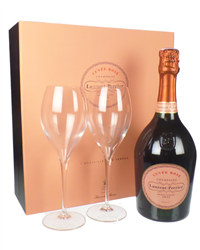 Rose Champagne Gift Set With Flute Glasses
Remarkably elegant, truly classy and created to send as the ideal romantic gesture to that special someone in your life; from the moment this incredibly special Laurent Perrier Rose Champagne Gift Set arrives, the recipient is certain to feel warm and cosy on the inside, and not just from drinking the wine itself. A limited-edition set that includes a single bottle of Laurent Perrier Rose Champagne as well as two Laurent Perrier wine flutes within it; when you send this extraordinary gift set to your spouse or significant other you get the pleasure of enjoying it with them as well. Presented in a gorgeous gift box and easy to personalise with a message from your heart to send along with it.
---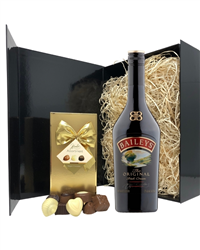 Baileys Gift Set – Baileys and Chocolate Hamper
A tasty and delectable combination of flavours unlike any other; from the single bottle (70cl) of Baileys Original Irish Cream to the 125g of assorted Belgian chocolates included within it, this gift box boasts nothing but absolute flavour all around. This fantastic tasting Baileys and Chocolate makes a great present idea for occasions such as a Birthday, Christmas, Wedding Anniversary and of course for serious Bailey's Lovers both Men and Women.
---
---
5 Best Birthday Gifts For Gin Lovers
Are you looking for a really unique birthday gift for a gin-loving friend? Look no further, our guide below lists 5 of our most popular gin presents.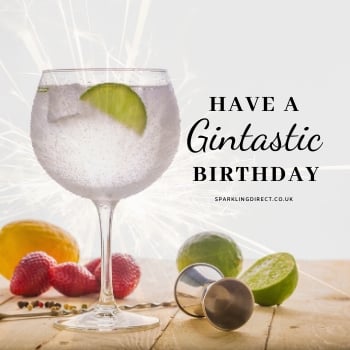 Birthday Champagne and Balloon Delivery
Sending a birthday gift to friends and family in the UK is a thoughtful way to show them just how much you care—delivered on the day of your choice or next day if you are shopping for a last-minute gift. Our gifts will get the party popping, with fizz, chocs, party poppers and a balloon!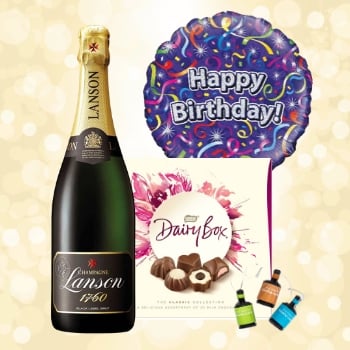 Top 10 Prosecco Birthday Gifts
Make their day with a bottle of Prosecco by treating them to something spectacular from our range of birthday gifts below.