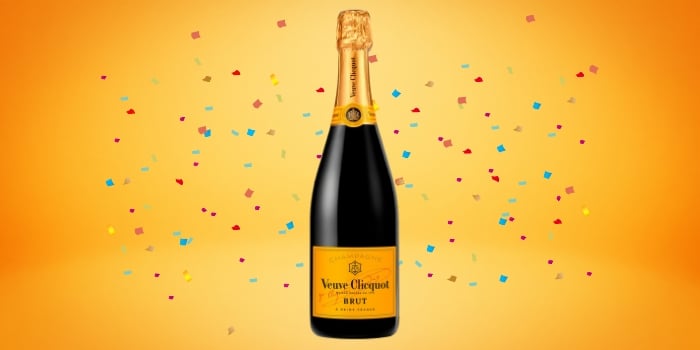 An occasion such as a birthday requires a special gift, and our range of Veuve Clicquot Champagne gift sets are perfect for anyone who loves a glass of bubbly.
Our top 5 picks include the Yellow Label, which is the signature of Veuve Clicquot's quality and style. The Rosé is made using 50 to 60 different crus, and 30 to 45% of Reserve wines and has expressive aromas of strawberry and very ripe wild strawberries. We also have the Veuve vintage and the magnum bottle included in our favourites.

---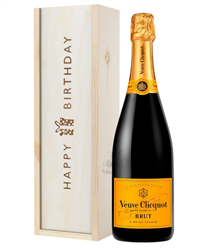 Veuve Clicquot Champagne Birthday Gift
Say 'Happy Birthday' to someone in your life in a tasty and elegant way; when you choose to send one of these Veuve Clicquot Champagne Birthday Gift Box to any truly special birthday girl, or guy, you can rest assured that they will be thoroughly thrilled with this present's arrival. Presented in a strong wooden box and containing a single bottle of Veuve Clicquot Yellow Label NV Champagne, this gift box offers absolutely everything you're looking for a classy birthday gift. Great to send to your spouse, significant other, best friend or family member, this gift set allows anyone that receives it to fully let loose and truly enjoy their special day.
---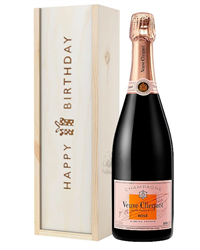 Veuve Clicquot Rose Champagne Birthday Gift
Presented in a solid wooden box with the words 'Happy Birthday' stamped perfectly on top; when you send one of these Veuve Clicquot Rose Champagne Birthday Gift Boxes to someone in your life, you can be sure they'll love both the sentiment and the flavour, this fantastic set provides. Easy to personalise with a message from you and complete with a single bottle of Veuve Clicquot Rose NV Champagne placed within it, from the moment this truly chic gift box arrives the recipient will be ready to pop the cork and savor every sip. A stunning way to send happy birthday wishes to anyone from your best mate to your brother, cousin or parent; no other gift option provides complete satisfaction and style the way this one does.
---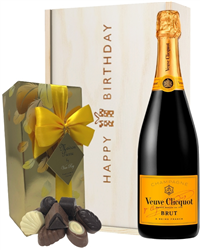 Veuve Champagne and Chocolates
High-quality, amazingly delicious and truly elegant from the outside in, this Veuve Clicquot Champagne and Chocolates Gift Box is a unique, meaningful gift that anyone would be more than happy to receive to celebrate their special day each year. Beautifully presented in a gorgeous wooden box and crafted with the words 'Happy Birthday' emblazoned upon the front, this beautiful gift box is sure to become one of the best birthday presents they've ever received. Complete with a 75cl single bottle of Veuve Clicquot Champagne as well as 250g of Belgian chocolate truffles, this extraordinary gift box boasts absolute perfection within it.
---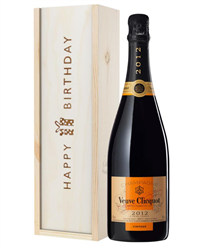 Veuve Vintage Champagne Birthday Gift
A bold birthday gift that is certain to make any recipient feel as special as possible; when one of these truly chic boxes arrives at their home or the location of their birthday bash, they will be totally thrilled to receive such a unique and heartfelt gift. Delivered in a high-quality wooden box with the words 'Happy Birthday' stamped stylishly on top, this Veuve Clicquot Vintage Champagne Birthday Gift Box is designed to provide an elegant, luxurious and remarkably tasty gift that no one else thought to send. Simple to customise with a personal message and created to stand out from any other gift they receive, this lovely box is just what anyone from your brother to your client would love to enjoy as they blow out their birthday candles each year.
---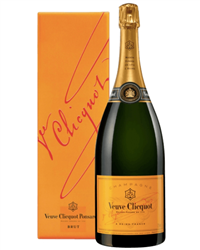 Veuve Clicquot Magnum Gift Box
Presented in a bold, bright yellow-carded gift box that makes it clear what elegant bottle of champagne is placed within it. Easy to personalise with a message that is included in the gift box as well if desired, this Veuve Clicquot Magnum 150cl Gift Box is ideal to have delivered to anyone on your gift list from a parent to a co-worker and everyone else in between. A delicious blend of Pinot Noir, Chardonnay and Pinot Meunier grapes and offered in a dry, Brut style; this gift box contains a large, single bottle of Veuve Clicquot Yellow Label champagne with a traditional taste that will have anyone's taste buds begging for more.
---
---
Birthday Champagne and Balloon Delivery
Sending a birthday gift to friends and family in the UK is a thoughtful way to show them just how much you care—delivered on the day of your choice or next day if you are shopping for a last-minute gift. Our gifts will get the party popping, with fizz, chocs, party poppers and a balloon!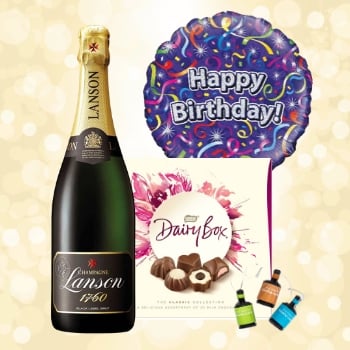 5 Moet & Chandon Birthday Gifts
If you're looking for the perfect Champagne birthday gift, look no further. Send a Bottle of Moet Champagne to Say Happy Birthday & Celebrate an 18th, 21st, 30th, 40th or 50th in style.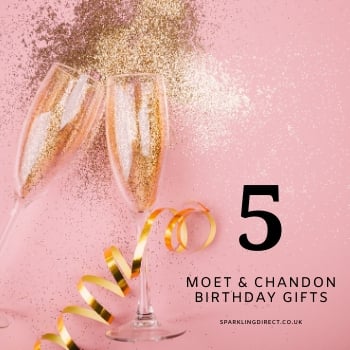 Is Champagne a Good Birthday Gift?
Champagne is more than just a good birthday gift, it's a great gift for someone who loves bubbly. A bottle of fizz is always a great way to celebrate and will always be appreciated by your friends and family. Our gift sets can be delivered next day within London and throughout the UK.