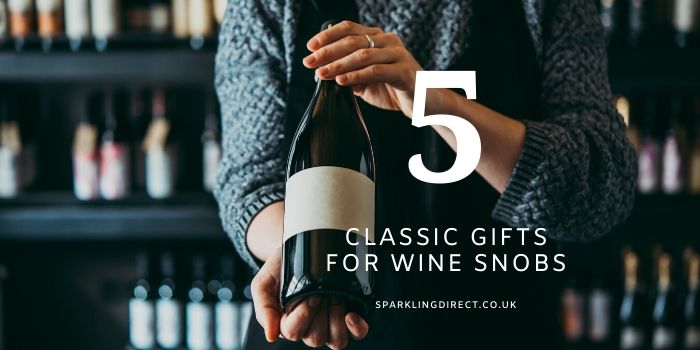 If you know a wine connoisseur and are searching for a unique gift, look no further. Even the biggest wine snobs will appreciate these hand-packed gift sets from the best wine regions in the world.
---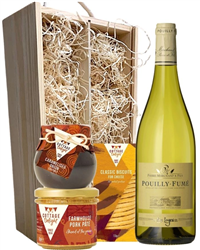 Pouilly Fume Wine & Gourmet Food
Pouilly-Fumé exclusively produces crisp white wines from Sauvignon Blanc grape variety and this one tastes really good. Presented together with some Farmhouse Pate with Pork (90g), a jar of fabulous Country Pickle (115g) and some Oval Alberts Savoury Biscuits (150g). These will be delivered in one of our wooden gift boxes lined with wood wool. A great little gift for any occasion.
---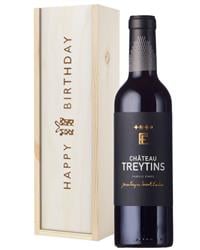 French Bordeaux Birthday Gift
Complete with a single bottle of remarkably elegant, and full-bodied wine that was produced in the Bordeaux region of France with in it; this extraordinary gift set is created to stand out from every other gift they've received, no matter the occasion or event. Made predominately from hand-picked Merlot grapes and boasting a bold nose of red fruits, this stunning French Bordeaux Red Wine Birthday Gift Box is designed to offer nothing but class and sophistication from top to bottom. Easy to personalise with a personal message as well if desired, this lovely gift box is perfect to send to anyone in your life from your mother-in-law to your cousin, friend or even a mere acquaintance you'd like to send best wishes or congratulations to.
---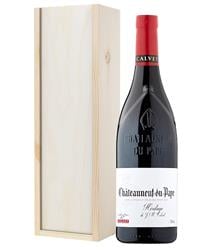 Chateauneuf Du Pape Red Wine
The perfect way to send congratulations, good luck, best wishes or even just love to someone you care for, this remarkably sophisticated Chateauneuf Du Pape Red Wine Gift Box is sure to bring a smile to the face of anyone that is lucky enough to receive it. Housed in a smooth, incredibly sturdy, and unbelievably stylish wooden box filled with wool for true protection of the bottle found within; this gift box also includes a single bottle of Val De Garrigue Chateauneuf Du Pape red wine that offers a full, delicious flavour that no other blend can hope to provide.

---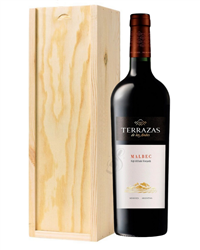 Terrazas Reserva Malbec Gift
A delicious, flavorful gift that will be certain to fully satisfy any true wine connoisseur, this Terrazas Reserva Malbec Wine Gift Box is secured for delivery and contains a single bottle of Terrazas Reserva Malbec Wine placed within a sturdy, stylish wooden box. From High Altitude Vineyards in Mendoza, Argentina and boasting a truly stunning taste, this gift box will easily stand out from any other gift the recipient receives. A gift you can easily personalise so whoever you're sending to knows who to thank, this high-quality box is also durably lined with wool so it will make it to it's intended destination safely for use and enjoyment.

---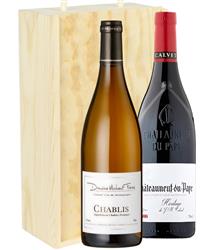 Chablis & Chateauneuf Du Pape Duo
A bold combination of wines ideal for anyone with an eclectic sense of taste. An incredible gift that contains a bottle each of a red and a white wine within it; this set contains a single bottle of Chablis and well as a single bottle of Chateanuef Du Pape, both of which offer truly incredible flavour to enjoy. Featured in a stunning wooden gift box that is lined with wool and is specially designed for secure delivery of both bottles within one package, this Chablis and Chateaneuf-Du-Pape Mixed Two Bottle Wine Gift Box is the perfect present for any recipient whose wine preferences you may be unaware of.
---
---
The 5 Best Gift Sets For Chateauneuf du Pape Wine Lovers
Chateauneuf-du-Pape is the most famous wine of the southern Rhone Valley; the region is renowned for producing full-bodied, powerful red wines.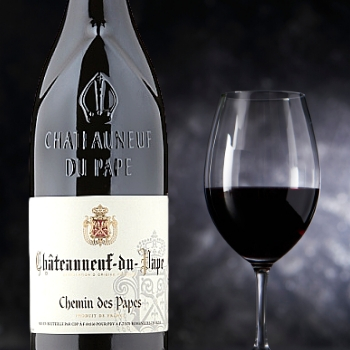 7 Gift Ideas For Bordeaux Wine Enthusiasts
Beautifully packaged gifts for Bordeaux wine enthusiasts. Chateau Treytins wines offer fantastic value and great taste from the world-renowned region of Bordeaux France.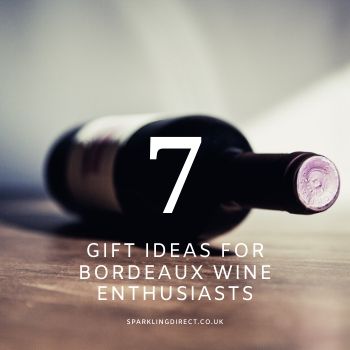 Gift Sets For Chablis Wine Lovers
People often ask what type of wine a Chablis is? Produced in the most northwest corner of Burgundy in France, Chablis is made 100% from the Chardonnay grape variety.