When looking for a wedding gift, finding the right one can be tricky. Especially if you don't know what you're looking for. So if the happy couple hasn't created a gift list, is Champagne a good wedding gift?
Champagne makes a fantastic wedding gift as it provides a delicious treat to enjoy after the big day. A single bottle will keep the party going through into the honeymoon! Moet & Chandon is a fantastic Champagne for wedding gifts. So here are our top five picks for Moet Champagne wedding gifts.
---
Moet Champagne Wedding Gift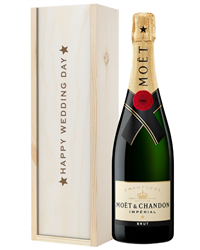 Give the newlyweds a wonderful surprise by sending them this elegant Champagne wedding gift. Let them pop open a single bottle of Moet & Chandon Imperial Brut to extend the happiness from their big day. It's presented in one of our beautiful wooden gift boxes with 'Happy Wedding Day' printed on the lid and lined with wood wool. Plus, let them know how happy you are for them with a personal message printed and included with your gift. Have it delivered either the next day or on a date of your choice anywhere in the UK. This is the perfect wedding gift for any happy couple, so why not surprise them?
---
Moet Vintage Champagne Luxury Gift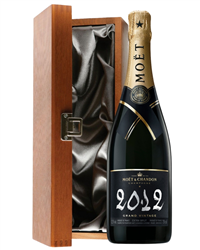 Luxurious and sophisticated, this bottle tastes as good as it looks. Treat someone to this outstanding single bottle of Moet & Chandon Vintage Champagne and help them celebrate in style. Complete with a luxurious stained wooden box with traditional joints and clasps, this is a gift for exceptional occasions and is sure to show someone how much you care. Grey silk lines the inside of the box, protecting and presenting the bottle in the best way possible. Complete the order with a personalised message and have it delivered the next day or on a day of your choice.
---
Moet Pink Champagne Wedding Gift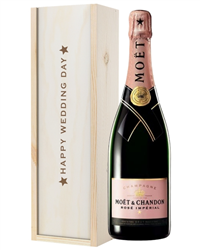 Let the happy couple pop another bottle in memory of their big day with this delightfully delicious Pink Champagne wedding gift. Give them a lovely surprise by sending them a single bottle of the fantastic Moet & Chandon Rose Imperial to enjoy. Perfectly presented, this gift comes in one of our elegant wooden gift boxes with 'Happy Wedding Day' printed on the lid. Plus, you can add a personal message to let the happy couple know it was you who sent such a beautiful gift. Have it delivered either the next day or on a date of your choice anywhere in the UK. So no matter where they live, you can give them the wedding gift they deserve.
---
Moet & Chandon Champagne Magnum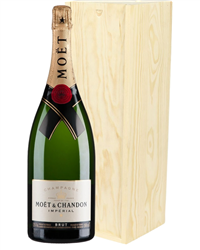 A gift box that provides the recipient with a bit more champagne to enjoy than a traditionally sized bottle; this especially voluminous Moet & Chandon Champagne Magnum Gift Box offers an especially large volume of 150cl to enjoy and a stylish appearance that offers a sturdy method of delivery as well. The perfect present for anyone with a little extra personalisation added, this lovely gift box can come with a personlised message along with it if desired. Great as an engagement, wedding, retirement or even a thank you or simple congratulations for any important event that comes up in their lives.
---
Moet Ice Imperial Champagne Congratulations Gift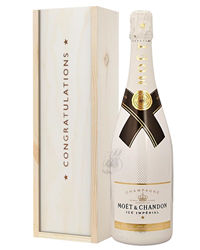 Complete with a remarkably classy bottle of Moet Ice Imperial Champagne and easy to personalise with a message from you as well, every inch of this sleek and exclusively crafted gift box provides the perfect way to truly congratulate anyone, no matter they've done or accomplished in order to earn it. A great gift option for presenting as a graduation present, a wedding gift or to celebrate the birth of a brand-new baby; this Moet Ice Imperial Champagne Congratulations Gift Box boasts unmatchable style and extraordinary flavour that you simply won't get from any other present you could send. The bottle of demi-sec champagne within this amazing gift set is specifically created to be enjoyed over ice.
---
---
Top 10 Champagne Wedding Gifts
There's no event more fitting for Champagne than a wedding. When thinking of a gift for the happy couple, you should always consider a fancy bottle of bubbly to make the occasion memorable and unique.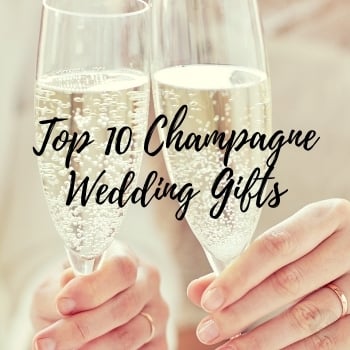 Is Champagne A Good Wedding Gift?
Considering sending Champagne as a wedding gift? Take a look at this fantastic gift guide perfect for any happy couple.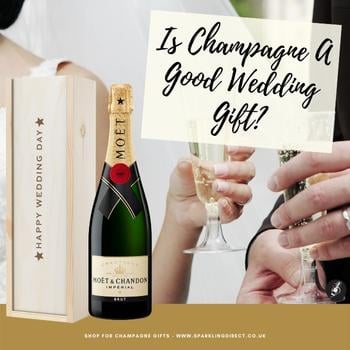 Top 5 Prosecco Wedding Gifts
Every wedding needs to hear the pop from a bottle of fizzing prosecco. Nothing says celebrations more than a bubbly bottle of Prosecco, especially if it comes in a gorgeous gift set.