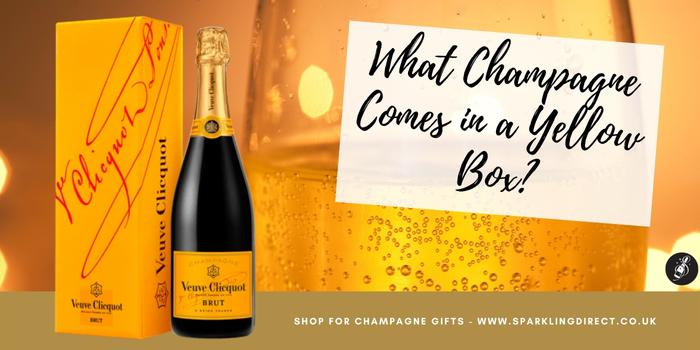 We've all done it. Forgetting the name of a Champagne House happens more often than not. So if you're finding yourself Googling the bottle or box colour, you're not the first. So what Champagne comes in a Yellow Box?
Veuve Clicquot! Veuve Clicquot Brut is the Champagne that comes in that familiar bright yellow box. Whether as a regular-sized bottle or Magnum, their Brut Champagne will often have its signature yellow label. We offer Veuve Clicquot Champagne in both their branded box and our own.
---
Veuve Clicquot Champagne Gift Box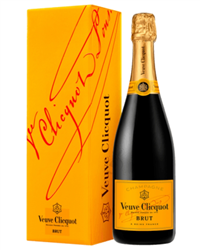 The ideal gift box to choose when sending congratulations are in order, no matter the occasion, or the reason for celebration, one of these truly delicious Veuve Clicquot Champagne Gift Boxes is the perfect present to send. Arriving in a beautifully bright yellow box and containing a single bottle of exquisite champagne within, this gift box is certain to bring a smile to the face of anyone that receives it. Delivered to the address of your choice by any specified date, this remarkable box of champagne will tickle the taste buds of every single person lucky enough to enjoy it.
---
Veuve Clicquot Magnum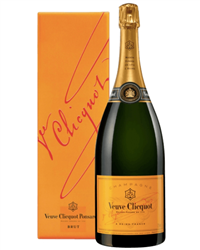 Presented in a bold, bright yellow carded gift box that makes it clear what elegant bottle of champagne is placed within it. Easy to personalise with a message that is included in the gift box as well if desired, this Veuve Clicquot Magnum 150cl Gift Box is ideal to have delivered to anyone on your gift list from a parent to a co-worker and everyone else in between. A delicious blend of Pinot Noir, Chardonnay and Pinot Meunier grapes and offered in a dry, Brut style; this gift box contains a large, single bottle of Veuve Clicquot Yellow Label champagne with a traditional taste that will have anyone's taste buds begging for more.
---
Veuve Clicquot Champagne Birthday Gift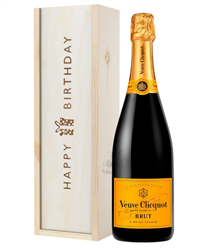 Say 'Happy Birthday' to someone in your life in a tasty and elegant way; when you choose to send one of these Veuve Clicquot Champagne Birthday Gift Box to any truly special birthday girl, or guy, you can rest assured that they will be thoroughly thrilled with this present's arrival. Presented in a strong wooden box and containing a single bottle of Veuve Clicquot Yellow Label NV Champagne, this gift box offers absolutely everything you're looking for a classy birthday gift. Great to send to your spouse, significant other, best friend or family member, this gift set allows anyone that receives it to fully let loose and truly enjoy their special day.
---
Veuve Clicquot Champagne & Chocolates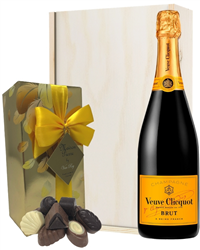 As delicious in flavour as it is elegant in design and composition, this sleek and truly gorgeous Veuve Clicquot Champagne & Belgian Chocolates Gift Box offers absolute sophistication and impressive quality throughout every item included within the set. Carefully packed within a stylish wooden gift box and complete with everything needed for absolute enjoyment of each item within it; from the single bottle of Veuve Clicquot Champagne to the assorted Belgian Chocolates, there isn't a taste of this box that isn't absolutely delightful from start to finish. A present anyone will be sure to appreciate, this gift box comes with a printed plastic gift card with a personalised message enclosed with the gift itself.
---
Veuve Clicquot Champagne Hamper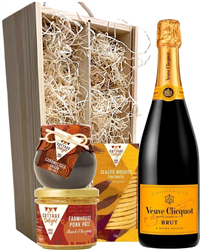 Perfect for any Veuve Champagne lover and any occasion, make someone smile by sending them this delightful hamper gift. Beautifully presented in one of our wooden gift boxes, this hamper contains a single bottle of the classic Veuve Clicquot NV Champagne along with a selection of delicious food. These include; Cottage Delight Farmhouse Pate with Pork (90g), a jar of fabulous Pickle (115g) and some Oval Alberts Savoury Biscuits (150g). It's presented in one of our wooden gift boxes and is protected with wood wool to ensure safe delivery anywhere in the UK. You can also add a personalised message and have it delivered with next day or selected date delivery.
---
---
Is Veuve Clicquot Champagne A Good Gift?
Everyone knows that Veuve Clicquot is an exceptional Champagne. But when it comes to special occasions, does it make a good gift?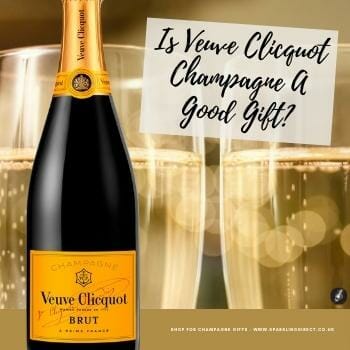 Top 5 Veuve Clicquot Wedding Gifts
If you're wondering whether Champagne makes a good wedding gift, this is the post for you! Take a look at our top Veuve Clicquot wedding gifts here.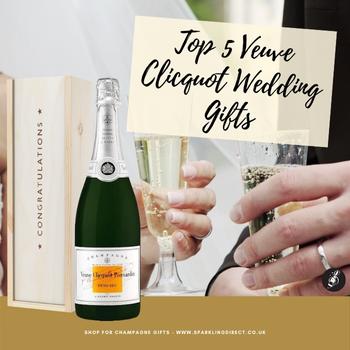 5 Great Birthday Gifts for Veuve Clicquot Champagne Lovers
An occasion such as a birthday requires a special gift, and our range of Veuve Clicquot gift sets are perfect for anyone who loves a glass of bubbly.