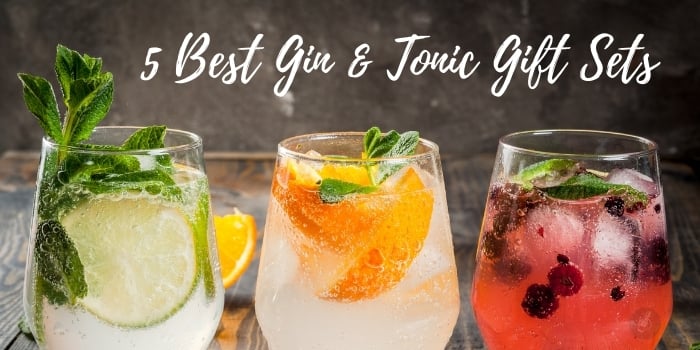 When looking for a gift for a Gin lover, you might be considering a Gin and Tonic hamper. But what is the best Gin for a Gin and Tonic?
Whilst any Gin is great in a G&T, the classics such as Gordon's, Bombay Sapphire and Tanqueray are all amazing choices. Fruity Gins are also great if you're looking for something different. So any one of these luxury five G&T sets is perfect for any occasion and sure to make any Gin-lover smile.
---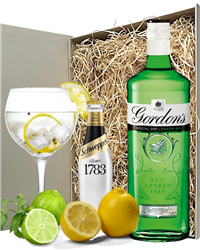 Gin and Tonic Gift Set
An amazingly unique gift set that is sure to stand out from every other gift they've ever received; every item in this exclusively created gift box is required to make a truly delicious gin and tonic unlike any other they've ever tasted before. Complete with a single bottle of Gordon's London Gin, Schweppes 1783 Tonic Water, as well as a fresh lemon and a lime; this remarkable set will have you sipping bold flavours as soon as you've mixed the ingredients up within a compatible drinking glass. Presented in a chic black gift box and delivered to the location necessary when scheduled, this gift set helps anyone to mix up a bartender-quality gin and tonic to enjoy whenever they choose.
---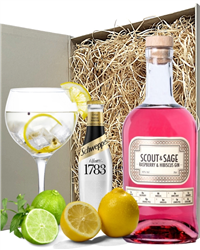 Raspberry Gin and Tonic Gift Set
This is a wonderful Gin gift to send to that gin-loving friend you may have. A bottle of the Raspberry and Hibiscus gin from the award-winning Wiltshire distillery, Scout and Sage. With Botanicals which include, Raspberry, Orange Peel, Cassia Bark and Orris Root, this pink gin goes perfectly with the Elderflower tonic we pair it within this great gift. Delivered in one of our lovely gloss black gift boxes, simply add your personal gift message to make this an ideal present to send for any number of occasions.
---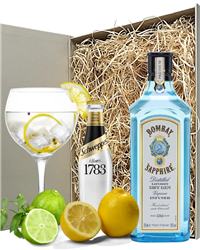 Bombay Sapphire Gin and Tonic Gift Set
The perfect gift set for allowing any recipient to easily create a truly delicious gin and tonic to enjoy; this Bombay Sapphire Gin and Tonic Gift Set makes a one-of-a-kind gift ideal for presenting to anyone with an appreciation for gin and the flavours it provides. Presented in a sleek and durable black gift box and easy to personalize with a message from you if desired, this simply amazing gift set makes a wonderful addition to any event or occasion from a birthday to a baby shower. Complete with a 70cl single bottle of Bombay Sapphire London Dry Gin, a bottle of Schweppes 1783 tonic water as well as a lemon and lime; every single inch of this exclusively crafted gift set is certain to satisfy any recipient.
---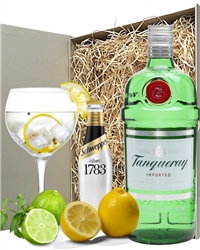 Tanqueray Gin and Tonic Gift Set
The perfect present to send to anyone in your life with a true appreciation for a quality gin and tonic to enjoy; every single ingredient required to create this smooth and delicious drink, besides a glass, is included within this gift box to assure the recipient doesn't have to wait even a moment after it arrives. Presented in a chic and amazingly sleek black gift box and filled with fabulous items from top to bottom, this Tanqueray Gin and Tonic Gift Set includes not only a single bottle of Tanqueray Gin, but also a bottle of Schweppes 1783 Tonic Water as well as a lemon and lime to complete the required flavours. Just the gift set that improves any occasion it's delivered to.
---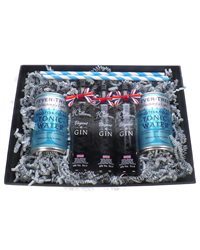 Chase Elegant Miniatures and Tonic Gift Set
Ideal for delivery to any party, no matter what is being celebrated; this Chase Elegant Miniatures and Tonic Gift Set is designed for several people to enjoy together. Presented in a sleek gift tray and wrapped up beautifully from top to bottom and front to back, this chic and high-quality gift set contains 3 5cl Mini Chase Gin bottles, 3 paper straws and 2 cans of Fever-Tree Mediterranean Tonic within it to enjoy. A great gift for celebrating a birthday, an anniversary and more; every inch of this remarkably unique set is made to truly satisfy anyone that appreciates a good gin and tonic to savour every sip of.
---
---
10 Best Gin Gift Sets
Searching for the perfect gin to give as a present? The UK's favourite spirit makes the perfect present for the gin lover in your life. We've got luxury gin gift sets that include a selection of flavoured gin gifts to suit every kind of gin-fluencer.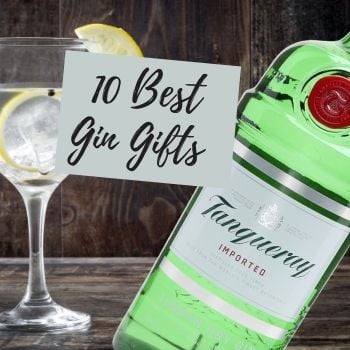 5 Best Birthday Gifts For Gin Lovers
Are you looking for a really unique birthday gift for a gin-loving friend? Look no further, our guide below lists 5 of our most popular gin presents.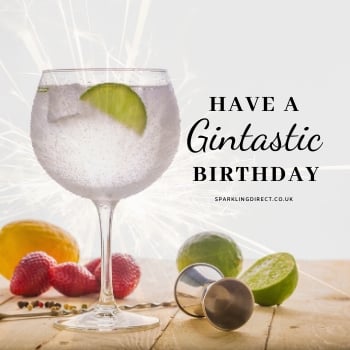 7 Best Luxury Gin Gift Sets
Luxury Gin gift sets are always great for Gin lovers and are ideal for many occasions. Whether to say thank you, happy birthday or congratulations, these seven Gin gifts are perfect.