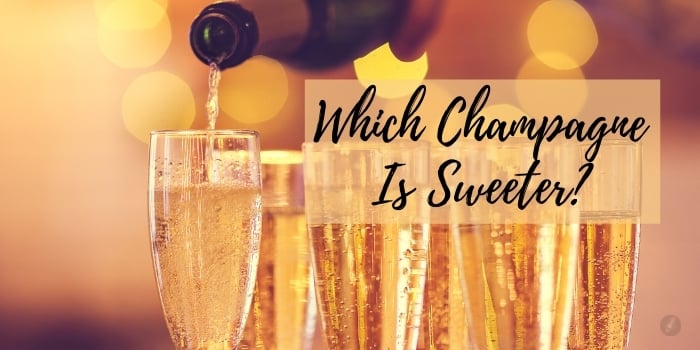 Picking a Champagne is difficult when you don't know what you're looking for. With many different types and tastes, you might not know where to start. So if you're picking a bottle based on taste, which Champagne is sweeter?
Brut means 'dry', making it the least sweet Champagne you can buy. Rose is sweeter and has is fruitier but is still quite dry. Demi-Sec means 'medium dry' and is sweeter than Brut. Moet & Chandon Imperial Brut is great if you want something dry, and Veuve Clicquot Demi-Sec is perfect for a sweeter taste.
We've picked out five of our fantastic Champagnes with a range of flavours. From Brut to Demi-Sec, any one of these will make a great gift or addition to any occasion.
---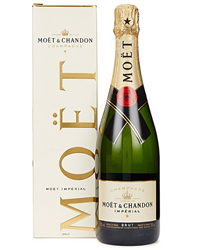 Moet Champagne Gift Box
A uniquely delicious way to present a special gift to a special someone; every single sip of the Moet Chandon Imperial Champagne contained within this Moet Champagne Gift Box will be absolutely certain to offer complete satisfaction to anyone, and everyone, enjoying it. Supplied in its own Moet carded box and presented with a personalised gift card filled out by the sender, this truly incredible gift box makes the perfect gift for any occasion from a wedding to a simple congratulations for a job well done at work. Sending something special to someone you care for has never been easier than this.
---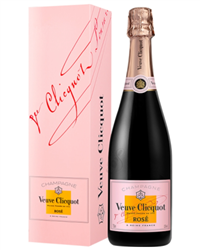 Veuve Clicquot Rose Champagne Gift Box
Fun, flirty and incredibly elegant, this Veuve Clicquot Rose is the perfect gift for any occasion. Whether for an engagement, housewarming or birthday gift, send someone this gorgeous bottle of bubbly Champagne and make the occasion extra special. It contains one single bottle of delightful Veuve Clicquot Rose Champagne and is sent in its own branded Veuve Cliquot Rose gift box. Meaning it looks as good as it tastes upon arrival. Send it anywhere in the UK with a personalised message and have it delivered the next day or on a date of your choice. You can't go wrong with this perfectly divine Champagne gift set.
---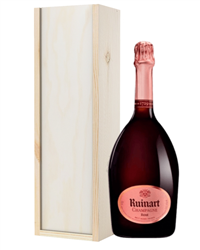 Ruinart Rose Champagne Gift
Brighten any celebration with this gorgeous Rose Champagne gift. No matter the occasion, treat someone to a single bottle of delicious Ruinart Rose Champagne to make them feel extra special. Produced since the 1700s, this Rose is one of the finest to enjoy. It comes presented in one of our classic wooden gift boxes and is protected with wood wool to ensure safe delivery. If sent as a gift, add a personal message to be included to share your celebrations with the lucky recipient. Have it delivered anywhere in the UK, either the next day or on any selected date. It's a beautiful and indulgent gift for any lucky person in your life, or even yourself!
---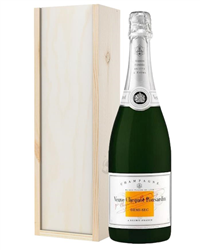 Veuve Clicquot Demi Sec Champagne Gift
Featuring the classic characteristics of a Yellow Label from Veuve with an added, delicate sweetness to its flavour to enjoy; the single bottle of Veuve Clicquot Demi-Sec Champagne included within this gift box is designed to offer extraordinary flavour and an inherent chicness that no other present option on the market can provide. Presented in a high-quality wooden gift box and ideal for delivery to any event or occasion on the calendar, this Veuve Clicquot Demi-Sec Champagne Gift Box makes a stunning Christmas gift, birthday present or anniversary gift that anyone would be more than thrilled to receive and enjoy. Easy to customise with a personal message from you, this gift set is created for truly secure delivery to any location, anywhere.
---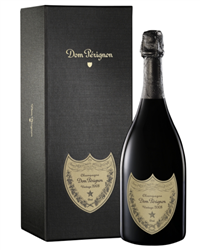 Dom Perignon Champagne Gift Box
A truly luxurious gift box that includes a bottle of one of the most well-known champagne's in the world, this incredibly elegant Dom Perignon Champagne Gift Box makes the perfect present for anyone that deserves a special congratulations of any kind. Delivered in its own sleek, black Dom Perignon branded box and filled with a bottle of the current vintage aged from 2010, from top to bottom this amazing gift box offers an amazingly delicious gift nearly anyone can enjoy. Simply add a personalised message for complete customization and this remarkable gift will be on its way to that special someone right away.
---
---
10 Best Gifts for Champagne Lovers
Champagne makes the perfect gift for all occasions. It's a sophisticated and luxurious gift that will be appreciated by anyone who receives it.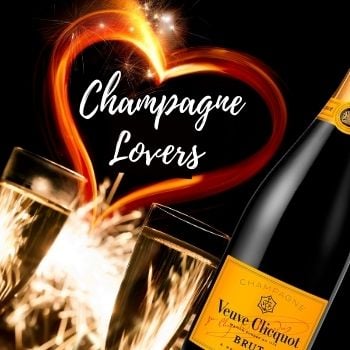 What is a Good Champagne to Give as a Gift?
Whether you're looking to say Happy Birthday, Congratulations or Thank You, we have the most beautiful gift sets created from the worlds most well-known brands. Here are our top picks when choosing the best Champagne to give as a gift.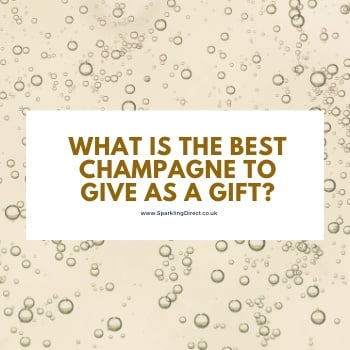 Top 10 Champagne Wedding Gifts
There's no event more fitting for Champagne than a wedding. When thinking of a gift for the happy couple, you should always consider a fancy bottle of bubbly to make the occasion memorable and unique.