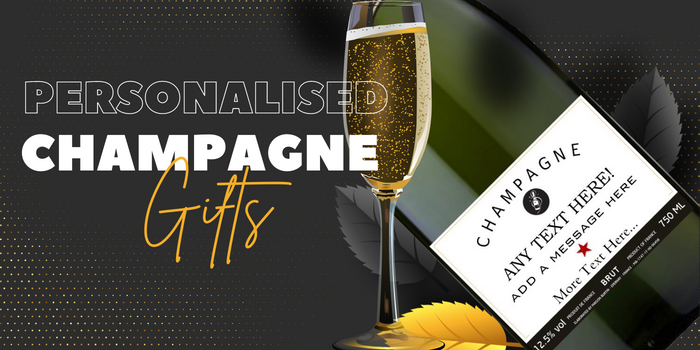 For those who are seeking something truly unique to show your gratitude and appreciation, we have the solution! Our selection of seven personalised Champagne gifts will bring an extra sparkle to any special occasion.
From classic bottle labels that can be personalised for each recipient, to luxe gift sets with chocolates included — you'll find something luxurious sure to delight family and friends alike. So don't wait; discover our top picks today!
---
Personalised Champagne Gift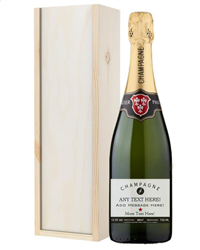 Are you looking for the perfect gift for a special occasion? Look no further! Our Personalised Champagne Gift is sure to impress and delight your recipient. This gift includes a luxurious 75cl bottle of Paul Langier Champagne, presented in a stylish wooden gift box. The bottle can be customised with your own words, making this gift truly unique and special. Imagine the look on your recipient's face when they open this thoughtful and sophisticated gift. Whether you're celebrating a birthday, anniversary, or just want to show your appreciation, our Personalised Champagne Gift is a perfect choice. Don't wait to give this amazing gift! Our convenient next-day delivery or date of your choice option means you can have it delivered straight to your recipient's door, no matter where they are. Order now and make someone's day extra special with our Personalised Champagne Gift.
---
Personalised Champagne and Chocolates Gift Box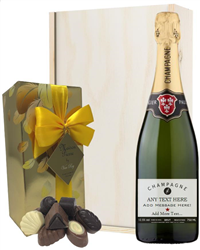 Treat someone special to a luxurious gift they won't soon forget with this exclusive Personalised Champagne and Chocolates box. With your own message printed on the bottle label, Paul Langier Brut Champagne pairs perfectly with 250g of Belgian assorted chocolates presented in our classic wooden gift box – plus have the option for an extra greeting card! Delivered next day or at any date you choose throughout the UK; let them experience one-of-a-kind sophistication & deliciousness all rolled into one perfect package.
---
Personalised Champagne Birthday Gift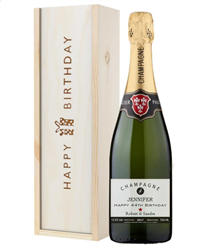 Personalised Champagne birthday gifts. Send a gift like no other by personalising a 75cl bottle of Paul Langier Champagne. Delivered in a sturdy wooden box with the words 'Happy Birthday' stamped perfectly on top of the box itself, whether you send this box to your best friends birthday party or the home of a family member or colleague from work, its absolutely certain to fill any recipient with warmth and love directly from you. Also included is a greeting card message from you if desired, which gets printed and inserted into the box. Start personalising the bottle label now by clicking the personalise label button below.
---
Personalised Champagne Congratulations Gift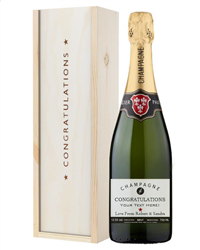 Send a personalised Congratulations Champagne Gift and let them know they deserve it! Whether they got a promotion, exam results or are celebrating a life milestone, this bottle of Paul Langier Champagne will help them celebrate in style. Delivered in a solid wooden box with the word 'Congratulations' printed on the lid. You can have it delivered anywhere in the UK on the date of your choice. Extend your congratulations by adding a personal message during the checkout process and will insert it with the bottle in the box.
---
Personalised Anniversary Champagne Gift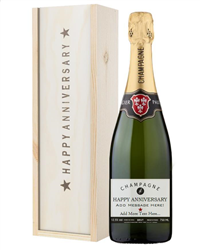 Send them the best Anniversary gift this year! A personalised bottle of Paul Langier Brut Champagne with your own personal Anniversary wishes printed on the label. Presented in a sturdy wooden gift box lined with wood wool, this amazing gift also features the words 'Happy Anniversary' printed clearly on top. Easy to further personalise with a gift card message from you as well if desired, this amazing gift box makes any anniversary as great as it can possibly be. Delivered next day or on the date of your choice in the UK.
---
Personalised Champagne Engagement Gift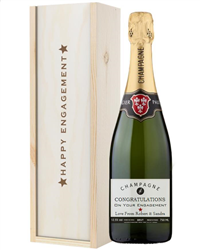 Personalised Champagne Engagement gift. Say Congratulations and share your happiness by sending the newly engaged couple a single bottle of Paul Langier Brut to enjoy on your behalf. Personalise the label letting them know who sent them this special gift or by adding the date of the engagement. This gift is delivered in one of our classic wooden boxes with the words 'Happy Engagement' printed on the lid. You can also add a personal written message which will be printed onto a card and inserted in the box. Have it delivered either the next day or on a date of your choice and this will be the best engagement gift they receive!
---
Personalised Champagne New Home Gift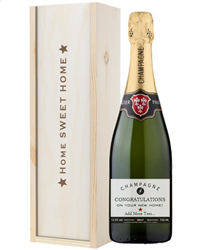 Send a personalised bottle of Champagne to say congrats on moving in! The perfect gift to celebrate the new home. This unique gift contains a bottle of Paul Langier Brut Champagne and is presented in one of our wooden gift boxes with 'Home Sweet Home' printed on the lid. Available for next day or selected date delivery anywhere in the UK, send this gift straight to their new doorstep to be enjoyed during or after unpacking. You can add a longer personal greeting card message during checkout which we will include in the box with the bottle. This gorgeous gift set will be the best housewarming surprise they receive.
---
---
What is a Good Champagne to Give as a Gift?
Whether you're looking to say Happy Birthday, Congratulations or Thank You, we have the most beautiful gift sets created from the worlds most well-known brands. Here are our top picks when choosing the best Champagne to give as a gift.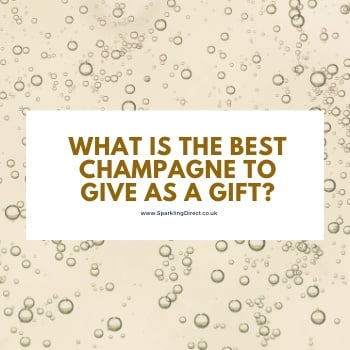 10 Best Single Bottle Champagne Gifts
We've rounded up our best single bottle Champagne gifts to create the ultimate gift guide. Take a look at our collection here.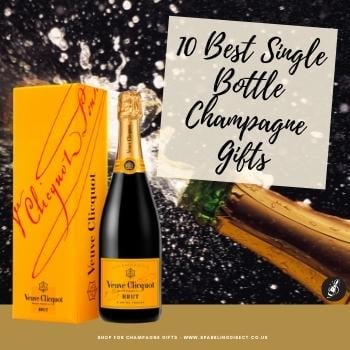 Is Champagne a Good Birthday Gift?
Champagne is more than just a good birthday gift, it's a great gift for someone who loves bubbly. A bottle of fizz is always a great way to celebrate and will always be appreciated by your friends and family. Our gift sets can be delivered the next day within London and throughout the UK.