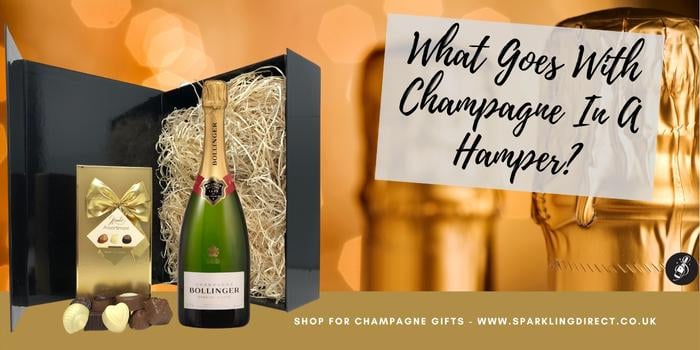 Champagne is a fantastic gift, especially when it comes to hampers. But what goes with Champagne in a hamper?
There are many different things that work well in a Champagne hamper, the main three are chocolate, pate and flutes. So it's best to determine whether to send a food hamper or flute hamper before picking a gift. These seven gift sets are perfect for any occasion or recipient and can be sent across the UK.
---
Lanson Champagne & Chocolates Gift Box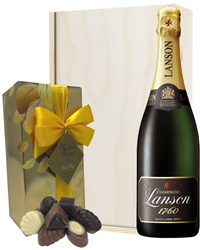 Go all out on a Champagne gift with this beautiful and tasteful gift set. Treat someone to a single bottle of delicate Lanson Black Label Champagne paired with a 250-gram box of delicious assorted Belgian chocolate truffles. Both are presented in one of our wooden gift boxes, this set is ideal for any occasion and can be completed with a personalised message for the recipient. You can send this gift anywhere in the UK, meaning you don't have to miss out on any occasion, and you can also personalise the delivery date. Plus, if you're in a hurry, next-day delivery is also available with this gift, so there's no reason not to send someone this indulgent pair for any occasion.
---
Moet & Chandon Champagne Hamper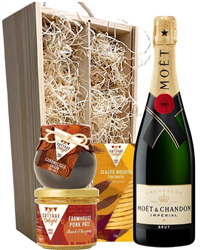 As gorgeous in appearance as it is gourmet in taste, this Moet & Chandon Champagne & Gourmet Food Gift Box offers everything you're looking for in a unique, and truly delicious, gift set. Perfect to send to anyone from your client to your cousin or even your parent or friend, this amazing gift box is just what any special occasion needs to be fully celebrated. A crisp and delightful flavour that is housed within an amazingly chic bottle, the single bottle of Moet & Chandon Champagne placed within this gift box is meant to really mean something to anyone it's delivered to. Complete with 90g of Farmhouse Pate with Pork, 115g of tremendous pickle and 150g of Oval Alberts Savory Biscuits as well, no other gift box is as classy and sophisticated as this one.
---
Bollinger Rose Red Flute Set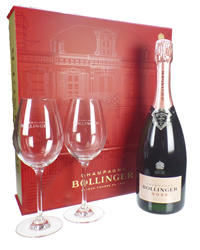 Perfect in every way; treat someone to this elegant and luxury Rose Champagne and glasses set to mark any occasion. Presented in a Bollinger branded gift box, send someone a single bottle of the delicious Bollinger Rose with two Bollinger flute glasses to keep. Sent anywhere in the UK, this gift set is ideal for any engagement, anniversary, milestone celebration or birthday and is sure to make the recipient feel extra special. So why not give them a gift to keep as a memory of the occasion? Add a personal message to complete the gift and have it delivered either the next day or on a date of your choice.
---
Veuve Clicquot Champagne & Chocolates Gift Box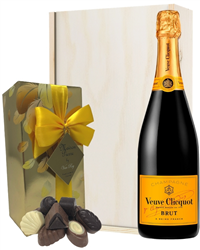 As delicious in flavour, as it is elegant in design and composition, this sleek and truly gorgeous Veuve Clicquot Champagne & Belgian Chocolate Gift Box offers absolute sophistication and impressive quality throughout every item included within the set. Carefully packed within a stylish wooden gift box and complete with everything needed for absolute enjoyment of each item within it; from the single bottle of Veuve Clicquot Champagne to the assorted Belgian Chocolates, there isn't a taste of this box that isn't absolutely delightful from start to finish. A present anyone will be sure to appreciate, this gift box comes with a printed plastic gift card with a personalised message enclosed with the gift itself.
---
Laurent Perrier Champagne Hamper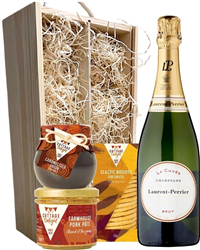 Sophisticated and delicious, this gift set is perfect for any Champagne lover with a reason to celebrate. No matter where they are, there's no reason to treat someone to a single bottle of Laurent Perrier NV Champagne along with a beautiful selection of gourmet foods. These include Cottage Delight Farmhouse Pate with Pork (90g), a jar of fabulous Pickle (115g) and some Oval Alberts Savoury Biscuits (150g), all of which is presented with the Champagne in one of our silk-lined wooden gift boxes. You can have this gift delivered anywhere in the UK with next day or selected delivery, and don't forget to add a personalised message to make this the best gift they ever receive.
---
Bollinger Champagne & Chocolates Gift Box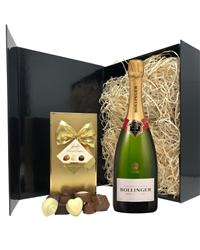 The ultimate gift of delicious flavours that anyone will instantly fall in love with; when you have one of these incredibly delectable Bollinger Champagne & Belgian Chocolates Gift Box delivered to that special someone, they will experience instant ecstasy from the very first sip and/or bite. A beautiful gift from the inside out, this extraordinary gift box includes a single 75cl bottle of Bollinger Champagne and 125g of exquisite Belgian Chocolate, all housed within a stylish presentation box designed to cushion the product as it makes its way to the desired recipient, personalised with a customized message from you.
---
Taittinger Champagne Branded Flute Set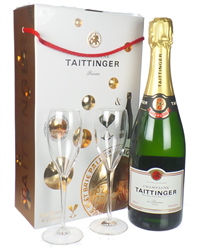 A gorgeous way to send a celebration in a box; this Taittinger Champagne Branded Flute Set includes not only a single bottle of Taittinger Champagne within it, but it also includes two high-quality branded Taittinger champagne flutes as well. Easy to personalise with a message straight from you if desired, this lovely gift set makes the perfect present to send to a variety of different special occasions from an engagement or anniversary party to a just because gift for that special someone in your life. Delivered in a fashionable, branded Taittinger box, this gift set boasts an appearance that is easily as chic as its contents.
---
---
Who Delivers Champagne Hampers?
Did you know Sparkling Direct can deliver gift hampers? Check out our top best-selling Champagne hampers and how to send one in this post.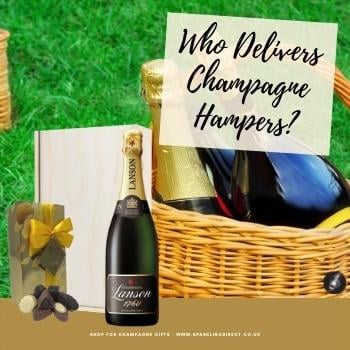 How Do I Send A Bottle Of Champagne?
Thinking about sending a Champagne gift by post? We've got all the answers on how to send one here in this wonderful gift guide!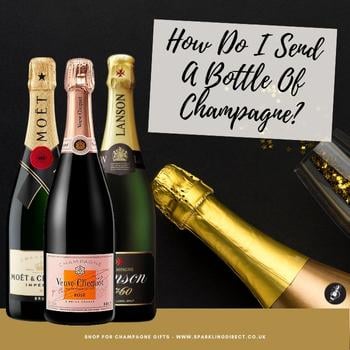 Can I Get Champagne Delivered As A Gift?
Thinking of getting a bottle of Champagne delivered? Find out how we've made it easier than ever to send a bottle of Champagne here in this post.