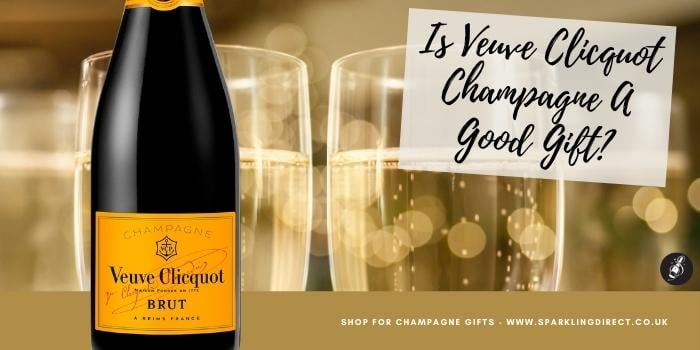 Everyone knows that Veuve Clicquot is an exceptional Champagne. But when it comes to special occasions, does it make a good Champagne gift?
The truth is, Veuve Clicquot makes an excellent gift for any occasion. Whether a Birthday, Anniversary or Celebratory occasion, a single bottle is perfect to show your love or appreciation. That's why we've created a beautiful range of Veuve Clicquot gifts, including these top five gift sets.
---
Veuve Clicquot Champagne Gift Box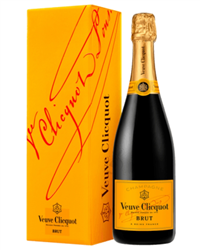 The ideal gift box to choose when sending congratulations are in order, no matter the occasion, or the reason for celebration, one of these truly delicious Veuve Clicquot Champagne Gift Boxes is the perfect present to send. Arriving in a beautifully bright yellow box and containing a single bottle of exquisite champagne within, this gift box is certain to bring a smile to the face of anyone that receives it. Delivered to the address of your choice by any specified date, this remarkable box of champagne will tickle the taste buds of every single person lucky enough to enjoy it.
---
Veuve Clicquot Champagne and Chocolates Birthday Gift Box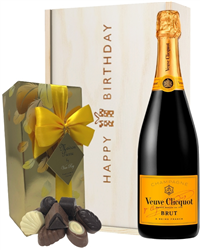 High-quality, amazingly delicious and truly elegant from the outside in, this Veuve Clicquot Champagne and Chocolates Gift Box is a unique, meaningful gift that anyone would be more than happy to receive to celebrate their special day each year. Beautifully presented in a gorgeous wooden box and crafted with the words 'Happy Birthday' emblazoned upon the front, this wonderful gift box is certain to become one of the best birthday presents they've ever received. Complete with a 75cl single bottle of Veuve Clicquot Champagne as well as 250g of Belgian chocolate truffles, this extraordinary gift box boasts absolute perfection within it.
---
Veuve Clicquot Rose Champagne Congratulations Gift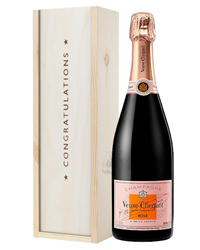 Send congratulations with this flavorous Rose variation of the traditional Veuve Clicquot brut. Crisp, fruity and bursting with bubbles, this bottle is the perfect addition to any celebrations, no matter the occasion. There is no Champagne more suitable than Veuve Clicquot Rose NV Champagne. Delivered the next day or on a date of your choice, this bottle is presented in one of our 'Congratulations' stamped wooden gift boxes. Complete the gift with a personal message to emphasise your good wishes and join in on the occasion.
---
Veuve Clicquot Vintage Champagne Thank You Gift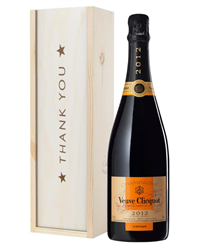 An exclusively designed gift box that features unmatchable class and true sophistication from top to bottom. Complete with a single bottle of Veuve Clicquot Vintage Champagne inside and delivered in a sturdy wooden gift box lined with wood wool, this sleek and well-made gift box is made to withstand secure delivery to any location required. Boasting bold, smooth flavour that no other bottle of champagne can match; this Veuve Clicquot Vintage Champagne Thank You Gift Box can also include a personal message from you along with it if desired. The perfect way to thank anyone in your life from a friend to a family member or even a colleague from work.
---
Veuve NV and NV Rose Two Bottle Champagne Gift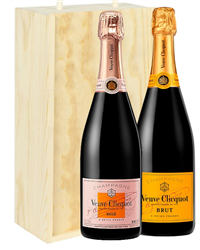 A stunning set of wines that boasts nothing but crisp and remarkable flavors, from the very first sip of these delicious varieties of champagne anyone will find themselves reaching for the bottle again and again to fill your glass until they're gone. Presented in a sleek wooden box and featuring a chic yet simple appearance, this Veuve NV and NV Rose Two Bottle Champagne Gift Box is sure to make any recipient truly delighted upon delivery. Capable of being customised with your own personal message that is placed within the gift box itself, this incredible set of champagnes makes a really gorgeous gift that can be sent to anyone, whether it be a friend, family or someone you work with.
---
---
What is a Good Champagne to Give as a Gift?
Whether you're looking to say Happy Birthday, Congratulations or Thank You, we have the most beautiful gift sets created from the worlds most well-known brands. Here are our top picks when choosing the best Champagne to give as a gift.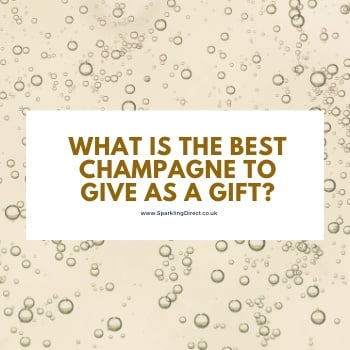 Is Champagne a Good Birthday Gift?
Champagne is more than just a good birthday gift, it's a great gift for someone who loves bubbly. A bottle of fizz is always a great way to celebrate and will always be appreciated by your friends and family. Our gift sets can be delivered the next day within London and throughout the UK.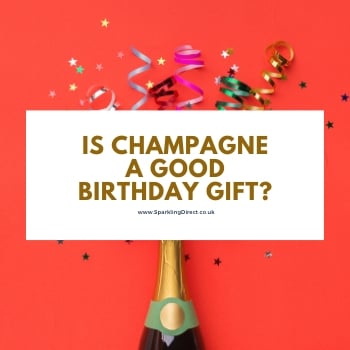 What Kind Of Alcohol Should I Give As A Gift?
Alcohol makes a great gift for many different occasions. But it can be difficult to know which one is the best choice. So what is a good alcohol to give as a gift?