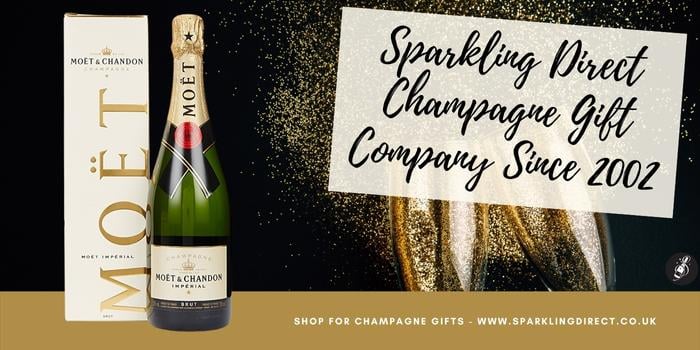 With thousands of different Champagne gifts and delivery across the UK, it's no wonder what makes us the number one place for gifting. But who is Sparkling Direct?
We are an online gifting company, specialising in Champagne and alcoholic gifts. From single bottle gifts to luxurious hampers, we've become masters at providing the perfect gift for any occasion. Plus, with free delivery all over the UK, we're suitable for those who live overseas.
---
Champagne Gift Box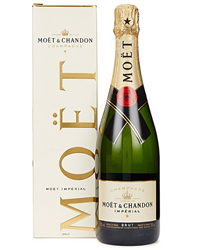 A uniquely delicious way to present a special gift to a special someone; every single sip of the Moet Chandon Imperial Champagne contained within this Moet Champagne Gift Box will be absolutely certain to offer complete satisfaction to anyone, and everyone, enjoying it. Supplied in its own Moet carded box and presented with a personalised gift card filled out by the sender, this truly incredible gift box makes the perfect gift for any occasion from a wedding to a simple congratulations for a job well done at work. Sending something special to someone you care for has never been easier than this.
---
Vintage Champagne Birthday Gift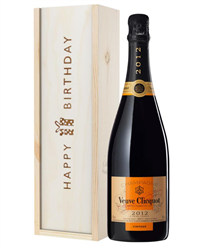 A bold birthday gift that is certain to make any recipient feel as special as possible; when one of these truly chic boxes arrives to their home or the location of their birthday bash, they will be totally thrilled to receive such a unique and heartfelt gift. Delivered in a high-quality wooden box with the words 'Happy Birthday' stamped stylishly on top, this Veuve Clicquot Vintage Champagne Birthday Gift Box is designed to provide an elegant, luxurious and remarkably tasty gift that no one else thought to send. Simple to customise with a personal message and created to stand out from any other gift they receive, this lovely box is just what anyone from your brother to your client would love to enjoy as they blow out their birthday candles each year.
---
Champagne Thank You Gift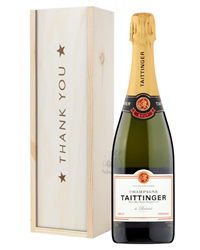 A great tasting bottle of champagne that is a true delight to drink, the single bottle of Taittinger Brut Champagne included within this magnificent gift box is designed to provide extraordinary flavour and incredible style that no other present option can hope to match. Delivered in a sturdy wooden gift box lined with wood wool and featuring the words 'Thank You' stamped on top; every inch of this Taittinger Brut Champagne Thank You Gift Box is certain to satisfy anyone it's sent to. Easy to personalise with a message from you, this chic and solid gift box allows you to truly thank anyone in your life from friend to a new client at work.
---
Rose Champagne Congratulations Gift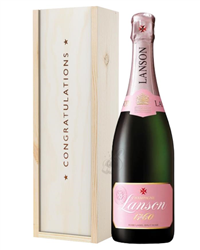 Help someone celebrate an occasion with this gorgeous bottle of Lanson Rose Champagne. Delicately tasteful down to the last glass, this bottle is a delicious twist on the original, making it even more special. Delivered in one of our Congratulations wooden gift boxes, it's perfect for any event. Whether for a new job, graduation, or to celebrate a milestone, this bottle will capture the moment from the minute it arrives. Finish the order with a personalised message to show your thoughts for them, especially if you can't be there with them. Have it delivered the next day or on the day of your choice anywhere in the UK.
---
Champagne & Chocolates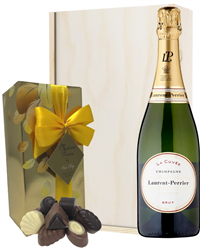 A unique and tasty gift set that boasts just as much elegance and sophistication as it does crisp and delightful flavours; from the moment this remarkably chic gift box is opened the recipient is absolutely certain to feel as loved and appreciated as they could ever possibly be. Complete with a single 75cl bottle of Laurent Perrier Champagne as well as a 250g box of luxurious Belgian chocolates, this sleek and fashionable gift box is made to make an impression, no matter how classy the event that it's sent to. Great to personalise with a message from you for delivery along with it, whether you're having this box delivered to your best mate, a member of your family or a co-worker you're especially close with, this Laurent Perrier Champagne & Belgian Chocolates Gift Box is made to please anyone and everyone that receives it.
---
---
How Do I Send A Bottle Of Champagne?
Thinking about sending a Champagne gift by post? We've got all the answers on how to send one here in this wonderful gift guide!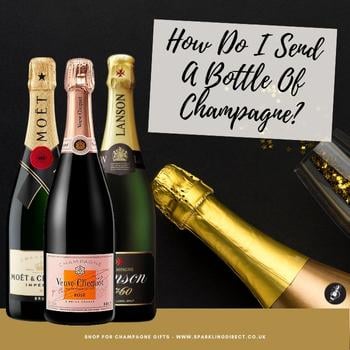 10 Best Single Bottle Champagne Gifts
We've rounded up our best single bottle Champagne gifts to create the ultimate gift guide. Take a look at our collection here.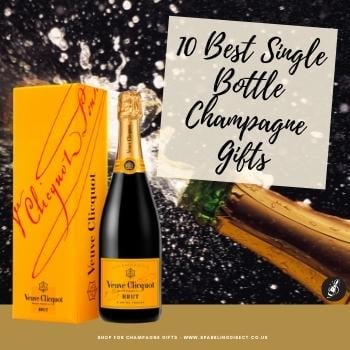 Can I Get Champagne Delivered As A Gift?
Thinking of getting a bottle of Champagne delivered? Find out how we've made it easier than ever to send a bottle of Champagne here in this post.