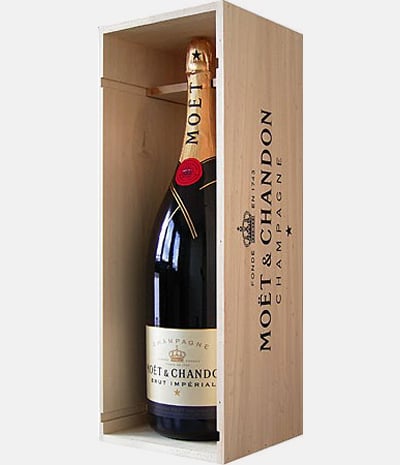 What are big Champagne bottles called?
The majority of Champagne produced is done so in a 75cl bottle, this is known as the standard size and is the basis against which all the other Champagne bottle sizes are gauged. The bigger bottles are; Magnum, Jeroboam, Methuselah, Salmanazar, Balthazar and Nebuchadnezzar.
How big are Champagne bottles?
The standard size bottle of Champagne is 75cl.
A magnum of Champagne is 150cl (1.5 litres).
A Jeroboam of Champagne is 300cl (3 litres).
A Methuselah of Champagne is 600cl (6 litres).
A Salmanazar of Champagne is 900cl (9 litres).
A Balthazar of Champagne is 1200cl (12 litres).
A Nebuchadnezzar of Champagne is 1500cl (15 litres).
The remaining bottle sizes get bigger and bigger and come after the Nebuchadnezzar, a Melchior which is 18 litres in size, a Solomon (20 litres) a Sovereign (25 litres), a Primat (27 litres) and largest of all the Melchizedek which is 30 litres.
Where to buy big Champagne bottles?
Large bottles of Champagne are perfect for celebrating and impressing. At Sparkling Direct we stock a wide range of larger bottles. The bottles sizes range from 1.5 litre magnums to the largest we stock; 15 litre Nebuchadnezzar.
Our selection of larger bottles below are produced by the leading Champagne houses, hopefully you will find your favourite brand from; Bollinger, Dom Perignon, Lanson, Laurent Perrier, Moet and Chandon, Mumm, Pol Roger and Veuve Clicquot.