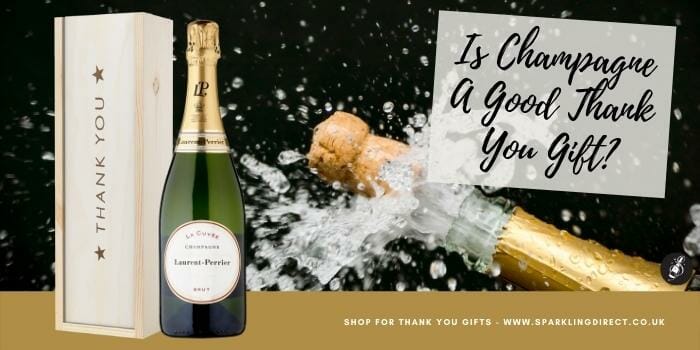 Everyone knows that Champagne makes a great gift. Ideal for saying Congratulations or Happy Birthday, it's a popular drink to send. But is it good for saying thank you?
There's no reason why you can't say 'Thank You' with a bottle of Champagne. It's an ideal thank you gift for anyone who loves a bottle of bubbles. That's why we've got 7 Champagne gift sets perfect for showing gratitude. All are presented in our specialised boxes, so why not take a look and send one today?
---
Champagne Thank You Gift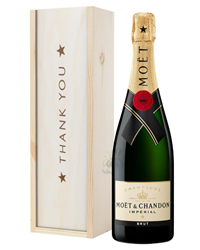 A remarkably chic way to send anyone a very special thank you, even from a distance; this Moet & Chandon Champagne Thank You Gift Box is absolutely certain to bring true satisfaction to anyone that is fortunate enough to receive it. Presented in a smooth, wooden gift box and featuring the words 'Thank You' included upon the top, this gift box can also include a personalised message along with it if desired, making it clear who this stylish box came from. A delectable, harmonious blend of Chardonnay, Pinot Noir and Pinot Meunier grapes and amazingly delicious throughout every glass enjoyed, this high-quality gift box makes a perfect present to deliver to anyone you're really thankful for.
---
Veuve Clicquot Rose Champagne Thank You Gift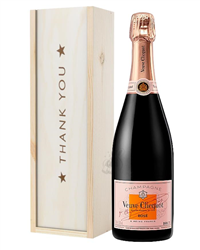 Complete with a single bottle of Veuve Clicquot Rose Champagne and boasting extraordinary flavour from start to finish; every inch of this bold and elegant gift box is designed to send your most sincere thanks to anyone from a family member to a colleague from work. Simple to personalise with a heartfelt message from you and delivered in a sturdy wooden gift box lined with wood wool, this Veuve Clicquot Rose Champagne Thank You Gift Box is the ideal present option for anyone in your life, no matter how near or far they may be. Offering crisp, full flavour and a remarkably chic appearance all throughout its form, this amazingly sophisticated gift set assures anyone that receives it is easily as thankful to you as you are to them.
---
Ayala Champagne Thank You Gift
This is a single bottle of Ayala Brut Champagne and is delivered in one of our 'Thank You' branded wooden gift boxes. You may not have heard too much about Ayala Champagne but don't let that stop you from choosing this as a gift. Ayala is the sister Champagne House to Bollinger and has been in existence since 1860 – so they know their Champagne! How Does It Taste? Just fine is the answer to that question. The experts say '…light gold in colour with an abundance of fine bubbles. The nose is open and expressive, giving delicate notes of citrus, flowers and white fruits. The palate is balanced, combining freshness and vinosity. All in all giving a precise, fruity and characterised taste…' Ayala Brut Majeur Champagne is indeed slightly lighter in colour and that is down to its higher percentage of Chardonnay grapes at 40%. This gives it a fresh clean taste making this non vintage Champagne easy to drink and is definitely worth giving. As its not available everywhere, a small amount of intrigue is also given with this gift.
---
Taittinger Rose Champagne Thank You Gift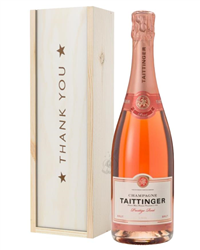 Presented in a solid wooden gift box with the words 'Thank You' branded clearly on top; this Taittinger Rose Champagne Thank You Gift Box is designed to offer elegance, simplicity and style all within one amazing gift set. One of the most delicious roses on the market, the single bottle of Taittinger Rose Champagne included within this gift box is flavorful, delicious and remarkably chic as well. A one-of-a-kind way to thank anyone in your life for any reason, every inch of this incredibly sophisticated and high-quality gift set is certain to satisfy any recipient whether its sent to your mum, your friend or your colleague.
---
Lanson White Label Champagne Thank You Gift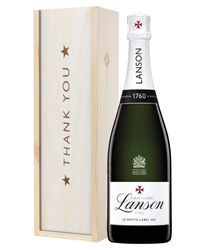 Send someone a special thank you with this delightful and incredibly tasteful Lanson Champagne gift. Whether they did you a favour or are just a great person, treat them to a single bottle of the fantastic Lanson White Label Champagne. Designed to be experimented with, this Champagne is perfect for mixing with fruity garnishes. It's presented in one of our wooden gift boxes with 'Thank You' printed on the lid and wood wool lining for protection. You can also add a personalised message to extend your gratitude. Have it delivered anywhere in the UK with next day or selected date delivery. So no matter where they are, you can show them how grateful you are for having them in your life.
---
Taittinger Prelude Champagne Thank You Gift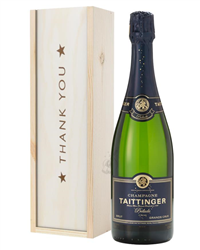 Show your gratitude to someone in your life with a deliciously unique gift. Presented in one of our 'Thank You' wooden boxes, this gift is the perfect way to say thank you. Let someone indulge in a single bottle of Taittinger Prelude Champagne on your behalf. Whether they granted you a favour, helped you with something or are just a fantastic person, this Grand Crus gift set is the perfect way to show recognition of them. Have it delivered to their door with a personalised message, and give them the ultimate surprise! Next day or selected date delivery is available to any location in the UK. So no matter what they've done, you can send your thanks with this perfect gift.
---
Laurent Perrier Champagne Thank You Gift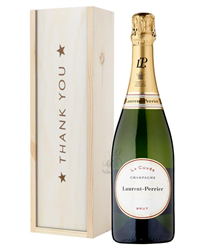 A truly elegant and sophisticated way to tell someone in your life that you're thankful to have them in your life, this remarkably classy Laurent Perrier Champagne Thank You Gift Box will make it clear to anyone that receives it that you are incredibly thankful for whatever they've done. Presented in a chic wooden box with the words 'Thank You' written clearly across the top of it, this gift box makes the ideal present to send to someone that can really appreciate the finer things in life. Containing a single bottle of Laurent Perrier Brut Champagne within it, every sip of this tasty champagne is fresh, light, and crisp in flavour and will have the recipient savoring each moment it passes their lips.
---
---
10 Best Gifts for Champagne Lovers
Champagne makes the perfect gift for all occasions. It's a sophisticated and luxurious gift that will be appreciated by anyone who receives it.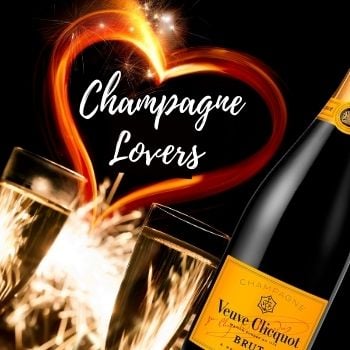 What is a Good Champagne to Give as a Gift?
Whether you're looking to say Happy Birthday, Congratulations or Thank You, we have the most beautiful gift sets created from the worlds most well-known brands. Here are our top picks when choosing the best Champagne to give as a gift.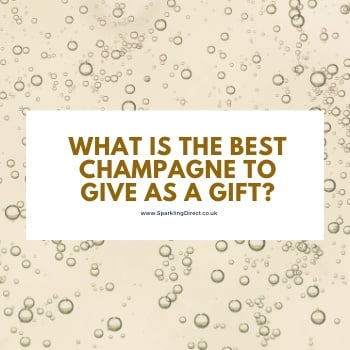 Is Champagne a Good Birthday Gift?
Champagne is more than just a good birthday gift, it's a great gift for someone who loves bubbly. A bottle of fizz is always a great way to celebrate and will always be appreciated by your friends and family. Our gift sets can be delivered the next day within London and throughout the UK.