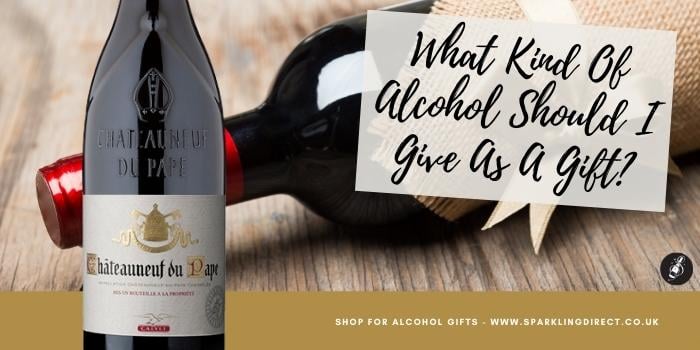 Alcohol makes a great gift for many different occasions. But it can be difficult to know which one is the best choice. So what is a good alcohol to give as a gift?
The type of alcohol is often determined by the occasion or the recipient. For example; Champagne is great for celebratory events, however, if your recipient loves Whisky, it's better to gift Whisky. Here we've highlighted some gifts that are suitable for all recipients and occasions. Take a look!
---
Chateauneuf Du Pape Red Wine Gift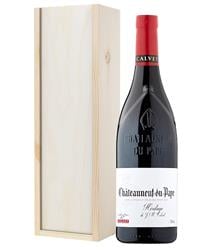 The perfect way to send congratulations, good luck, best wishes or even just love to someone you care for, this remarkably sophisticated Chateauneuf Du Pape Red Wine Gift Box is sure to bring a smile to the face of anyone that is lucky enough to receive it. Housed in a smooth, incredibly sturdy, and unbelievably stylish wooden box filled with wool for true protection of the bottle found within; this gift box also includes a single bottle of Val De Garrigue Chateauneuf Du Pape red wine that offers a full, delicious flavour that no other blend can hope to provide.
---
Taittinger Brut Champagne Gift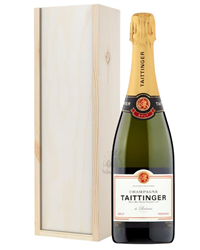 A truly delightful blend that features 50% Pinot Noir , 15% Pinot Meunier and 35% Chardonnay within it, the single bottle of Taittinger Brut Champagne inside this remarkable gift box offers nothing but bold, full flavors from the beginning of the bottle to the very end of it. Produced by the Taittinger family vineyards and absolutely certain to become the recipient's favorite new gift to receive, this exclusively created Taittinger Brut Champagne Gift Box will be certain to bring a smile to the face of every recipient it's sent to. Easy to personlise with a message as well if desired, this sophisticated gift set makes a wonderful present to send to anyone, for any event that comes up on your calendar.
---
Tanqueray Ten Gin Gift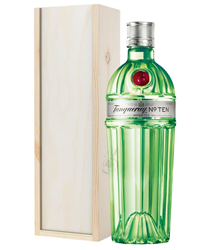 Exceptionally smooth and extra special, this set is the ultimate gift for any Gin lover. Send someone a single bottle of Tanqueray Number 10 and let them experience the unique taste of this Gin. Ten is a small batch Gin that is distilled with 'Export Quality', making it slightly more potent than other Tanqueray Gins. Inspired by Charles Tanqueray himself, this Gin is produced using whole citrus fruits and hand-selected botanicals. This gift is presented in one of our wooden gift boxes and also includes a personalised message. You can have it delivered anywhere in the UK with next day or selected date delivery.
---
Casa Defra Prosecco Frizzante Gift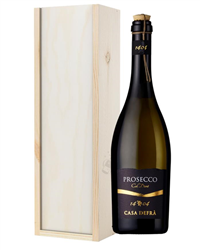 Just the gift set any special occasion requires; from the moment this amazing Casa Defra Prosecco Frizzante Gift Box is opened, any celebration it's included in, or sent to, can truly commence. Amazingly delicious, semi-sparkling, and full of incredible flavour, the single, spectacularly tasty bottle of Casa Defra Prosecco Frizzante in this gift box offers a truly unique, palate-pleasing taste no other bottle provides. Beautifully contained within a high-quality, stylish wooden box and padded securely for delivery, this gift box can also include a personalised message along with it, assuring the person receiving it knows just who it's from upon arrival.
---
Bacardi Rum Gift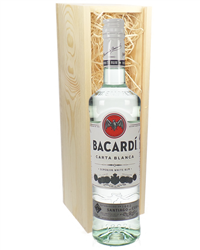 A unique yet versatile gift option you can feel confident sending, no matter the reason. Surprise your spouse with something special or send thanks to a brand-new client; no matter why you choose to send this Bacardi Rum Gift Box, you can rest assured that anyone receiving it will be truly thankful to enjoy such an amazing gift from top to bottom. Delivered in a solid wooden gift box lined with wood wool and ideal for any occasion any time of the year, this chic and elegant gift set comes with a single bottle of Bacardi Carta Blanca Rum. It can also include a personal message from you along with it if desired.
---
Scotch Whisky Gift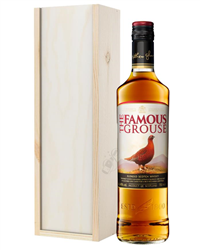 A wonderful gift to send to anyone with a love for the deep flavors that only whisky can offer, this truly remarkable Famous Grouse Blended Scotch Whiskey Gift Box is sure to truly satisfy any recipient from start to finish. Presented in a durable wooden box and lined with wool for true protection during delivery, this gift box is designed to arrive securely for the enjoyment of whoever is lucky enough to receive it. A gift set that contains a single bottle of The Famous Grouse Blended Scotch Whisky within it, this box makes an extraordinary gift for a wide variety of different occasions from a birthday to a retirement and beyond.
---
Grey Goose Vodka Gift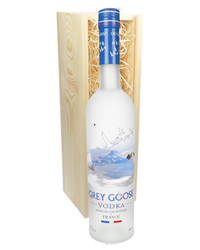 Recognised for it's smooth, crisp flavour as well as its well-known appearance, this Grey Goose Vodka Gift Box is ideal for delivery to any special event from a birthday bash to a wedding reception and any occasion in between. Presented in a fashionable, sturdy wooden box and perfect for delivery to nearly any location, this gift box includes a truly tasty bottle of French Grey Goose Vodka within it and boasts a remarkably stylish appearance from the outside in as well. Just what you need to get any party started and keep it going all night, or all day, long.
---
Harveys Bristol Cream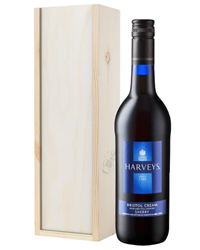 A simple and remarkably stylish gift box that makes the perfect present to have delivered to any event; whether you want to send one of these gift sets to a long-time client, a boss you particularly appreciate or even a friend that could just use a little something special in their lives, this Harvey's Bristol Cream Gift Box is just what you've been searching for. A smooth and sturdy gift box that is crafted from wood and is lined with wood wool for protection during delivery, this box contains a single bottle of Harvey's Bristol Cream Sherry and boasts a smooth and delightful flavour throughout.
---
Jack Daniels Tennesse Whiskey Gift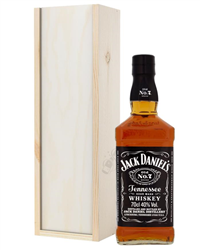 An absolutely wonderful gift set that is perfect for any whiskey-lover in your life to enjoy; whether you send this box as a Christmas gift, an anniversary present or a birthday surprise it's sure to satisfy any recipient with ease. Presented in wood wool lined wooden gift box and designed to be delivered to anyone from your best friend to your brother, aunt or even just an acquaintance. This incredibly elegant Jack Daniels Tennessee Whisky Gift Box features an amazingly bold and extraordinarily smooth flavour that will keep the recipient coming back for more until every drop is gone. Personalise this box with a message from you and instantly send it on the way to the intended destination.
---
---
10 Best Gin Gift Sets
Searching for the perfect gin to give as a present? The UK's favourite spirit makes the perfect present for the gin lover in your life. We've got luxury gin gift sets that include a selection of flavoured gin gifts to suit every kind of gin-fluencer.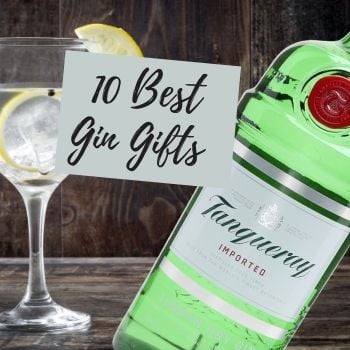 10 Best Vodka Gift Sets
The best Vodka gift would be one that's unusual and personal to the recipient. Absolut gift sets, unique Chase Vodkas or even single bottles of Ciroc in gift boxes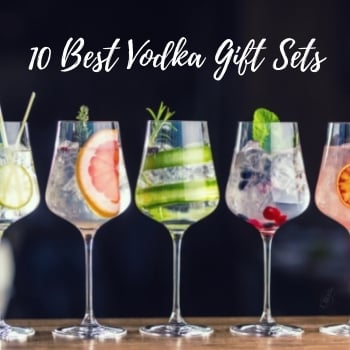 10 Best Rum Gift Sets
Whether you're looking for something unusual, spiced, or simply the best Rum gift, we've got ten that will please any Rum drinker.