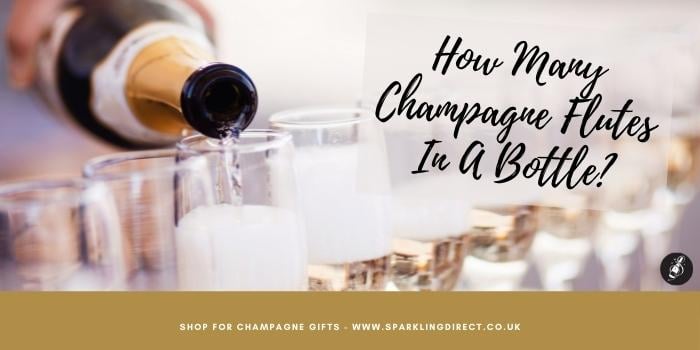 Planning a party can be stressful, especially when trying to work out how much Champagne you'll need. You don't want to buy too much or fall short, so how many pours in a bottle of Champagne?
The average number of flutes in a Champagne glass is five. A typical serving of Champagne is 150ml; however, if you reduce this to 120ml, you'll be able to serve six glasses. Therefore, one bottle equivalates to five to six glasses depending on how much you serve and the size of your flutes.
Now you know the quantities, you can pick a Champagne! Any one of these five bottles will provide the standard 750ml of Champagne, providing you with at least five average flutes of delicious bubbles! If these aren't big enough, we also sell larger bottles, so check out our website for more Champagne gifts and products.
---
Lanson Champagne Gift Box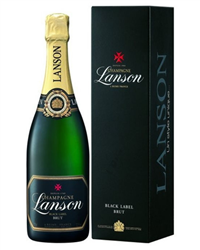 A simple way to send the gift of a remarkably popular bottle of Champagne that anyone will truly appreciate receiving. An exceptional gift that will bring instant delight after only one taste, this Lanson Black Label Champagne Gift Box makes an extraordinary gift for an engagement, a wedding, a promotion, or any other special occasion you can come up with. Presented in its own Lanson branded gift box and just what any day of celebration is missing, this wonderful gift box can even include your own personalised message along with it if desired. A great taste that is sure to please and will never disappoint, Lanson Black Label Champagne is a gift unlike any other.
---
Bollinger Champagne Gift Box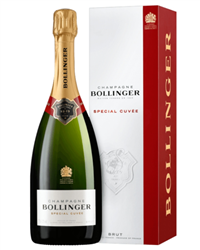 A classy, sophisticated way to truly impress anyone you choose to send it to. From the simple yet eye catching gift box it comes in to the incredibly exquisite single bottle of Bollinger Special Cuvee Champagne placed within it, this amazing Bollinger Champagne Gift Box offers everything you're looking for in a bottle of bubbly. Boasting a unique, palate refreshing taste and fruity, spicy, nut-like flavour; from beginning to end this truly exclusive bottle of champagne will be certain to impress anyone that receives it, from your boss to your best friend and anyone in between.
---
Moet Rose Champagne Gift Box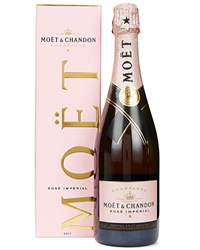 Delicate and delicious, Moet Rose Champagne is one of the most popular Champagnes and with good reason. Treat someone to an elegant twist on traditional Moet & Chandon with this single bottle of Moet Rose Champagne. Nothing says special celebrations more than this bottle of bubbly. Sent in their branded gift box, this gift is perfect for birthdays, weddings and celebrations, although it can be sent for any reason you see fit. Add a personalised message to complete the gesture and have it delivered straight to their door. Available for next day or selected date delivery.
---
Veuve Clicquot Champagne Gift Box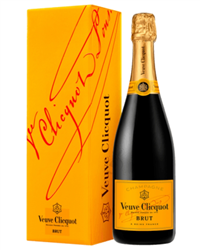 The ideal gift box to choose when sending congratulations are in order, no matter the occasion, or the reason for celebration, one of these truly delicious Veuve Clicquot Champagne Gift Boxes is the perfect present to send. Arriving in a beautifully bright yellow box and containing a single bottle of exquisite champagne within, this gift box is certain to bring a smile to the face of anyone that receives it. Delivered to the address of your choice by any specified date, this remarkable box of champagne will tickle the taste buds of every single person lucky enough to enjoy it.
---
Dom Perignon Champagne Gift Box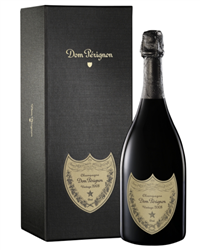 A truly luxurious gift box that includes a bottle of one of the most well-known champagne's in the world, this incredibly elegant Dom Perignon Champagne Gift Box makes the perfect present for anyone that deserves a special congratulations of any kind. Delivered in its own sleek, black Dom Perignon branded box and filled with a bottle of the current vintage aged from 2010, from top to bottom this amazing gift box offers an amazingly delicious gift nearly anyone can enjoy. Simply add a personalised message for complete customization and this remarkable gift will be on its way to that special someone right away.
---
---
What is a Good Champagne to Give as a Gift?
Whether you're looking to say Happy Birthday, Congratulations or Thank You, we have the most beautiful gift sets created from the worlds most well-known brands. Here are our top picks when choosing the best Champagne to give as a gift.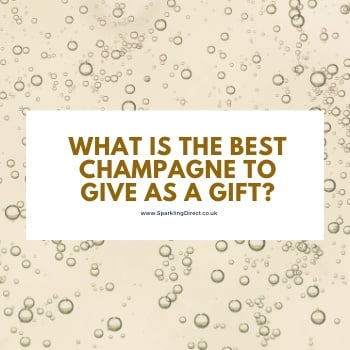 What Do You Give A Champagne Lover?
Picking the perfect Champagne gift can prove to be a task. So what do you give a Champagne lover as a gift?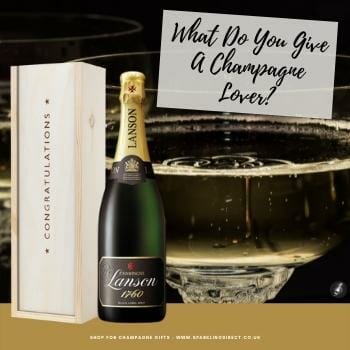 Is Veuve Clicquot Champagne A Good Gift?
Everyone knows that Veuve Clicquot is an exceptional Champagne. But when it comes to special occasions, does it make a good gift?