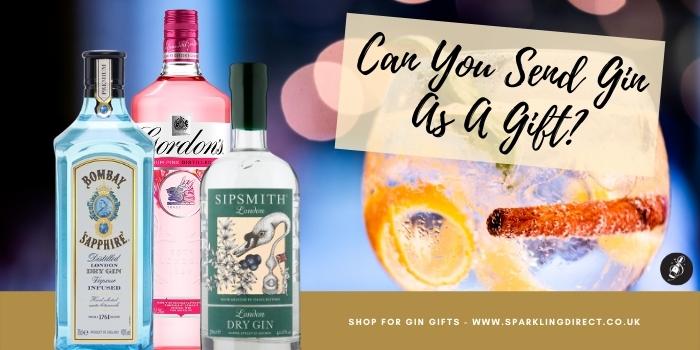 Finding a gift to give to a Gin lover can be difficult. Whether it's their birthday, anniversary or milestone celebration, we've got the perfect choices. So can you send a bottle of Gin as a gift?
The answer is yes, you definitely can! No matter the occasion or recipient, a bottle of Gin is the perfect gift to send. If you're struggling to pick a Gin gift, these seven are ideal choices. Each is presented in a wooden gift box and includes a personalised message. So why not take a look and send one today?
---
Gin Birthday Gift Set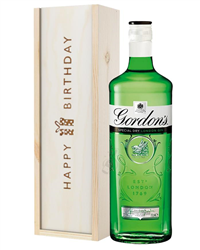 A tasty, high-quality gift that any gin-lover will truly appreciate. Presented in a sleek and solid wooden box with the words 'Happy Birthday' printed perfectly on top, when this Gordons Gin Birthday Gift Box arrives to its destination the birthday boy or girl will be truly thrilled to receive it. Easy to personalise with a message from you if desired as well, this remarkably high-quality gift box includes a single bottle of Gordons Special Dry London Gin within it and will get any birthday party started the moment it's delivered. Send a unique gift box to your favourite gin drinker and know they'll think of you with each and every drink.
---
Tanqueray Gin And Tonic Gift Set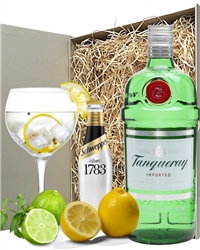 The perfect present to send to anyone in your life with a true appreciation for a quality gin and tonic to enjoy; every single ingredient required to create this smooth and delicious drink, besides a glass, is included within this gift box to assure the recipient doesn't have to wait even a moment after it arrives. Presented in a chic and amazingly sleek black gift box and filled with fabulous items from top to bottom, this Tanqueray Gin and Tonic Gift Set includes not only a single bottle of Tanqueray Gin, but also a bottle of Schweppes 1783 Tonic Water as well as a lemon and a lime to complete the required flavours. Just the gift set that improves any occasion it's delivered to.
---
Gin And Chocolates Gift Set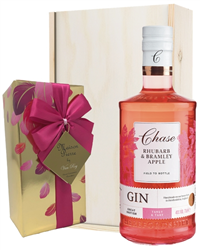 Offered in a solid, yet stunning, wooden box and boasting bold flavours you simply won't get from any other gift set; when you send one of these truly remarkable Chase Rhubarb and Bramley Apple Gin and Chocolates Gift Box to someone you care for you can be certain they'll love, and appreciate, each and every taste. Complete with a bottle of tangy and tart Chase Rhubarb and Bramley Apple Gin as well as a 250g box of assorted Belgian chocolates within it, from top to bottom this unique gift set features a one-of-a-kind combination of flavours just right for any occasion from a birthday party to an anniversary celebration and beyond.
---
Tanqueray Ten Gin Thank You Gift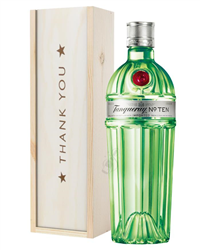 Send a beautiful and classic thank you with this delightful Gin thank you gift. Treat someone to a single bottle of Tanqueray Number Ten Gin and let them taste the exceptionally smooth flavour of this delicious Gin. Ten is a small batch Gin that is produced using whole citrus fruits and hand-selected botanicals. It's presented in one of our wooden gift boxes, 'Thank You' and protected with wood wool. You can also add a personalised message to let your recipient know who made them smile! Next day or selected date delivery is available anywhere in the UK, making it the perfect gift to send and show gratitude with.
---
Chase Elegant Miniatures And Tonic Gift Set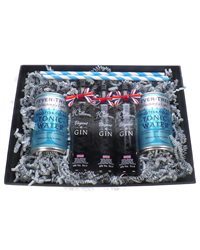 Ideal for delivery to any party, no matter what is being celebrated; this Chase Elegant Miniatures and Tonic Gift Set is designed for several people to enjoy together. Presented in a sleek gift tray and wrapped up beautifully from top to bottom and front to back, this chic and high-quality gift set contains 3 5cl Mini Chase Gin bottles, 3 paper straws and 2 cans of Fever Tree Mediterranean Tonic within it to enjoy. A great gift for celebrating a birthday, an anniversary and more; every inch of this remarkably unique set is made to truly satisfy anyone that appreciates a good gin and tonic to savour every sip of.
---
Bombay Sapphire Gin Congratulations Gift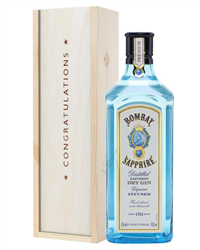 Easy to personalise with a heartfelt message and presented in a solid wooden gift box with the word 'Congratulations' printed perfectly on top. It doesn't matter whether you send one of these incredible gift sets to a co-worker on a promotion, your best mate on their engagement or a family member with a brand-new baby, anyone that receives it is certain to appreciate both the flavour and the sentiment this gift box offers. Complete with a single bottle of Bombay Sapphire London Dry Gin and the ideal gift option for any gin-lover in your life, this gift set comes presented in a solid wooden box and filled with wood wool to ensure secure delivery, no matter the location it's sent to.
---
Gordons Gin Twin Gift Set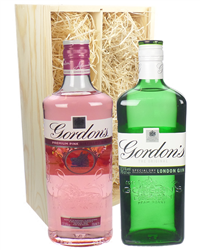 An amazing gift option for any gin-lover no matter the occasion to choose to send it for. Featuring a bottle of Gordon's Special Dry London Gin as well as a bottle of Gordon's Pink Gin included along with it, from the inside out this truly remarkable gift box boasts everything you've been searching for in a truly unique present option that will stand out from any other gift the intended recipient receives. Delivered in a high-quality wooden box and complete with a personal message from you if desired, this Gordons Gin Twin Gift Set makes an elegant gift to send to any birthday party, housewarming party, retirement celebration or simple family get-together for everyone to share and enjoy.
---
---
10 Best Gin Gift Sets
Searching for the perfect gin to give as a present? The UK's favourite spirit makes the perfect present for the gin lover in your life. We've got luxury gin gift sets that include a selection of flavoured gin gifts to suit every kind of gin-fluencer.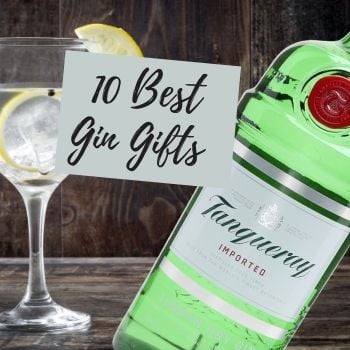 Top 5 Pink Gin Gift Sets
Know someone who loves Pink Gin? No matter the occasion, take a look at these five gift sets guaranteed to brighten any event.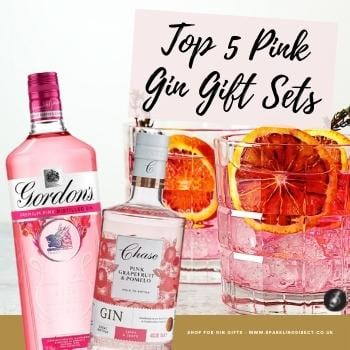 9 Best Gin Gifts For Her
Gifts for women can be hard to find. With so many choices, it's difficult to know what to get. So what do you get a female Gin-drinker?