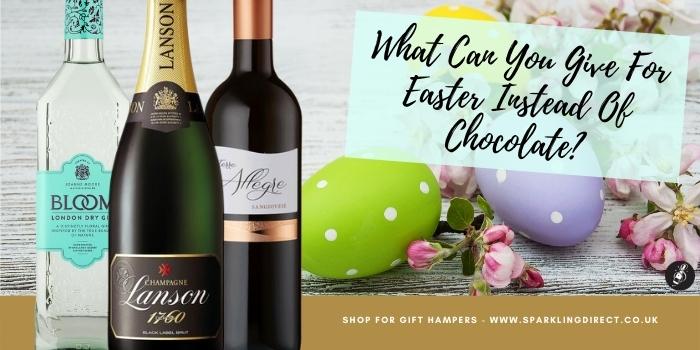 Chocolate can be overrated when it comes to Easter, so finding a gift can be difficult. Rather than spend time sifting through potential gifts, let us help with these fantastic gifts. So what can you get someone for Easter that isn't chocolate?
A bottle of something special is the perfect alternative to Easter chocolate. Let them pop open a bottle of Champagne or sip a Gin and Tonic this Easter weekend with one of these featured gifts. Each is as delicious as the next and will complete any East celebrations across the UK. So why not take a look?
---
Lanson Black Label Champagne Gift Box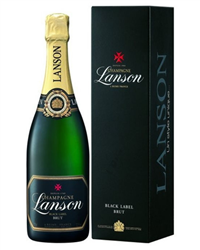 A simple way to send the gift of a remarkably popular bottle of Champagne that anyone will truly appreciate receiving. An exceptional gift that will bring instant delight after only one taste, this Lanson Black Label Champagne Gift Box makes an extraordinary gift for an engagement, a wedding, a promotion, or any other special occasion you can come up with. Presented in its own Lanson branded gift box and just what any day of celebration is missing, this wonderful gift box can even include your own personalised message along with it if desired. A great taste that is sure to please and will never disappoint, Lanson Black Label Champagne is a gift unlike any other.
---
Chilean Mixed Two Bottle Wine Gift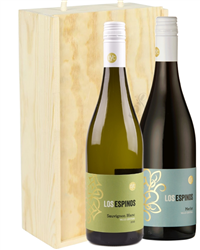 Produced from Los Espinos vineyards located with the amazing country of Chile, each bottle of wine included within this Chilean Mixed Two Bottle Wine Gift Box is sure to truly delight the palate of anyone fortunate enough to receive it. The latest harvest from the central valley of Chile, each one of these delectable wines are both incredibly tasty as well as surprisingly stylish in overall appearance. Presented in a high-quality, durable wooden box that is designed to hold two single bottles of wine securely from top to bottom during delivery, this gift box also contains a bottle of Sauvignon Blanc and a bottle of Merlot Red within it.
---
Bloom Gin And Tonic Gift Set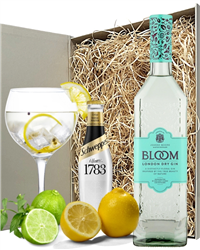 This is the ultimate gift for Gin lovers! Send someone a G&T in a box with this incredible gift set. Perfect for sending anywhere in the UK, this gift contains a single bottle of the delightful Bloom Gin along with a single bottle of Schweppes 1783 Tonic Water. It's perfect! Plus, it also comes with a lemon and a lime because what's a G&T without garnishes? This gift is packaged and presented in one of our beautiful black gift boxes and is protected with wood wool for style and protection. No matter where they are, this gift can be sent anywhere in the UK with next day or selected date delivery. Plus, you can also add a personalised message to let your recipient know who to thank for such a wonderful gift!
---
Cava and Cheese Hamper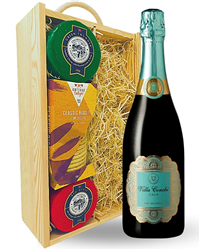 Now here's a hamper that's sure to complete any celebration! Get the party started with this delicious Cava and cheese combination. Send a single bottle of Villa Conchi Cava straight to someone's door. It's accompanied by a box of Cottage Delight Biscuits, Snowdonia Green Thunder Cheese and Snowdonia Red Devil Cheese. Green Thunder is a Cheddar Cheese with roasted garlic and herbs. Red Devil is a Red Leicester with Habanero chillies and peppers. This hamper is presented in one of our wooden gift boxes and is protected with wood wool lining. You can add your own personalised message for that extra touch. Send this hamper anywhere in the UK with next day or selected date delivery.
---
Limoncello Spritz Gift Set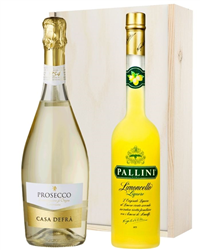 Limoncello is an Italian liqueur made only with Lemons from the Amalfi Coast, mixed with Prosecco to make this very popular drink originating in Northern Italy (Much like the Aperol Spritz). How to make the perfect Limoncello Spritz 1. Fill a wine glass generously with cubed ice 2. Add a 60ml measure of Prosecco over the ice 3. Add 50ml measure of the Limoncello 4. Finish with a dash of soda water 5. Garnish with a slice of orangeor if your feeling brave, a sprig of Rosemary!. Our Limoncello Spritz cocktail gift contains a full size bottle of our lovely Prosecco together with a bottle of Limoncello, allowing you to make plenty of this great summery refreshing drink!
---
Sangiovese Italian Wine Hamper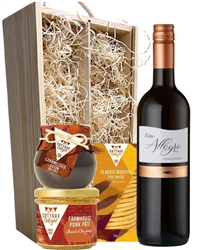 A fabulously fashionable gift set that features an extraordinary combination of flavours unlike any other; this gift box includes a single bottle of Sangiovese Italian Primitivo Red Wine as well as a 90g jar of Cottage Delight Farmhouse Pate with Pork, a 115g jar of pickles and a 150g package of Oval Alberts Savoury Biscuits within it to enjoy. Easy to personalize with a message from you if desired, this gift set comes presented in a remarkably solid wooden gift box lined with wood wool to ensure secure delivery to any location, anywhere. This durable and elegant gift box is made to bring true satisfaction to anyone fortunate enough to receive it, no matter the occasion it's sent for.
---
Glenmorangie Single Malt Scotch Whisky Gift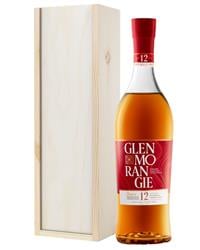 Delivered in a sturdy wooden box and designed to add sophistication to any occasion it's sent to; this Glenmorangie Lasanta 12-Year-Old Sherry Cask Highland Single Malt Scotch Whisky Gift Box is ideal for delivery to any wedding, retirement party or baby shower desired. Complete with a single bottle of Glenmorangie Lasanta 12-Year-Old Highland Single Malt Scotch Whisky and housed within a gift box lined with wood wool to ensure secure delivery, this remarkably gorgeous gift set is certain to satisfy any recipient from your father, mother, aunt or uncle to your co-worker, client or friend. Easy to personalise with a message from you and just what any whisky-lover is happy to savor from top to bottom.
---
---
Do People Drink Baileys At Easter?
Do people drink Baileys at Easter? Whilst it might not be traditional, Baileys can make a delicious Easter treat. Read about it here.
7 Best Easter Gifts For Employees
Don't let your employees feel left out this Easter. Show your appreciation for all their hard work with one of these seven Easter gift sets.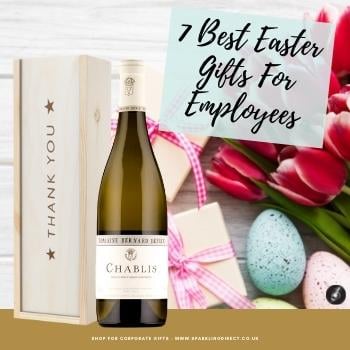 Is Gin A Good Easter Gift?
Does Gin make a good Easter gift? We explore why Gin makes a great Easter gift and highlight seven gift sets ideal to send across the UK. Take a look here.