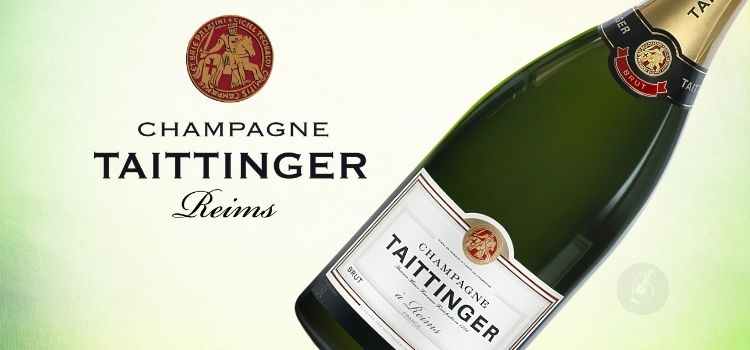 So you're celebrating an occasion and want to get a champagne-lover a gift, but you don't know what to get. Taittinger is a popular choice and famous for its Champagnes, making them a great gift. But which Taittinger Champagne gifts are the best?
Taittinger's single bottle gift sets are always great Champagne gifts for any occasion. From their Vintage Champagne to their gift sets with glasses, any one of our Taittinger gifts will bring a smile to their face. These are the ten best Taittinger Champagne gifts, all of which can be sent by post.
---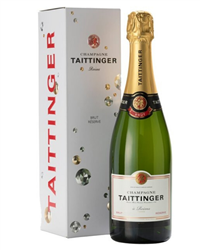 Taittinger Champagne Gift Box
A bold, stylish gift box from the eye-catching box itself to the absolutely delicious bottle of champagne contained within it. A tasty and truly fantastic present for any occasion from an engagement to a wedding and beyond, this wonderful Taittinger Champagne Gift Box offers a remarkably unique flavour that boasts hints of honey, fresh fruit and more. Featuring depth and balance from the very first taste to the very last, this amazingly elegant gift box provides anyone that receives it with a sincerely special addition to any special event. Easy to personalize with a message along with it, this box is certain to brighten the day of anyone that receives it.
---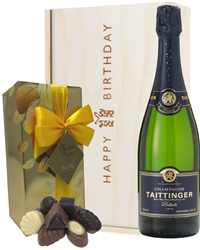 Taittinger Prelude Champagne and Chocolates Birthday Gift Box
An extraordinary way to send your deepest wishes for a truly happy birthday this year; from the moment this Taittinger Prelude Champagne and Chocolates Birthday Gift Box arrives you can be certain any recipient will feel loved and appreciated in a whole new way. Delivered in a solid wooden box with the words 'Happy Birthday' printed perfectly on top, this unique and gorgeous present option makes the ideal gift to send to anyone from your sister, cousin, friend, or even your favourite co-worker. Complete with a single bottle of Taittinger Prelude Champagne and a 250g box of assorted Belgian chocolates, no other gift set provides the level of class and elegance that this one does.
---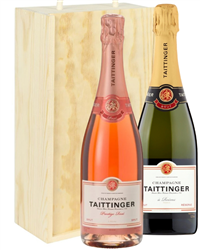 Taittinger and Taittinger Rose Two Bottle Champagne Gift
A lovely two-bottle set that is designed to feature crisp and delightful flavours through every single glass, this Taittinger and Taittinger Rose Two Bottle Champagne Gift Box makes a bold statement at any event, occasion or location you choose have this amazing present delivered to. A lovely way to allow the recipient to sample more than one variety of champagne, this extraordinary gift box is the perfect gift to send to any event from a wedding reception to a birthday party and beyond. Presented in a unique wooden box that is designed to hold two single bottles of champagne safely and securely for delivery, this gift box can also include a personal message from you along with it if desired.
---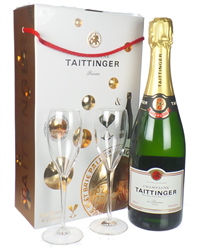 Taittinger Champagne Branded Flute Set
A gorgeous way to send a celebration in a box; this Taittinger Champagne Flute Set includes not only a single bottle of Taittinger Champagne within it, but it also includes two high-quality branded Taittinger champagne flutes as well. Easy to personalise with a message straight from you if desired, this lovely gift set makes the perfect present to send to a variety of different special occasions from an engagement or anniversary party to a just because gift for that special someone in your life. Delivered in a fashionable, branded Taittinger box, this gift set boasts an appearance that is easily as chic as its contents.
---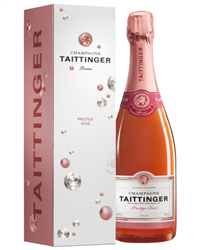 Taittinger Rose Champagne Gift Box
Presented in a gorgeous carded gift box and boasting an elegant appearance from top to bottom, this truly stunning Taittinger Rose Champagne Gift Box is designed to catch attention whether it's delivered to a baby shower to celebrate the coming of a lovely little girl, or to a close friend that could simply use something special to enjoy. Easy to customise with a personal message and simple to have delivered to any location on any date required, this wonderful gift box features a single bottle of Taittinger Rose Champagne within it that features a deep palate of flavour with hints of honey and fresh fruit that will fully satisfy any taste.
---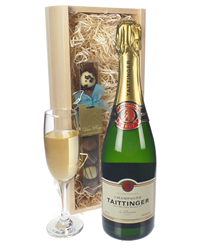 Taittinger Champagne and Chocolates Gift Set
Beautifully presented with nothing less than a delicious taste, treat someone to this gorgeous Champagne and chocolate hamper. This gift set contains a single bottle of Taittinger Brut Champagne, perfectly paired with a divine box of assorted chocolate truffles (110g). No matter the occasion, let the lucky recipient pop open a bottle and celebrate whatever it is that they've achieved. It's presented in one of our classic wooden gift boxes, lined with wood wool for protection and authentic style. You can also add a personalised message to let them know it was you who sent such a luxurious gift. Have it delivered straight to their door with next day or selected date delivery anywhere in the UK.
---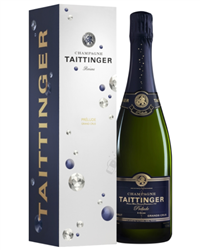 Taittinger Prelude Champagne Gift Box
Go a step further and gift this exceptional variation of the classic and delicious Taittinger Champagne. Presented in its own branded gift box, send someone a single bottle of the refined Taittinger Prelude – an excellent Grand Crus Champagne. If you're looking to gift something a little different and extra special for any occasion, this is the perfect gift for you to send. Don't forget to add your own message to be printed onto a plastic card and included with the present, so they know you're thinking of them. You can have this elegant gift set delivered either the next day or on a selected date anywhere in the UK.
---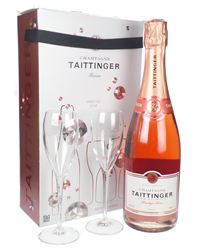 Taittinger Rose Champagne Branded Flute Set
Nothing says celebrations more than a Champagne and flute set by Tattinger. Let someone enjoy a single bottle of elegant Tattinger Rose Champagne for their special occasion, and show them how much you care. Complete with two stylish, Tattinger branded Champagne flutes to keep for memories and make the occasion extra special. Whatever the celebration, this set is perfect. Let them know how you feel with a personal message included in the order and have it delivered either the next day or on a day of your choice.
---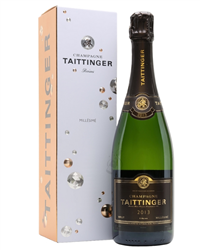 Taittinger Vintage Champagne Gift Box
Featuring a fresh and lively flavour that boasts true depth as well as a balanced taste, the single bottle of Taittinger Brut Vintage Champagne that comes housed inside this gift box also offers hints of both honey and fresh fruit within every glass. A wonderful present to have delivered to anyone from a parent to a simple acquaintance that deserves a special thanks or congratulations; this Taittinger Vintage Champagne Gift Box is absolutely certain to fully please any person fortunate enough to receive it. Presented in a gorgeous branded box, every ounce of this incredible champagne is meant to be savoured from start to finish.
---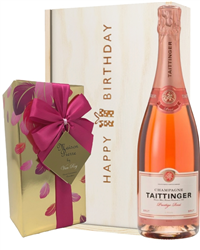 Taittinger Rose Champagne and Chocolates Birthday Gift Box
A delicious and one-of-a-kind way to send "roses" and chocolates to celebrate the birthday of someone truly special in your life; this Taittinger Rose Champagne and Chocolates Birthday Gift Box boasts a level of class and sophistication that you simply won't find in any other gift you can send. Delivered in a sturdy and yet remarkably chic 'Happy Birthday' branded wooden box lined with wood wool to ensure secure delivery to any location. This simple yet stunning gift set includes a single bottle of Taittinger Rose Champagne and chocolate truffles within it. It is easy to personalise with a heartfelt message from you if desired.
---
---
10 Best Gifts for Champagne Lovers
Champagne makes the perfect gift for all occasions. It's a sophisticated and luxurious gift that will be appreciated by anyone who receives it.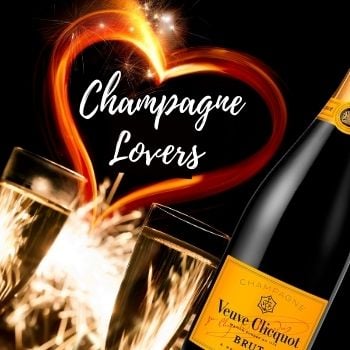 7 Best Champagne and Glasses Gift Sets
Looking for a great housewarming gift? Choosing a housewarming gift for friends or couples can take time. You'll need to decide between quirky, unique, practical or a luxury gift.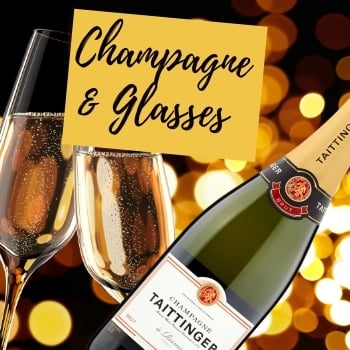 Top 10 Champagne Wedding Gifts
There's no event more fitting for Champagne than a wedding. When thinking of a gift for the happy couple, you should always consider a fancy bottle of bubbly to make the occasion memorable and unique.