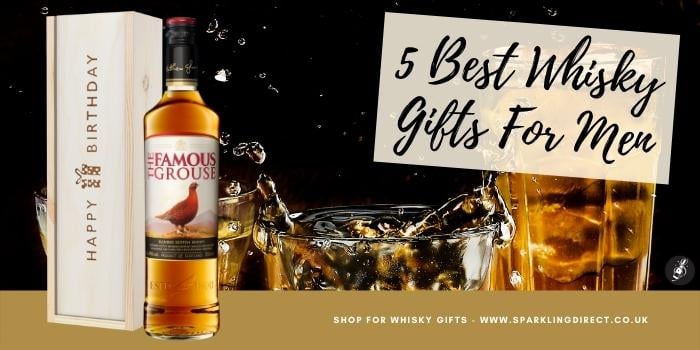 Whisky makes a fantastic gift for any occasion, but knowing which Whisky to gift can be tricky. So what is a good Whisky to gift for men?
A classic Whisky is always a great choice. Famous Grouse, Glenfiddich and Glenmorangie all make delicious gifts for men. So whether for his birthday, anniversary or celebration, send him one of these five exceptional Whisky gifts to make him smile. All are presented in wooden gift boxes with UK delivery.
---
Scotch Whisky Birthday Gift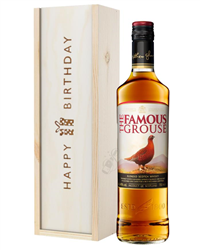 A simple way to send your truest birthday wishes to anyone in your life; complete with a single bottle of The Famous Grouse Whisky within it, this gift box boasts bold and absolute flavour throughout every sip taken from it. Presented in a sturdy wooden box with the words 'Happy Birthday' stamped beautifully on top, this remarkably chic Famous Grouse Whisky Birthday Gift Box is a versatile gift that anyone from your co-worker or customer to your parent, friend or relative will surely enjoy. Celebrate any birthday, anywhere, with a little something special when you have one of these remarkable gift boxes delivered to any type of birthday event.
---
Whisky Congratulations Gift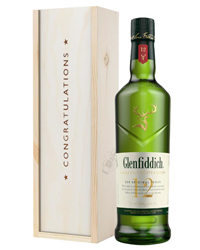 Complete with a bottle of Glenfiddich 12-Year-Old Single Malt Scotch Whisky and easy to personalise with a message from you if desired; this truly high-quality gift box is designed to send your most heartfelt congratulations no matter the occasion. The perfect present for any whisky-lover in your life, this Glenfiddich 12-Year-Old Single Malt Whisky Congratulations Gift Box is certain to satisfy anyone from your favourite colleague from work that earned a promotion to a cousin that just got married and beyond. Delivered in a sturdy wooden box filled with wood wool lining and branded with the word 'Congratulations' on top, no other gift set offers the level of style and sophistication this one does.
---
Glenmorangie Original Single Malt Hamper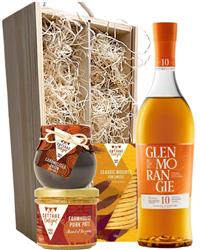 A remarkable one-of-a-kind gift set that features extraordinary flavour and eye-catching style from the inside out; this Glenmorangie Original Single Malt and Pate Gift Box is designed to stand out from every other gift they receive instantly. Presented in a high-quality, wood wool-lined wooden gift box and easy to customize with a personal message from you if desired, this incredibly classy and elegant gift set makes a striking addition to any event from a birthday party to an anniversary celebration and more. This gift set includes a single bottle of Glenmorangie Original Highland Single Malt Scotch Whisky, a 90g jar of Cottage Delight Farmhouse Pate with Pork, a 115g jar of pickles and a 150g package of Oval Alberts Savoury Biscuits to enjoy.
---
Ardbeg 10 Year Old Single Malt Whisky Thank You Gift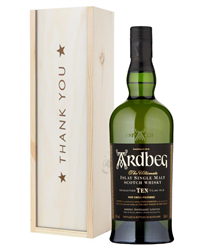 An exceptionally sophisticated way to send your most heartfelt thanks to anyone in your life, no matter the reason; whether you send this gift box to your staff as an incentive for a job well done or a friend that helped you move to a new home, you can be sure anyone you have it delivered to will fully appreciate each and every drink it provides. Complete with a single bottle of Ardbeg 10-Year-Old Islay Single Malt Scotch Whisky within it and delivered in a solid wooden box lined with wood wool, this chic and stunning gift set is the perfect present option for any whisky-lover in your life, no matter who they may be.
---
Johnnie Walker Black Label And Chocolates Gift Set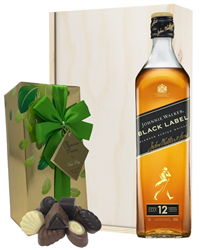 Housed within a solid and durable wooden gift box and offering smooth yet bold flavour unlike any other; this sleek and high-quality gift set includes a single bottle of Johnnie Walker Black Label Blended Scotch Whiskey as well as a 250g box of assorted Belgian chocolates to enjoy. Simple to personalize with a message from you if desired and truly chic in both appearance and design, from the inside out this one-of-a-kind gift set is sure to bring true satisfaction to anyone fortunate enough to receive it. Send this unique present option to anyone from a co-worker to a friend or even a member of your family if needed, this gift is great for any occasion or event that comes up on your calendar this year.
---
---
10 Best Whisky Gift Sets
No matter the occasion, a bottle of Whisky is a great gift. We offer a great online range of Whisky gift boxes, all of which can be personalised and delivered in the UK.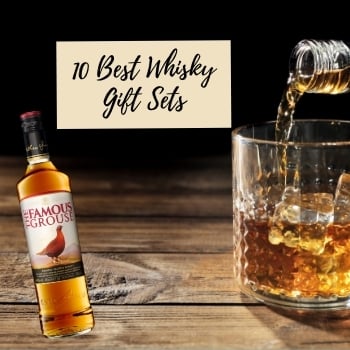 Can I Send Whisky For Easter?
Whisky makes a great gift for a range of occasions, but what about Easter? Take a look at the reasons why Whisky is perfect for the chocolate-filled holiday.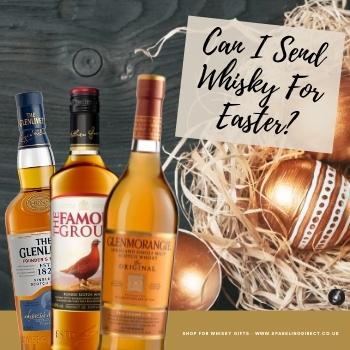 Top 5 Valentine's Day Gifts For Whisky Lovers
It can be hard to pick a Whisky, especially when it's a Valentine's Day gift. Rather than stress over it, let us take the weight off your shoulders with a few ideas. So what are some good Whisky Valentine's Day gifts?