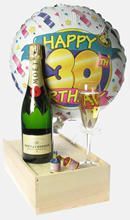 30, the big three oh, thirty, however you say it or spell it – it comes to us all. That's the best thing about age, we all go through it just the same. Being 30 is not as scary as you first think and its not even that old really.
Lets face it if you know someone who is celebrating a 30th birthday this year, then that means that they were born in 1983. The year Michael Jackson released his Thriller Album, Culture Club were singing about a Chameleon, Irene Cara had a Flashdance and The Police were watching Every Breath You Take!
Famous people celebrating a 30th birthday this year include Emily Blunt, Kim Cliijsters Cheryl Cole and Robin Van Persie so they are in good company here.
A 30th birthday is one of the milestone birthdays and one that should be celebrated with a great 30th birthday gift. It is important to select a good 30th birthday gift as it is one of those years that tends to be remembered, more so than a 27th or 33rd!!
We have spent time and effort when it comes to selecting our 30th birthday gifts and we hope to be able to offer the perfect choice for you. With prices ranging from under £30 rising to £70 there is a good range to choose from and remember we deliver across the whole of the UK and delivery is included in the cost of the gift. Our website lets you select a specific date for the delivery and you can attach a gift message to the 30th birthday gifts too.
30th Birthday Gifts under £30
We can supply a couple of 30th birthday gifts that fall into this price range. The first being a bottle of wine, a ballon and a box of chocolates. You can choose to send a bottle of Cabernet Sauvignon for red wine drinkers or a bottle of Sauvignon Blanc for fans of white wine. Both come with a selection of wine and Chocolates and an inflated Happy 30th Birthday balloon.
30th Birthday Gifts under £50
For people with a slightly bigger budget we have some lovely 30th birthday gifts to choose from. As we have already agreed a 30th birthday is a milestone birthday and hence deserves Champagne. We offer a gift which contains a choice of either our house Champagne brand or a high street name such as Lanson or Moet and Chandon.
Like the lower priced 30th birthday gifts we offer a 30th birthday Champagne, chocolates and 30th birthday balloon gift, or Champagne, balloon and 30th birthday flute, hey we even through in some party poppers for that extra touch.
For that extra special birthday gift why not send a bottle of Taylors Port that shares their birthday with them. A 30 year old bottle of Port makes a fantastic 30th birthday gift and will most definitely be remembered for years to come.
All these gifts can be delivered to either the birthday persons home or for the embarrassing factor, their place of work at a time that suits you. So whether they are hoping to keep their birthday celebrations quiet, or happy to party, we are sure our 30th birthday gifts will make the right impression.