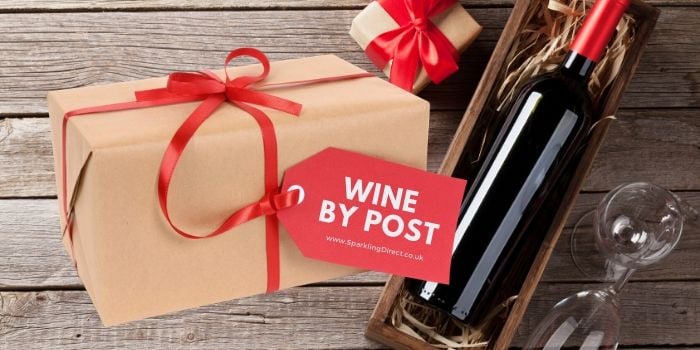 How do you post a bottle of wine in the post?
At Sparkling Direct we've been delivering Wine Gifts since 2002, that's 18 years of posting wine throughout the UK. When we started, there were traditional hamper companies and florists but not many wine companies. Seeing an opportunity to deliver wine gifts in London and throughout the UK was exciting. We needed something unique that stood out from the crowd; Next Day Courier with Free Delivery, Personal Gift Card Message, Parcel Tracking and Straightforward Pricing.
How can I send someone a bottle of wine?
For our wine to be delivered safely, we only use industry-specific packaging, which has been designed to keep the bottle safe while in transit and has been rigorously tested by all parties concerned. You can choose which type of gift box you wish your wine to arrive in; our standard wooden gift box is the most popular. You can search our product range by price, type or brands. Depending on the time of year we will have a selection of festive Christmas gift sets, from single bottles to 12 bottle cases.
How can I send wine as a gift?
Our wine gifts are personalised by the sender when they add their own personalised gift message; this is completed when checking out on our website. This is then printed out onto a plastic card (the size of a credit card) and put into a small envelope, which then gets inserted into the gift before being hand-packed with care.
We have a vast range of red wine, white wine and sparkling wines which can all be sent as gifts. Posting a bottle of wine via our website is very simple, and if you order by 4 pm on a weekday, we offer express delivery. We are also able to deliver your wine gift on a Saturday, although there is a small surcharge for this service.
Your gift will be carefully packed and sent to the address of your choice; this can be to a business or residential address. Although we offer next day delivery, you can select an alternative date during the check out process. We send our wines by a courier service, not by Royal Mail. We also offer Champagne, gin, whisky, vodka, rum and port ideal for Christmas gifts; newborn baby presents or just a thank you to friends and family.
Top 5 Wine Gifts By Post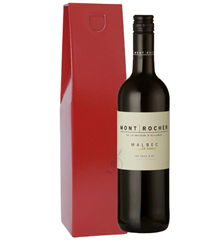 French Malbec Red Wine Gift Box
Ideal for enjoying on a cold winter evening to warm up in a truly delicious way, from the very first sip the remarkable bottle of Mont Rocher French Malbec red wine, you'll wish you could drink it all day, every day, for the rest of your life. Produced in Limoux, located in the south of France, this incredibly tasty bottle of wine boasts a lovely and fruity flavour that any recipient is sure to enjoy. Presented in a stunning red gift box and the perfect present to send to any event from a wedding to a birthday and beyond; this French Malbec Red Wine Gift Box will instantly become the best gift they receive from the very moment it arrives.
---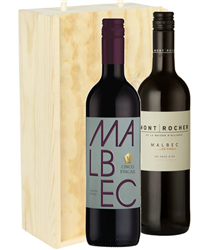 Malbec Mixed Two Bottle Wine Gift
Presented in a gorgeous wooden gift box designed for secure delivery to any location, this extraordinarily delicious Malbec Mixed Two Bottle Wine Gift Box allows the recipient to enjoy more than one variety of different Malbec wine flavours. Ideal as a gift for someone with a true appreciation of bold Malbec grapes, this incredible box boasts two types of truly rich wine within it; one from the foothills of the Andes in Argentina, and one from the vineyards of France. Easily personalised so you can assure the recipient knows who to thank, this one of a kind unit is certain to be savoured by anyone lucky enough to receive it.
---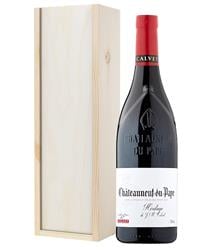 Chateauneuf Du Pape Red Wine Gift
The perfect way to send congratulations, good luck, best wishes or even just love to someone you care for, this remarkably sophisticated Chateauneuf Du Pape Red Wine Gift Box is sure to bring a smile to the face of anyone lucky enough to receive it. Housed in a smooth, incredibly sturdy, and unbelievably stylish wooden box filled with wool for true protection of the bottle found within; this gift box also includes a single bottle of Val De Garrigue Chateauneuf Du Pape red wine that offers a full, delicious flavour that no other blend can hope to provide.
---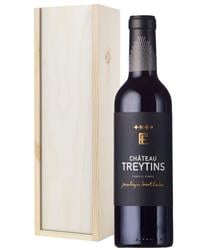 French Bordeaux Red Wine Gift
A full, fresh-tasting red wine that captures your heart from the very first sip; boasting a strong nose of red fruits and predominantly created from hand-picked Merlot grapes, the single bottle of Chateau Treytins French Bordeaux Red Wine contained within this gift box is truly as tasty as a bottle of wine can get. Easy to personalise with a message straight from your soul, this French Bordeaux Red Wine Gift Box makes a great gift to send for any special event or occasion that comes up on your calendar. From the Bordeaux region of France, this gift box offers everything you need to provide someone you care for with an extra special surprise to enjoy.

---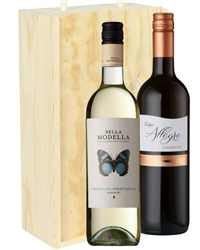 Italian Mixed Two Bottle Wine Gift
A stylish, sophisticated gift that makes the perfect present to give at any particularly classy occasion, this Italian Mixed Two Bottle Wine Gift Box is ideal for delivery to any wedding, birthday party or other similar types of special event. Presented in a sleek wooden box that is lined with wool for secure delivery to your intended location, this high-quality gift box can also be personalised with a heartfelt message from you along with it as well. An elegant gift box that includes a single bottle of Sangiovese wine as well as a single bottle of Pinot Grigio, this set allows anyone to explore Italy through the flavours its vineyards provide.
---
14 Birthday Gift Ideas For Red Wine Drinkers
These unique birthday gifts for red wine lovers include classics from the Bordeaux and Chateauneuf Du Pape wine regions.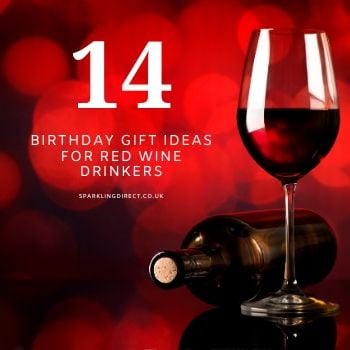 Red Wine Gifts by Post
Looking for gifts for a red wine lover? Listed below are 9 great gifts for anyone who loves a glass or two of red wine.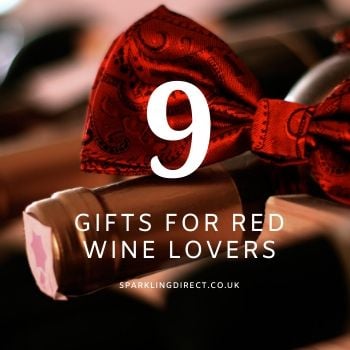 Top 5 Pinot Grigio Gifts
Finding the right pinot grigio gift for your friends and family can be a little challenging sometimes–especially when it comes to finding the right price. Here is a list of some of our most popular gifts at varying prices.